Papa Vinyard here, now here's a little somethin' for ya...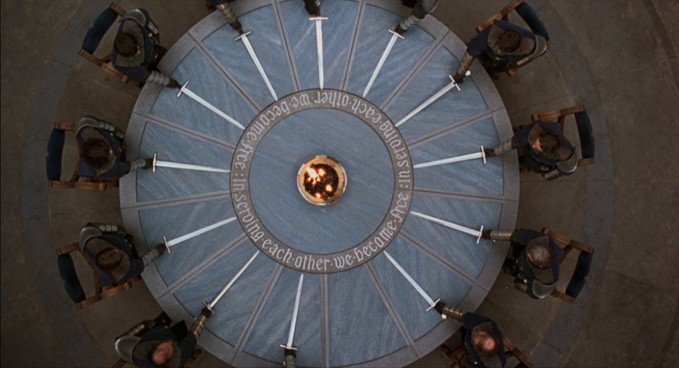 It's only been 10 years since that Clive Owen "real" retelling of the King Arthur legend, and there have already been a few other versions of that tale in development. There's David Dobkin's ARTHUR & LANCELOT which would've had either Joel Kinnaman or Colin Farrell as Lancelot, Gary Oldman as Merlin, and Kit Harrington as Arthur. There was also a direct remake of John Boorman's excellent EXCALIBUR that Brian Singer was hoping to direct. And now, according to Deadline, Guy Ritchie is looking to get a six-film franchise off the ground based on the legend of the Lady in the Lake, the Sword of Power, Camelot, and the Knights of the Round Table.
Joby Harold, whose lone writing credit is on that Hayden Christensen conscious-during-anethesia movie AWAKE, conceived the omnibus project, and has been hired by producer Akiva Goldsman to hammer out all six scripts. Ritchie had previously wanted to do an Arthur feature based on a John Hodge script, but that got shut down when Warner Bros. started getting ARTHUR & LANCELOT going (which, of course, never happened). It's nice to see that his heart appears to be in it, and after seeing his take on SHERLOCK HOLMES, I'm fascinated to see him tackle another staple of English fiction and folklore. Not only do I think it could be a spin on the age-old story that we haven't seen before, but it could bring the tale of Arthur, his sword, his knights, his precious Guinevere, and his kingdom into contemporary pop culture relevance. I think the six film idea will allow Ritchie to really dig deep into the legend, depicting it in all its glory while adding his own interpretation and style into the mix. Could be opportunism in the wake of HARRY POTTER, could be brilliant. Only time (and an official greenlight) will tell.
Do six films about the appointment, reign, and eventual death of King Arthur directed by Guy Ritchie appeal to you at all, or is the story antiquated jibbery-joo?
-Vincent Zahedi
"Papa Vinyard"
vincentzahedi@gmail.com
Follow Me On Twitter