Hello gamers, Abstruse here. Sometimes, I read stories that really bum me out even when the story itself is pretty cool. I got into MAGIC: THE GATHERING with Revised and sold off my collection about a decade ago. I didn't get nearly as much as this guy got for his Black Lotus, which sold at auction for $27,302.00. So do yourself a favor, don't look up how much your old cards are worth. You'll just want to cry.

So Paizo's been busy this week. They managed to crash their own website for a day after releasing the playtest document for their ADVANCED CLASS GUIDE. You can download the document for free through December 17 to give feedback to Paizo on the product, which is scheduled for release August 2014.
They have also given a license to new board game company Fun to 11, who has launched a Kickstarter for PATHFINDER DICE ARENA. You can get the base set which is slated for an August 2014 release for $62, and the game plus all stretch goals for $65 (limited to 1000). If that seems pricy, keep in mind that the core set comes with 64 dice on top of character cards, playmats, and other accessories. The Kickstarter funded within hours of launching, and if it's even half as good as the PATHFINDER ADVENTURE CARD GAME, this is something you should be interested in.
Speaking of the PATHFINDER ADVENTURE CARD GAME, they've been releasing adventure packs to expand the RISE OF THE RUNELORD core set. While the plan seemed to be to release further core sets based on their other classic adventure paths, it wasn't until this week Paizo announced the SKULL & SHACKLES BASE SET which will release in August 2014 with a retail price of $59.99.
Why are all these products slated for August 2014? Well it looks like this may be the opening volley for Paizo as these games will probably all launch at GenCon, which Wizards of the Coast already slated to be the big announcement for the new edition of DUNGEONS & DRAGONS. So is this all they have in mind, or will they have bigger guns come GenCon?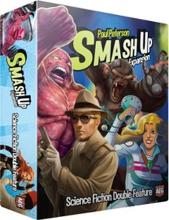 If you've never played the genre-bending card game SMASH UP from Alderac Entertainment Group, the game is pretty simple and a lot of fun. The game comes with various decks representing different genre characters (the core set comes with ninjas, pirates, androids, wizards, dinosaurs, etc.), and each player grabs two decks to shuffle together as they attempt to score points in various stages on the board. A game like this is, of course, going to have a lot of potential for expansion such as the recent SMASH UP: THE OBLIGATORY CTHULHU EXPANSION. They're following it up soon with SMASH UP: SCIENCE FICTION DOUBLE FEATURE, which can be played as a stand-alone two player game or combined with any other SMASH UP set for up to four players. The expansion adds the groups Time Travelers (who reuse cards repeatedly), Cyborg Apes (attaching minions to one another), Super Spies (letting you stack both your deck and your opponents' decks), and Shapeshifters (who can use powers of other minions). The set comes out in March 2014 with a retail price of $19.99

Margaret Weis Productions finally started announcing information on the release of the FIREFLY ROLEPLAYING GAME, including release dates through 2015. The core rulebook comes out February 18, 2014 in hardcover for $49.99, which includes over 360 pages with ships plans, system charts, and even an episode guide for the show. They're following it up in May with THINGS DON'T GO SMOOTH, a 180 page softcover release for $29.99 which profiles criminal organizations, shady characters, Alliance operatives, and rival crews. ECHOES OF WAR: VOLUME ONE gets a print release for GenCon next year, which will reprint five PDF adventures and exclusive material such as basic game rules and character sheets for all nine main cast members, so you can use it as a stand-alone introductory game as well as combining it with the core rulebook for more options, making it well worth the $29.99 pricetag. October sees the release of SMUGGLERS GUIDE TO THE RIM, a 200 page sourcebook on trade routes, locations, and more nefarious characters at $29.99. ECHOES OF WAR: VOLUME 2 and VOLUME 3 were both given March 2015 release dates, while January 2015 will give us GHOSTS IN THE BLACK, a Post-Unification War campaign about a mysterious Alliance cruiser (prices not confirmed for these books yet).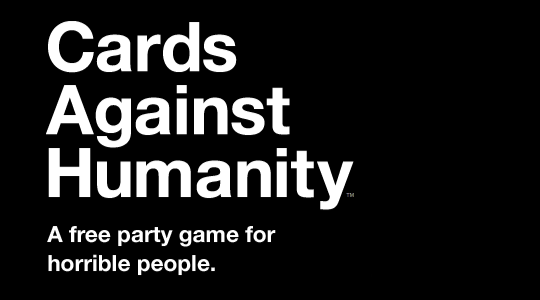 The Cards Against Humanity guys were busy this past week. If you didn't get in on their 12 Days of Holiday Bullshit promotion, sorry. It was limited to the first 75,000 people handing over $12 to get 12 random packages from Cards Against Humanity (with absolutely no guarantee of what the hell they're actually sending us). They sold out within hours, but I managed to slip in so make sure to follow me on Twitter once the packages start rolling in to find out what they sent us.
Awww, don't feel down you didn't get in. Cards Against Humanity is nothing if not generous to their fans and followers, but they really need to work on their announcements. Because CARDS AGAINST HUMANITY: THE FOURTH EXPANSION very quietly dropped on Amazon this past week. $10 gets you 70 new white cards and 30 new black cards, plus extra blanks to make your own (use permanent felt-tipped markers or pens for these, folks...trust me).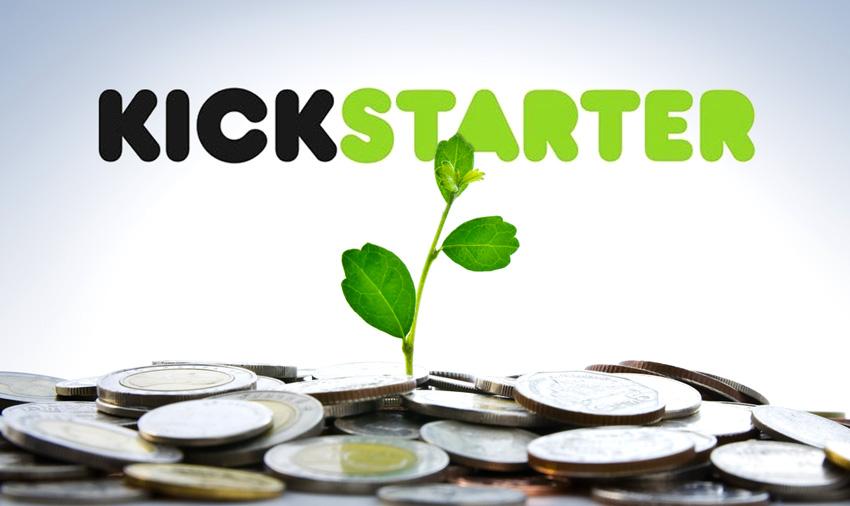 I've always wondered why there aren't more pirate-themed board games, as memetically popular as they are on the internet. Ensignia Games put out their pirate-game, PRIVATEER on Kickstarter. Three to six players compete to win 20 "Infamy Points" by upgrading their ship, improving their crew, or finding ancient relics. The core game is yours for a $55 pledge and it comes with a lot of components even before the stretch goals. The first expansion is also available with the core game for a $75 pledge. This Kickstarter is funded and runs until December 21.
From one meme to another, we have CTHULHU BRITANNICA from Cubicle 7, the official boxed set campaign setting for the CALL OF CTHULHU roleplaying game for 1920s London. Now this is NOT the core game, so you'll still need that to play, but the set comes with three books, hand-outs, maps, and more. You can get the digital version for £30 (about $48) or a physical copy for £50 (about $80) plus shipping. This Kickstarter is fully funded and knocking out stretch goals left and right until December 12.
MACHINA ARCANA is a steampunk horror board game "inspired by" the Mythos. A cooperative game for one to four players, you take on the role of an investigator in a unique steampunk setting fighting the darkness attempting to devour the world, exploring and creating the board as you go. While the gameplay seems somewhat similar to BETRAYAL AT HOUSE ON THE HILL, there's enough differences and the steampunk theme prevalent enough that there's room for both in the world. The Kickstarter is fully funded, and you can get a copy of the game for $50, or an exclusive Kickstarter box for $70 with different art. The campaign runs until December 24.
Finally, something I've been dying to get for a very, very long time. You know my love for 3D terrain. A big problem in fantasy settings, though, is that many times the characters themselves are able to rise into the air and depicting that is always problematic. I've tried pretty much every trick in the book, but I've been dying for something like GAMER GRIDZ, a system to scale vertical placement using clear laser-cut acrylics. The set looks far sturdier than any of the similar products I've seen out there and they're far more immersive since they use actual scale distance to depict height rather than just a spot for a die to show it. You can get a grid for a $20 Canadian pledge (about $19 American) in either square or hex. This project is funded, but doesn't have much time left as it ends November 30.
That's it for this week gamers. I'm making plans for SPACE CITY CON in Galveston on January 3-5 as well as working on my podcast and personal gaming blog over at Gamer's Tavern. You can also follow me on Twitter and email me your gaming tips at theabstruseone@gmail.com! Happy Thanksgiving!