Hey Yo, Draven here.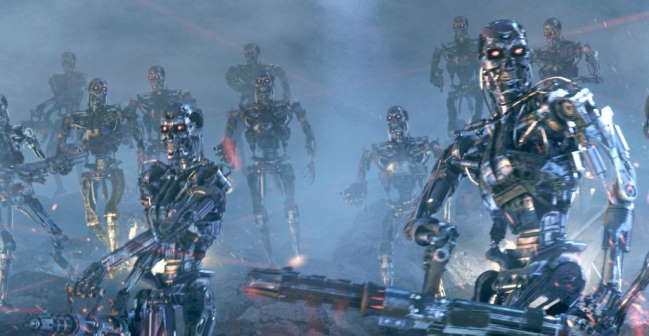 Schmoes Know* is on fire this week with scoops, as they reported that director Alan Taylor is getting ready to start screen testing for his TERMINATOR reboot due in 2015. Their source, The Phantom, told them that actresses Emilia Clark (GAME OF THRONES), Brie Larson (21 JUMP STREET; THE SPECTACULAR NOW), and Margot Robbie (THE WOLF OF WALL STREET all would be test screening for the role of Sarah Connor. They also reported that Garrett Hedlund was on a shortlist for Kyle Reese. This was all confirmed today by THR.
THR also added that Tom Hardy is Taylor's first choice for the role of John Connor, although no discussions have taken place yet. Could he follow in his DARK KNIGHT RISES co-star, Christian Bale's footsteps and jump to the John Connor role in the TERMINATOR franchise after a Batman film? It would be weird to see him opposite Hedlund. Hardy has a dynamic screen presence and Hedlund has all of the charisma of a dead animal. This would become even more evident as they shared screen time.
As for the females up for the role of Sarah Connor, Brie Larson is obviously the most accomplished although Alan Taylor has a history with his GAME OF THRONES star, Emilia Clark. Either one of them would be a decent choice.
I think the most interesting development of all of this news is the fact that they are looking for actors in their 20's for both roles. That means there is likely to be a heavy time travel element to the film and it is likely to go the J.J. Abrams STAR TREK route and create a new timeline. Arnold Schwarzenegger is still attached to star, Paramount is the new distributor, and the film is aiming for a July 1, 2015 release date. This is planned to be the first film in a new trilogy of films.
What do you guys think of these potential choices? Will it be weird having John and Sarah Connor around the same age?
*Also if you guys haven't checked out the Schmoes Know podcast, it is really entertaining and they are good guys so give it a shot.
Follow me on Twitter here!