Papa Vinyard here, now here's a little somethin' for ya...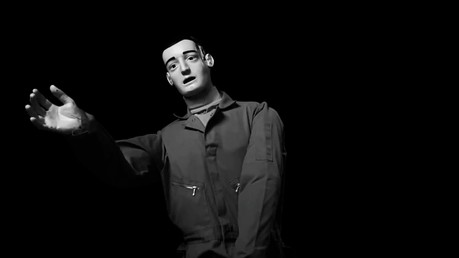 Experimental filmmaker Godfrey Reggio has been absent from the scene since wrapping up his "Qatsi" trilogy (which includes KOYAANISQATSI, POWAQQATSI, and NAQOYQATSI) in '02. His first film in 11 years, VISITORS, was shot in black and white, and is apparently comprised of 74 shots (eat your heart out, GRAVITY) that highlight, once more, man's relationship with technology in the modern era. This trailer gives us a peek at a few of those shots, and, paired with Philip Glass's hypnotic music (which earned him a "Film by" credit he shares with Reggio and editor Jon Kane this time around), makes the film seem like another tantalizing, wordless meditation on what it means to be human in an increasingly electronic and cluttered world.
But what the fuck is with that dummy at the end? J.J. Abrams and others work so hard to create an aura of mystery over their projects, and that one brief look at a not-even-that-lifelike mannequin is going to haunt my thoughts until I am able to see this film.
Excited for this one. Reggio can immerse you in his technique while getting you to think abstractly about your own life and your own perception of the world around you. Hopefully this will follow the standard of quality he set with his QATSI movies.
VISITORS on February 14th, 2014.
-Vincent Zahedi
"Papa Vinyard"
vincentzahedi@gmail.com
Follow Me On Twitter