Papa Vinyard here, now here's a little somethin' for ya...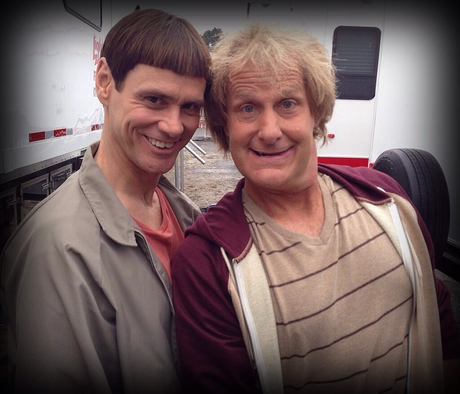 We'd seen pics of our boys Lloyd Christmas and Harry Dunne (played by Jim Carrey and Jeff Daniels, respectively) a week ago, and now, we get our first video of Daniels slipping effortlessly into Dunne's (probably mismatched) shoes via this goofy Vine. It was revealed via a Tweet by the Brothers Farrelly, who are currently shooting the 20-years-later sequel that has the legendary buffoons searching for their long-lost spawn. I can't imagine we'll see too much more of the guys in motion before trailers and clips start rolling out for this one next year, so it's a great treat to see that Daniels (a recent Emmy winner for THE NEWSROOM) is jumping back into the fold wholeheartedly. There has definitely been concern that too much time has passed, and these 50+ guys may not be able to bring the stupid/funny as well as they did the first time around; this video alleviates those concerns a little bit, does it not?
SPOILER ALERT!!!!: Also, there's word that Jennifer Lawrence has filmed a cameo for the film as a younger version of Kathleen Turner's character (and former lover of the two boys) Freda Felcher. If that does anything for ya.*END SPOILER*
DUMB AND DUMBER TO will triple stamp and double stamp (or try to, at least) sometime in Summer 2014.
-Vincent Zahedi
"Papa Vinyard"
vincentzahedi@gmail.com
Follow Me On Twitter