Hey guys! Horrorella here...
A trailer has been released for the upcoming indie comedy A CASE OF YOU. The film stars Justin Long as a writer who attempts to enter the online dating game and opts to edit and tailor his profile to make himself more desirable to the girl (Evan Rachel Wood) he's crushing on.
The film was directed by Kat Coiro (LIFE HAPPENS) was co-written by Long, with his brother, Christian Long and co-star Kier O'Donnell. Apparently, the film's premise came about as Long and O'Donnell were both going through break-ups. Says Long to EW,
We just started writing it therapeutically. We have a very close sense of humor and it kind of came from that.
It doesn't look to be the same re-hash of a boy-meets-girl story though. It appears the pair wind up together fairly early in the story, and the film then chooses to focus on what happens after the first kiss and the declaration of love are expressed (about the time the credits typically role on many rom-coms)
If there is a twist in our movie, it would be that he gets her very early on and then has to deal with the reality of having someone. That was something that I've always found interesting. Once the chase and the fantasy of the pursuit has worn off, or has ended just by virtue of being with that person, the real romance and the real struggle of maintaining that kind of begins.
A CASE OF YOU opens in limited release on November 6th. Check out the trailer below via Yahoo, and the poster from EW.
What do you guys think?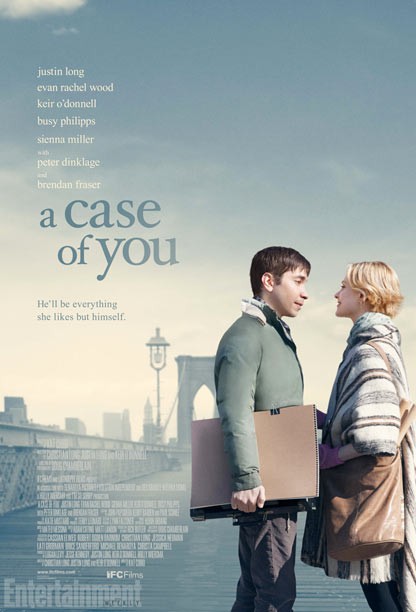 Follow me on Twitter