Hey Yo, Draven here.
USA Today has premiered the first images from David O. Russell's AMERICAN HUSTLE.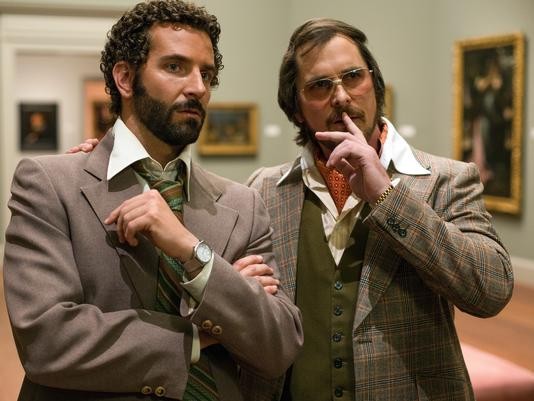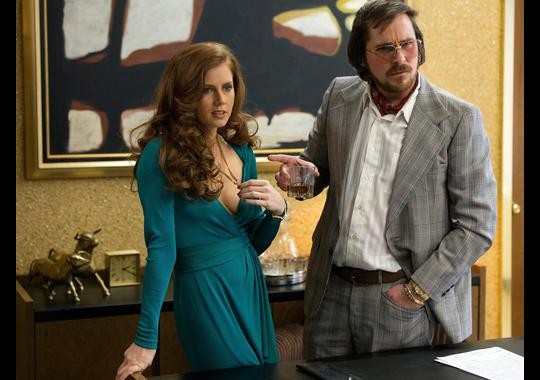 Christian Bale's awesome comb-over and Bradley Cooper's fantastic Jewfro would sell the movie to me alone, and then I consider that the film also has Amy Adams, Jeremy Renner, Jennifer Lawrence, Robert De Niro and Louis C.K. all starring in a period drama set in the New York area during the late 70's
Sony seems to think this is going to be Russell's third Oscar contender in a row, after THE FIGHTER and SILVER LININGS PLAYBOOK, as they have scheduled this for a December 25, 2013 release with a planned Oscar push. We should have a trailer on the way soon so stay tuned.
Here is IMDB's synopsis of the film:
A fictional film set in the seductive world of one of the most stunning scandals to rock our nation, American Hustle tells the story of brilliant con man Irving Rosenfeld (Christian Bale), who along with his equally cunning British partner and lover Sydney Prosser (Amy Adams) is forced to work for a wild unhinged FBI agent Richie DiMaso (Bradley Cooper). DiMaso pushes them into a world of Jersey powerbrokers and mafia that's as dangerous as it is enchanting. Renner is Carmen Polito, the passionate, volatile, New Jersey political operator caught between the con-artists and Feds. Irving's unpredictable wife Rosalyn (Jennifer Lawrence) could be the one to pull the thread that brings the entire world crashing down.
Follow me on Twitter here!