Ahoy, squirts! Quint here with the next installment of A Movie A Day.
[For those now joining us, A Movie A Day is my attempt at filling in gaps in my film knowledge. Every day Monday-Friday I'll be reviewing a film I haven't seen before. Each film will be connected in some way to the film before it, be it by actor, director, writer, etc. It's a great time to be a film explorer, with TCM's amazing programming, Netflix Watch Instant's large library and studios starting up boutique burn-on-demand DVD services for their more obscure vault titles. So, I'm going exploring and I hope you guys will join me on my cinematic expedition.]
Today we finish up week 1 of AMAD 2013 and also finish up our run of Michael Powell films, but first here's a look at today's Buster Keaton short titled "Neighbors," which can be found on Kino's awesome Blu-Ray Keaton Short Films Collection.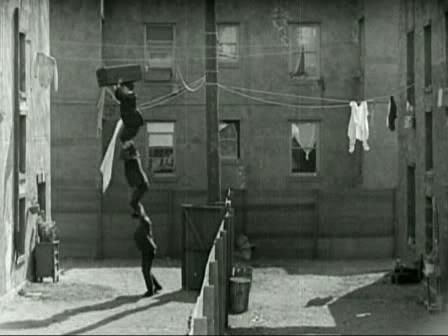 You see that picture above? That's just the beginning of some crazy shit that happens with that three man tall stunt. There's a chase scene with those guys and Buster Keaton precariously balanced on top.
Like most of Keaton's shorts, the set up is super simple. Two next door neighbors share a fence and pass love letters back and forth. The girl's dad intercepts one and a family feud starts as Keaton tries to figure out ways to sneak over and see his sweetheart.
There was a surprising amount of racial humor in this short, but it didn't come across as horrible as a lot of its type from this era. There's a whole section of the film devoted to Keaton getting buried in mud, getting out and accidentally hitting a cop. In order to escape, he wipes his face clean and the cop grabs a passing black dude. If that was it, that'd be pretty damn cold, Buster. But it isn't and his plan backfires.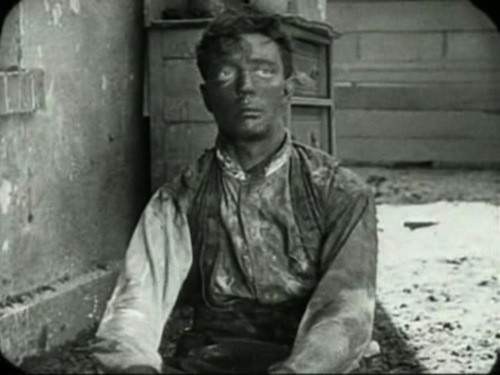 That image above is as close to blackface as the short comes. Maybe it was more typical of the era than I was led to believe, but I was pleasantly surprised to see actual African American actors cast and not white guys with burnt cork on their face.
Keaton's two-reelers are whip smart, so quickly paced that it feels like you can barely keep up with the gags as they're thrown at you and feature some flat out amazing how-did-they-do-that? stuntwork. They're at their best when they can check all those boxes plus drape it over a skeleton of sincere heart. Neighbors checks all those boxes.
We precede tomorrow's AMAD with Buster Keaton's The Haunted House. I'm so ready for that one! But now it's time to move onto business (and by business I naturally mean an incredibly naked Helen Mirren)!
I'm afraid we're going to end this run of Michael Powell films on a bit of a low note with today's AGE OF CONSENT. No, it's not a horrible movie, but as a piece of filmmaking it woefully under-delivers on the promise of the talented director.
Then again this is just Michael Powell by himself, but it was just Powell who directed the great thriller PEEPING TOM, so I don't know what's going on here, but edits don't seem to fit together, the narrative is jumbled (especially in the first 20 minutes) and there's a ton of distracting ADR work (Additional Dialog Recording, recorded after shooting). Compared to Powell's other work this one feels amateur hour.
Filmed on the Great Barrier Reef in Australia the flick does give us a spectacular location to spend some time with and the acting is solid, especially from the young Helen Mirren. My good Lord, Helen Mirren in this movie is pure sex. She's curvy, youthful and absolutely not shy in the least.
James Mason plays a successful painter tired of the leeches and pressures of the city, so he moves into a beach house to just escape all responsibilities until he finds his muse in this hot young beach rat with an abusive drunk granny.

Interestingly enough James Mason co-produced this film, an adaptation of a popular book by Norman Lindsay, so I gather Mason was trying to do one of two things. Either he was hitting late middle age and wanted to do a movie where his love interest was a naked hot young girl or he was trying to recapture a little bit of the magic of Lolita, another adaptation of a popular book about an inappropriate relationship between a grown man and a young girl.
Mirren's Cora isn't LOLITA age, but you can see why this was an attractive movie for Mr. Mason and why he took an active interest in seeing it come to fruition.
While the movie didn't completely float my boat there's still a lot to like here… Overlook the sometimes Aussie/sometimes natural British accents from Mirren and Mason and you find a pair of genuinely interesting characters. Familiar, yes… The uninspired artist who finds his groove again and the young girl trying save up enough money to leave home… but there's enough solid work done on both to keep the film afloat.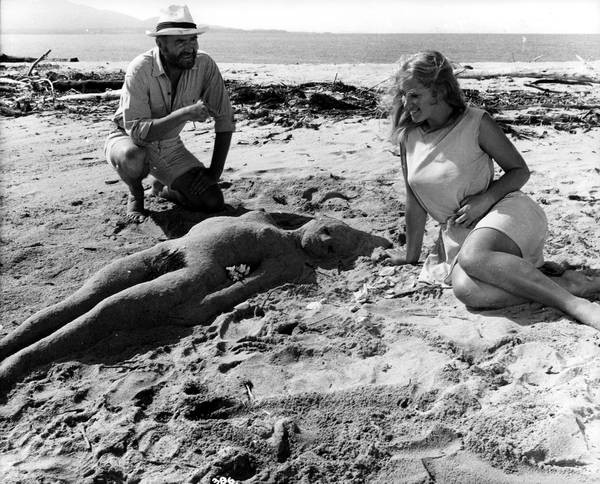 It's just a draggy movie. You know where it's going and you're waiting for the story to catch up with you from the get go. Mason's character is a bit too much of a wimp, letting people walk all over him, including a "good friend" who is more of a lecherous acquaintance (played very well by Jack MacGowran who you'll most likely remember as Ellen Burstyn's director, Burke Dennings, in The Exorcist… "Do you know what she did? Your cunting daughter!?!") who literally follows him to the island to ride his coattails.
I know people like MacGowran's Nat Kelly who will move mountains to stay next to the spotlight of a celebrity friend. It's a fascinating character and my problem doesn't lie with the leech, but with the man who allows it. It's hard for me to watch Mason let this guy turn his good thing into shit, but I guess that's the point. Mason's an artist, he doesn't have a mean bone in his body, which opens the door for people to use him. It's just hard to root for a character like that.
The cinematography by Hannes Staudinger doesn't hold a candle to Jack Cardiff's Technicolor work, but I wouldn't go so far as to call it ugly. It's just plain in comparison to the previous two films I've covered by Michael Powell however it does have that late '60s/early '70s charm to it.
Final Thoughts: Underwhelmed is the word I'd choose to use for this film. It hits and misses. The hits are worth watching the movie for, but the misses keep it from being an easy recommend. If you like copious amounts of young Helen Mirren nudity (that should be a good lot of you) then sure, seek it out. The acting is solid, the direction and editing is lackluster. Somewhere in this jumbled whole is a movie that is fantastic, but as it stands now it's just an interesting piece for cinephiles.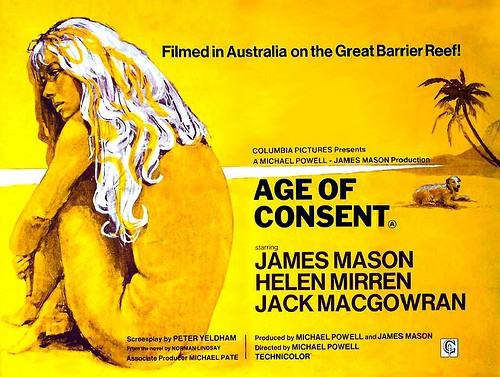 Upcoming A Movie A Day Titles:
BIGGER THAN LIFE (1956)
CHARADE (1963)
HOPSCOTCH (1980)
THE PRIME OF MISS JEAN BRODIE (1969)
TUNES OF GLORY (1960)
That's our first week of AMAD 2013! Enjoying yourselves so far? I am, for sure! On Monday we pick up with another film produced by and starring Mr. James Mason entitled Bigger Than Life! See you then!
-Eric Vespe
"Quint"
quint@aintitcool.com
Follow Me On Twitter
Previous A Movie A Day (2013) Titles:
-The Ship That Died of Shame (1955)
-A Matter of Life and Death (aka Stairway to Heaven) (1946)