The Kidd here...
I get that we can't expect too much these days from the studios' marketing departments when it comes to poster art. They've already drained themselves creatively trying to come up with something different and eye-catching for the teaser one sheet that came onto the scene months earlier. As they get closer to the release date, they're convinced the talent alone will sell their films, so prominently featuring the giant heads of the cast should be enough for a potential tickey buyer to drop 12 bucks on a flick starring Ryan Gosling, because who cares what the movie is about, it's got Ryan Gosling. That's probably why attendance for middle-aged movie-goers is down (a demographic I find myself in) - we don't want talent in just anything, we want them in good movies. And bad posters don't help sell good movies. They now only show who's in it; they don't necessarily give any real indication what the film might be about in any cool-looking fashion.
Take, for example, this new one sheet for Warner Bros.' THE INCREDIBLE BURT WONDERSTONE. If there was ever a film that warranted a bit of creativity on its one sheet, it'd be one about magicians. The possibilities are endless. Instead, we get Steve Carell, Steve Buscemi and Jim Carrey's big faces front and center with the lights of Vegas blurily shining off to the side. What about this is supposed to draw me into the theatre? Their different hair... their hand poses...? If you were walking through the theatre lobby and caught this out of the corner of your eye, is there anything about this that'd really make you stop and take notice, looking into what BURT WONDERSTONE is, so you can maybe choose to see it on March 15.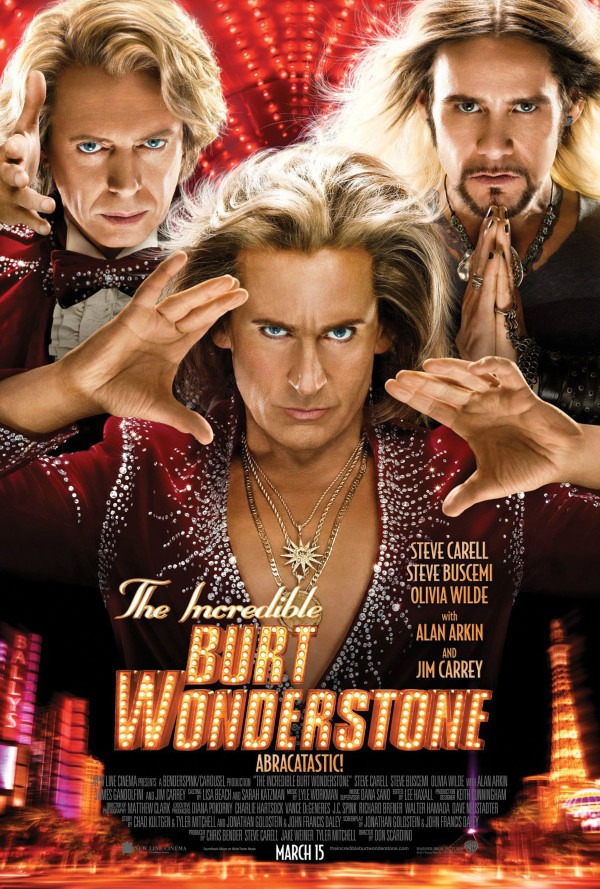 I know it's easy to criticize on these decisions... the studios have certainly made it quite easy for us to look at one sheets like this and say they're terrible. But come on, man... this is getting ridiculous. And this is even for a movie I am quite interested in seeing. However, if I didn't know what the film was about, or seen bits and piece that piqued my curiosity, there is no way this poster would hook me.
-Billy Donnelly
"The Infamous Billy The Kidd"
Follow me on Twitter.
Like me on Facebook.