Ahoy, squirts! Quint here with the results of the Dredd prop contest. If you remember, I asked for you guys to make a quick Don't Talk or Text PSA and if you could tie it into the world of Judge Dredd, even better. We had a few entries, but honestly most of them were half-assed with a lot of links to stuff on YouTube and Vimeo that had already been done... not only that, but they didn't even follow the specifications of the contest.
After seeing Thomas Stadlauer's entry, I decided there shouldn't be a runner up and that he should take home both props from Dredd, the destroyed Judge badge and the utility belt items.
Here's the video so good it won both prizes! All the way from Salzburg, Austria I give you Thomas Stadlauer's entry:
Check below for the original contest post!
Ahoy, squirts! Quint here. Dredd was awesome. We all know it and now the home video audience is proving us right (at least more than the theatrical turn-out did). The DVD/Blu is selling like hotcakes, but if you want a piece of the movie you can do one better if you have some coin or some talent.
Like most productions do, the producers are holding a prop sale. They're doing it in auction form via Prop Store, a pretty cool window-shopping outfit that collects and sells movie props. You can view their first batch of stuff right now, which includes Karl Urban's Judge Dredd costume, Mega City Credits, Judge helmets and various other bits and pieces. More will be offered up in the coming weeks.
If you're rich that's all well and good. Go drop your multiple thousands of dollars on cool props. But if you're like me and not rich, there's another option.
I have two props from the film to give away to some lucky AICN readers. The two props are as follows: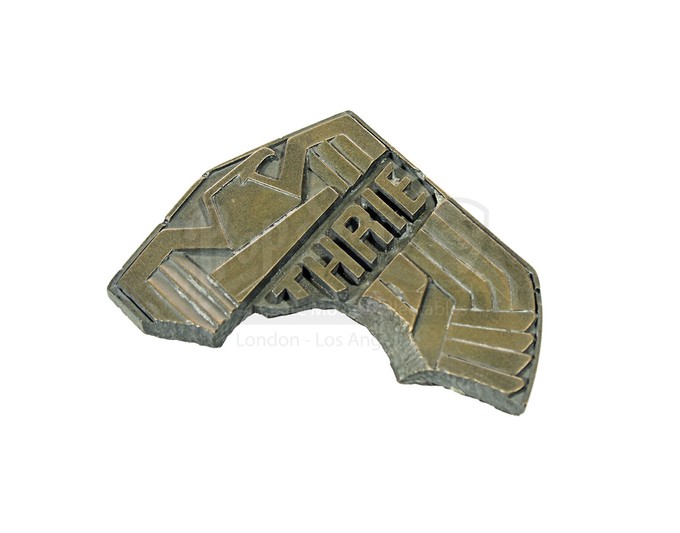 That shattered badge is from the (presumably) late Judge Guthrie and can be seen as a trophy on Ma Ma's wall.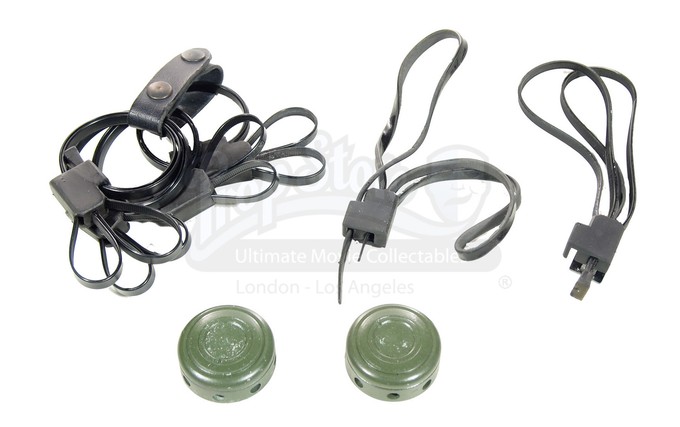 That second lot is an assortment of plasti-cuffs and mines that would be on a Judge's belt.
Because these are rather special, I'm going to make this a video contest. Judges deal out punishment for heinous crimes against society and there is no more heinous crime against society than talking or texting during a movie, so in the grand Alamo Drafthouse tradition I want to see how you guys would deal out punishment to a movie talker/texter/tweeter. Set the scene and tell me how you would judge and terminate the offender. If you can tie it in to Judge Dredd all the better, but it's not a requirement.
I'm not going to tell you how to do this video, but I will say I like some ultra-violence and have a rather crude sense of humor and since I will myself be acting as Judge, Jury and Executioner with these entries that might be good information to have.
The contest is open to anybody in the world, so all my foreign friends have at it. In order to win you must submit a YouTube or Vimeo link to me in an email with the subject line "I AM THE LAW" to this email address. You must also include your mailing address should you be the lucky winner or runner-up.
You have until 11:59pm CST Wednesday, February 6th to get this done. My favorite of the bunch will get the Judge Guthrie Badge and the runner up will get the mines/cuffs. If I get a bunch of good entries I'll embed 'em along with the runner-up and winner.
Good luck.
-Eric Vespe
"Quint"
quint@aintitcool.com
Follow Me On Twitter