John Ary here with a look at Shout Factory's latest horror Blu-ray release featuring the directorial work of a young Wes Craven. 1981's Deadly Blessing stars an almost unrecognizable Sharon Stone, Maren Jensen (Athena from the original Battlestar Galactica), Ernest Borgnine as the leader of an Amish-like cult, and one of the greatest cinematic faces of all-time, Michael Berryman.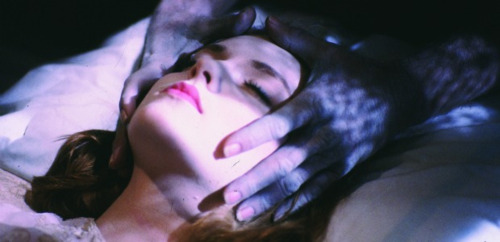 The story involves a young woman who finds her husband in a barn dead from an apparent tractor accident. When her two friends travel to Amish country to comfort her, they also become the target of a mysterious assassin. The neighboring Hitite sect believe the widow is somehow connected to the deadly and mysterious "incubus".

Here's what stood out to me while watching the new Blu...

1) Clearly, Craven recycled the bathtub scene with Lieutenant Athena... I mean Maren Jensen, three years later for A Nightmare on Elm Street. This is easily the most memorable and creepy segment of the film. Snake in bathtub > Freddy's hand in a bathtub.

2) Commander Adama probably would not approve of Jensen's nude scenes.

3) The picture and the audio quality look good, with some occasional dust speckles here and there.

4) Borgnine seems to relish his role as the bearded Hitite hater of the incubus. Watching him work is truly a pleasure.

5) The twist ending in the last two minutes of the film simply does not work. I would say more, but I don't want to spoil anything for the folks who haven't seen the movie.

Deadly Blessing goes on sale January 22, but I'm giving away a copy early. All you have to do follow me on Twitter and then tweet the following message: "I want to win a copy of the new #DeadlyBlessing Blu-ray!" I will randomly pick one winner from all of the entries. You have until January 18 at Noon central time to enter. Good luck!