Ahoy, squirts! Quint here. You may have noticed the Behind the Scenes Pic of the Day column disappeared for a few weeks there. After BNAT I got a little behind and when I began looking through my folders, I found that there weren't all that many great shots left for me to show.
I've combed through most of the movie magazines I have and the reader-submitted pics have slowed down a bit and those that do come in are images that have already run. I figured the column has run for almost three years and better to go out strong than exhaust the month's worth of really cool BTS shots then coast on mediocre pics for a few more months.
I decided to end the column and was building up one final article that threw 30-40 images at you as a final farewell. I announced on Twitter that I was ending the column and the sad replies I got made me feel both guilty and proud. Proud because I saw the column had built a loyal fanbase and guilty because I felt like I was letting them down.
As luck would have it, around this same time I stumbled upon a new source of awesome BTS shots and after spending hours combing through many thousands of images (mostly Old Hollywood), I refilled the coffers to the point where I feel comfortable continuing the column.
So, disaster averted! The Behind the Scenes Pic of the Day lives again! And it kicks off 2013 with a bang! I'm a massive, massive fan of Fred Dekker's work. I remember catching Night of the Creeps on cable and becoming instantly obsessed. It was funny, scary and I had strange new feelings in my tummy because of Jill Whitlow. She's puuurrrtttyyy.
I don't remember for sure, but this could very well have been my first horror comedy. I know it was around this time I saw Young Frankenstein and An American Werewolf in London, but I couldn't tell you which was first. I do know that I was thrown by the crazy sci-fi opening because the movie turns damn quickly into a really creepy horror movie with zombies and exploding heads.
One of my favorite effects in the movie is the animatronic grinning corpse of the ax murderer. When Tom Atkins (who is about the manliest man ever in this film) recognizes the corpse and it smiles at him, I totally lost my shit! What a great piece of work.
Thanks to William Forsche and the Practical Effects Group, I have a couple of images to share from the effects shop as sculptor Shawn McEnroe builds up this creepy undead evil piece of shit. Enjoy!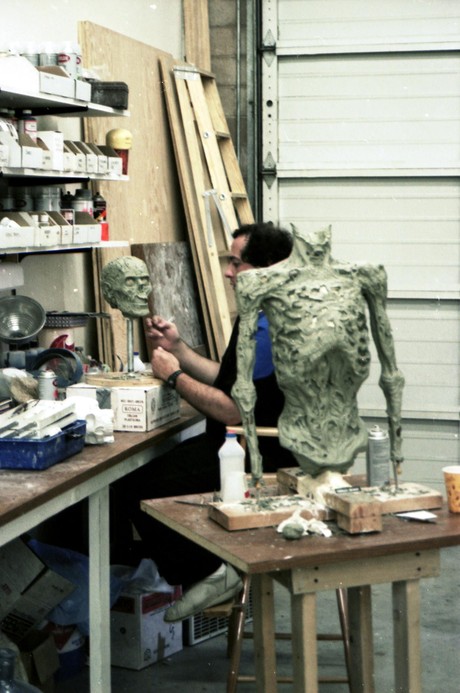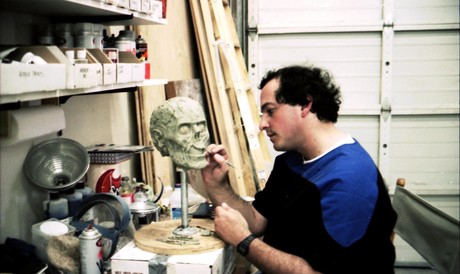 If you have a behind the scenes shot you'd like to submit to this column, you can email me at quint@aintitcool.com.
Tomorrow's pic continues the Fred Dekker theme! Come on back now or we'll kick you out of the goddamn club.
-Eric Vespe
"Quint"
quint@aintitcool.com
Follow Me On Twitter
I've got a lot of maintenance work to do on the previous BTS articles, but you can visit two pages worth of images (beware of some broken links thanks to the last server shift): Click here to visit Page One and Click here to visit Page Two