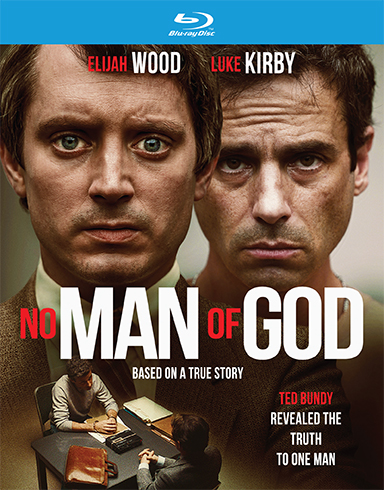 To kick off the October 19, 2021 RLJE Films release of the Ted Bundy drama/thriller NO MAN OF GOD on DVD and Blu-ray, AICN is giving away Blu-rays to three lucky winners.
Here's the gist of the NO MAN OF GOD:
"In 1980, Ted Bundy was sentenced to death by electrocution. In the years that followed, he agreed to disclose the details of his crimes, but only to one man. During the early days of the agency's criminal profiling unit, FBI analyst Bill Hagmaier met with the incarcerated Ted Bundy in the hopes of understanding the psychology of the serial killer and providing closure for the victim's families. As Hagmaier delves into Bundy's dark and twisted mind, a strange and complicated relationship develops that neither man expected. NO MAN OF GOD is based on actual transcripts of interviews between FBI analyst Bill Hagmaier and the incarcerated Ted Bundy."
NO MAN OF GOD is directed by Amber Sealey (NO LIGHT AND NO LAND ANYWHERE), and stars Elijah Wood (THE LORD OF THE RINGS TRILOGY), Luke Kirby ("The Marvelous Mrs. Maisle"), Aleska Palladino (THE IRISHMAN), and Robert Patrick (TERMINATOR 2).
The NO MAN OF GOD DVD will be available for an SRP of $29.96 and the Blu-ray for an SRP of $29.97 with bonus features including a making-of NO MAN OF GOD featurette.

If you'd like a chance to win a copy of NO MAN OF GOD, email me at annetteaicn@gmail.com with the subject line BURN IN HELL TED BUNDY. Please include your mailing address in-contiguous U.S. only, no P.O. Boxes.
Winners will be chosen at random by 10/13 at noon. Good luck!
Cheers,
Rebecca Elliott
aka Annette Kellerman