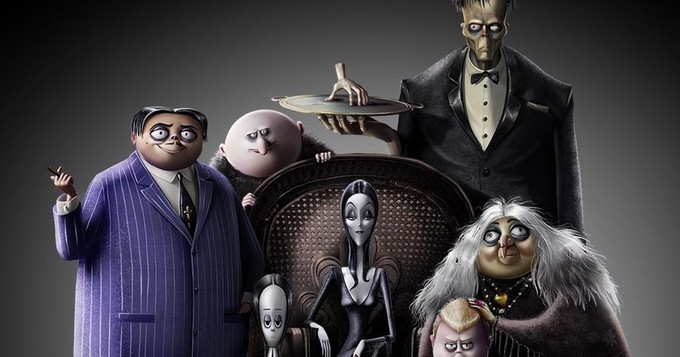 Hola Dannie aqui,
The good folks at MGM released a teaser trailer for the new 3D computer-animated adaptation of everyone's favorite creepy, kooky, and spooky family "THE ADDAMS FAMILY." Greg Tiernan ("Sausage Party," "An American Tail," "The Land Before Time," and a ton of Thomas the Train shows, videos, and movies) and Conrad Vernon ("Sausage Party," "Madagascar 3: Europes Most Wanted," "Monsters vs. Aliens" and "Shrek 2") teamed up to direct "THE ADDAMS FAMILY."
Here is the terribly terrific teaser for "THE ADDAMS FAMILY" enjoy!
2019's "THE ADDAMS FAMILY" stars Charlize Theron as Morticia Addams, Chloë Grace Moretz as Wednesday Addams, Oscar Isaac as Gomez Addams, Finn Wolfhard as Pugsley Addams, Nick Kroll as Uncle Fester, and the Bette Midler is voicing Grandma Addams.
I have loved the Addams family for as long as I remember. As a child, I wanted to be Wednesday, and as an adult I, (as many have) always longed for the passionate love that Morticia and Gomez share. TV's John Astin and the 1990's Raul Julia's performances as Gomez is possibly the definition of my dream man. So I will most definitely be seeing this film as soon as possible. The voice casting gives me genuine hope. I love Charlize Theron as Morticia and would kill to see her do a live performance because that woman rocks every character given. Hit Girl aka Chloë Moretz is a perfect choice for Wednesday, and from what we see in the trailer from Oscar Isaac his voice work seems right on. I want this to be good, please be good, I struggle to imagine not loving an Addams family film, it just should never be a possibility. "THE ADDAMS FAMILY" is set to hit theaters on October 11th. Well, what do all of you boils and ghouls out there lurking the web think of the trailer? How many of you will be taking your phantasmagoric families to check this one out?
Stay Strong, Live Good, Love Movies!
Dannie H.L. Knowles aka Pekosa Peligrosa