Hey, friends. Barbarella here. Prime Video will release Nanny in theaters November 23 and on Prime Video December 16. The story of a Senegalese immigrant trying to raise enough money to bring her son to the United States by his next birthday confounds me, because while it offers some gorgeous imagery, intriguing characters, some intense horror elements, and a great set up, it ultimately doesn't do enough with them. As a fan of Blumhouse, I expected to love this film, but the minimal, although exceptionally well-done, horror sequences don't factor enough into the story, leaving me annoyed that it's promoted as a horror film when ultimately, it's not. Also, the ending proves so baffling, that I spend several minutes in disbelief, just asking "What?" and "Why would they do that?" Let me break it down for you.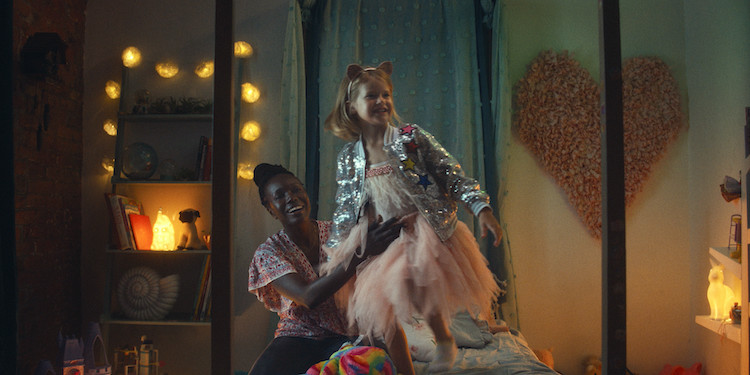 I absolutely love the dramatic side of this story. Taking on an onerous job caring for a difficult child with parents who take advantage of her at every turn, Aisha, played beautifully by Anna Diop, sacrifices sleep and sanity to do whatever it takes to earn the funds to reunite with her child. She is a mother, desperate to be with her son, dealing with obstacles and delays to making that a reality.
Nanny offers a compelling narrative from a perspective that proves unique. I love that writer and director Nikyatu Jusa tells a true immigrant story that addresses the issues immigrants face, without relying so heavily on the typical themes. Aisha, is a rich, complex character, not a stereotype, and her bond with her charge Rose (Rose Decker) develops and shifts in interesting ways. Adding the dynamic of the girl's mother, with her own issues, and father, who's mostly absent, the rich content provides multiple directions into which the story could go. Beautifully articulated horror elements enhance the intriguing narrative early on and introduce an ominous sense of approaching evil. This kind of set up gives me everything I want, with enough options to keep me in the dark, making me hang on every moment of the film. However, once the story begins to unfold, it becomes apparent that it won't open layer by layer, but instead would fall out messily like laundry dumped from a basket, leaving the viewer to sort through and work out what goes where.
For me, the messiness begins late in the film, well after the introduction to demigods. While the first glimpse of one contributes a boost of creepiness to the film, by the film's conclusion, the creepliness has eroded, taking the aspects of the story that offer potency along with it. I find the history and tales of demigods interesting, and I enjoy seeing another take on one to which "American Gods" first introduced me. I appreciate the lesson, but I don't feel as though the demigods prove particularly compelling in Aisha's story, at least not in the way things play out. That said, one is depicted beautifully though glorious cinematography.
In fact, the cinematography is stunning throughout, and makes me want to encourage viewers to watch it on the largest screen possible to experience the beauty of it. Visually, this film has everything I would want. I'm mesmerized, even when the story starts to waver. As intriguing as it is from the onset, it doesn't take advantage of the many ways it could have used horror to intensify the tension and draw viewers to the ends of their seats. Instead, it opts to go down another path that proves less captivating. Even big revelations have less impact than they should.
Even with the less-than-expected level of creepiness, I still would have walked away with a more positive reaction had it not been for its most problematic part: the ending. Without spoiling it, a potentially climactic event occurs, which leads me to anticipate some drama in the aftermath, but instead the story jumps forward in time, then does so again almost immediately, stealing a sense of true closure from the audience. While one might theorize how the characters move from that scene to the final shot, it still feels as though Nikyatu Jusu hurls the ending at us without warning, leaving us feeling jarred and bewildered. It genuinely spoils the entire film for me, which is a shame because early on, I love it. I'm so disappointed that I feel utterly unsatisfied afterwards, especially when so much of the story holds such promise.
Despite my mixed views on Nanny, I recognize Nikyatu Jusu's talent and value her voice. I believe she will contribute some amazing films with lavishly complex characters in the future, so I will absolutely be watching what she does next.
Nanny will be in theaters November 23 and on Prime Video December 16. Check out the trailer.