Aloha yall,
Tex Hula
Every other Monday I watch a random movie I've never heard of before. Lately I've hit a bit of a rough patch. My last five movies have ranged from god awful to mediocre at best, and sitting down to write about them has felt like doing a mandatory book report in school. So I didn't do write-ups on them. The writing would have been lazy and going through the motions anyway.

This project started off really fun, but I'm just losing my creative steam on it. I'm going to put it aside and do some other things. But I will continue to watch unknown movies every other week. It really is a good exercise and has been showing me corners of cinema I wouldn't have ever known existed. I'm not really retiring this column, I'm putting it in semi-retirement. If I see a movie that I passionately love or hate I'll be here writing it up. Hell, I might be here two weeks from now with an article if I see something amazing or amazingly bad.
I've also reached a milestone. I've hit my fiftieth movie. So what a better time to take a look back, and rank all fifty films.
By the way, the five movies I didn't review are: TONE DEAF (2019), BIG MONEY RUSTLAS (2010), LUCKY STIFF (1988), PLEDGE NIGHT (1990), and MORTUARY (1983). I'll give short reviews on each of these as I get to them.
So here they are, every movie ranked from best to worst.
50. BIG MONEY RUSTLAS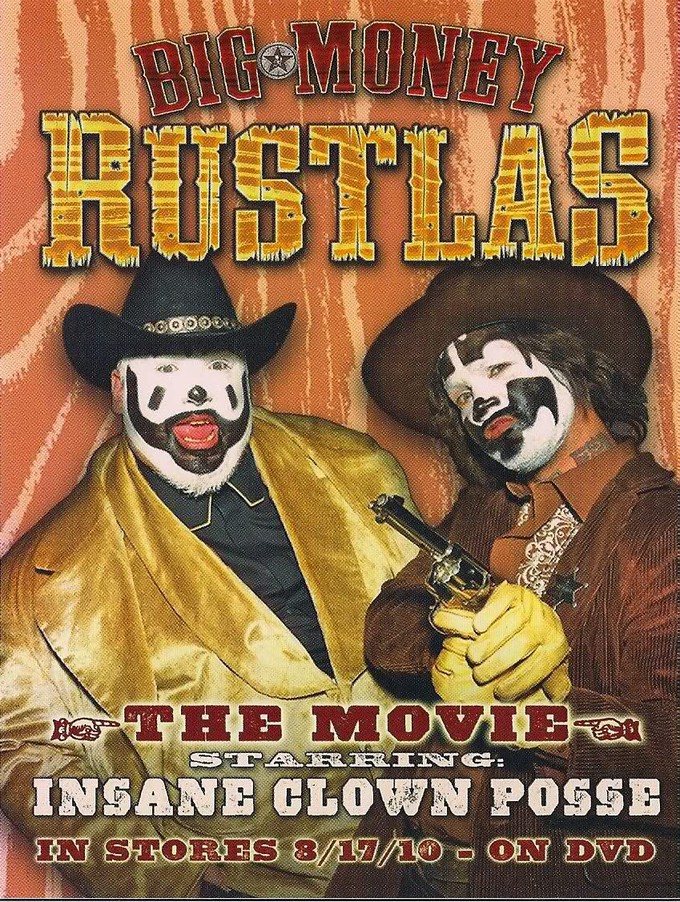 The Insane Clown Posse made a western? When I heard about it I came up with a scenario of them walking into a saloon and a barkeep telling them, "We don't take kindly to Insane Clowns 'round these parts." Turns out I'm more clever than the writer of the Insane Clown Posse movie. That ain't saying much. And I'm jumping to conclusions by assuming this thing had a writer.
My only knowledge of these guys is from the magnet meme, and a Juggalo documentary. I know they have tons of haters. I was never on that bandwagon. I'd much rather save my hatred for the pop acts that the media tries cramming down my throat. I know the Juggalos have equal disdain. As far as I know, I've never met one, and I'm not going to hate on a group because everyone else does.
That being said, this movie has the mentality of a third grader who just learned all his curse words, and he's going to use them constantly because he thinks they're hilarious. This "movie" is so obnoxious it goes way past the point of being unbearable. One of the most painful films I've had to endure. Not for the column, in my life. If their music is like this movie, then I get it. I get the hate.
49. DON'T TOUCH IF YOU AIN'T PRAYED
My first random movie. Would have been in last if it hadn't been for those damn clowns. This one places so low because it has a message that is just so wrongheaded. Basically this is an African-American, Christian version of THE 40 YEAR OLD VIRGIN. A single, Christian, virgin woman in her 40's who still lives with her parents tries to find a connection via an online dating site. There she meets the man of her dreams who sweeps her off her feet. Unbeknownst to her the guy is married, abuses his wife, and is a bigtime drug supplier. The guy is pretty much the villain in every 80's cop movie. In one scene he tries to rape her in a public park. She kicks him to the curb. He finds Jesus, and comes back to her a better man, and they live happily ever after. No. Hell no. This movie's message is pretty much is saying: "Girl, if your man is a drug dealing, abusive, rapist that's O.K. All he needs is God in his life." This movie should be titled, WORST POSSIBLE ADVICE TO GIVE TO A WOMAN IN AN ABUSIVE RELATIONSHIP: THE MOTION PICTURE.
48. SQUAD 77
Basically this is the Christian version of SUICIDE SQUAD. An ex-military guy is tasked with bringing bibles to an occupied third world country. So naturally he enlists a ragtag group of misfit teenagers he's never met. Why are they always enlisting ragtag misfits when they could easily find ex-military veterans? In SUICIDE SQUAD, why did the military send someone into a combat situation with only a baseball bat and booty shorts? Oh wait, I know the answer: Margot Robbie in booty shorts.
Honestly, this is the most inept production I've ever had the displeasure of laying my eyes on. The camera goes in an out of focus, characters are cut off and half framed while they're talking, you can hear the director talking at one point, and the goddamn boom mic has more screentime than some of the characters. Seriously, I don't think I could fuck up something this bad if I were trying my hardest to.
I'm not here to mock anyone's faith. I'm here to mock shitty movies. Christians make lots of shitty movies. I have a theory on why. I think it's because they hire in-house instead of seeking professional help. Why hire a professional sound guy for our film when we've got our Youth Ministry Pastor Phil? He installs car stereos for a living. He's qualified.
I think my theory has legs. It certainly explains this movie.
47. BIBLE BEES
Basically this is the Christian version of BEE MOVIE. An animated movie where bees re-enact Bible stories. It would be higher on my list if they would have done the crucifixion of Beesus.
46. PLEDGE NIGHT
A cheap Freddy Kruger knock-off terrorizes a frat house during hell week. This bargain bin bastard son of a hundred maniacs is Acid Sid (played by original Anthrax frontman Joey Belladonna). A hippie that died in the same house after a hazing accident involving hydrochloric acid. Like all Kruger clones of this era he makes groanworthy quips after every kill. Since he's a hippie, all his not so wisecracks have a 60's motiff like, "This is for Spiro Agnew" or "Where's the protest at?" Ugh.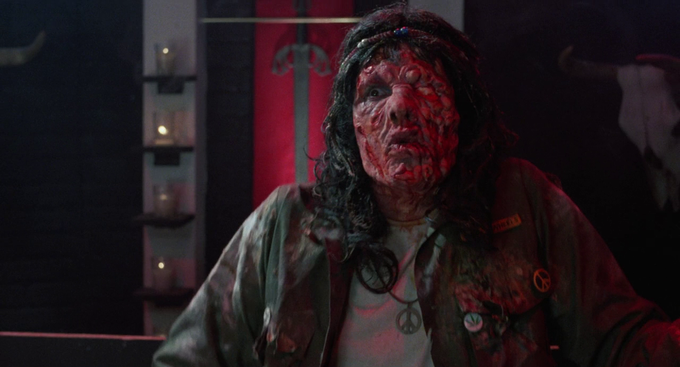 It seems like the one Elm Street movie the "filmmakers" really drew inspiration from is A NIGHTMARE ON ELM STREET 2. Hell they even lift a sequence directly from it when Acid Sid emerges from the chest of a frat boy he's possesed.
We're also treated to a montage of pledges picking cherrys off blocks of ice with their butt cheeks set to the music of Anthrax.
We have completely failed as a society.
45. MONACO FOREVER
Only worth watching for Jean Claude Van Damme's brief apperance, in which he's billed as Gay Karate Man. JCVD will forever be known as Gay Karate Man to me.
44. THE CHILL FACTOR (1993)
43. THE OCCULTIST
42. MATILDA (1978)
41. DANCE OF THE DWARVES
40. JILL RIPS
39. NO DESSERT DAD UNTIL YOU MOW THE LAWN
38. VICIOUS LIPS
37. KNIGHTS OF THE CITY
36. MORTUARY
A slightly generic, but fun to watch 80's slasher. Recommended mainly for another go for broke performance by Bill Paxton as an abused, Mozart loving, creepy mortician.
35. OLD DRACULA
34. FIGHT CLUB: MEMBERS ONLY
33. TONE DEAF
The war between Boomers and Millenials becomes a horror thriller comedy. After getting fired from her job, Olive (Amanda Crew, SILICOLN VALLEY) decides to rent a boarding house out in the country. The owner of the house is Harvey (Robert Patrick) who has just snapped and begun a killing spree. The horror thriller aspects are nothing you haven't seen before in better movies. The comedy is mostly based on the "biting social commentary" which they beat you over the head with.
I kinda like this movie though, mainly because Robert Patrick. He has some fourth wall breaking monolouges where he rants directly to the camera about the damn entitled millennials. He even spits right into the camera lense at one point. Just wish he were in a better movie.
32. SEX IS ZERO 2
31. FULL ECLIPSE
30. LUCKY STIFF
Of the recent movies I watched this is the better of the four. An overweight shlub who's unlucky with the ladies thinks he's hit the jackpot when a smoking hot blonde (Donna Dixon) begins to fall for him. Actually it's just a ruse to lure him to her hillbilly cannibal family's house so they can feast on him for the holidays. That is actually a brilliant premise. Sort of a cross between THE TEXAS CHAINSAW MASSACRE and SHE'S OUT OF MY LEAGUE.
This is Anthony Perkin's second and final film as director. I felt like he downplayed the horror elements and focused more on the comedy, because he was trying to branch out. I wish the final act had gone full on dark, R-rated, and gory.
29. STARFIGHTERS
The version I watched was in Spanish with no English subs. It's about Lucha wrestlers from outer space. So it would probably be higher up the list if I knew what the hell they were saying.
28. SKATETOWN U.S.A.
27. SOUTH BEACH
26. HARLEQUIN
25. SATURDAY'S WARRIOR
24. BEARCITY 2
23. SEX IS ZERO
A fun Korean sex comedy that takes inspiration from dozens of American teen sex comedies. The final act completely rips off the final act of THE LAST AMERICAN VIRGIN, a movie which itself was a re-make of the Israeli film LEMON POPSICLE, that basically got the ball rolling and started Cannon Films.
22. DEVIL WOMAN
21. SILENT MADNESS
20. FELIDAE
19. THE SAMURAI IN AUTUMN
18. DANGEROUS GAMES
17.OLGA'S GIRLS
16.ALADDIN (1986)
15. BRUKA, QUEEN OF EVIL
14. OPIUM AND THE KUNG FU MASTER
13. THE DRIFTING AVENGER
12. MACHO MAN
A tale of two mustachioed men, one a karate fighter, the other a boxer, who stop their rivalry and team up to kick the living shit out of some neighborhood drug dealers. There was a recent crowd-funded, modern sequel made to this that I'm still searching for.
11. THE SCARECROW OF ROMNEY MARSH
10. BITE ME IF YOU LOVE ME
This one is about a Japanese schoolgirl obsessed with horror who gets involved in a love triangle with a zombie and a chubby, Japanese Jason Voorhees. It's also a softcore porn, with a pretty explicit sex scene involving her and Jason. Funny enough though, I've had more people express interest in watching this than any other film.
9. BATTLETRUCK
I don't think there's any movie on this list I was more excited about watching than BATTLETRUCK. That's mainly because the movie's called BATTLETRUCK.
8. BLOODY MALLORY
7. ATTACK OF THE BEAST CREATURES
After their cruise ship sinks, a group of castaways find themselves on a deserted island. But not just any island, this one is filled with Beast Creatures. Which are little, bloodthirsty, living tiki statues. Insanity ensues. Basically it's like the last story in TRILOGY OF TERROR multiplied by a hundred.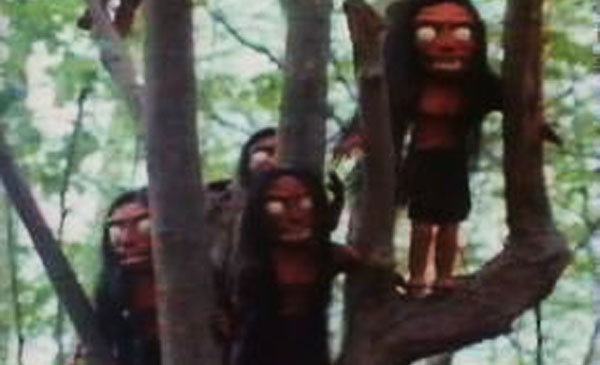 This is hilarious and so much fun. I also just happened to find it at the perfect time. I was having my doubts about this project. I never wanted it to seem like a column where I just make fun of bad movies. There are hundreds of YouTube channels that have that covered. I looked at this like dumpster diving into forgotten cinema. I was starting to have my doubts, but this movie showed me that I really will uncover hidden gems I had no idea existed.
6. THE UNSEEN
When I first started this thing I was worried I was going to run into movies I had actually seen before but had forgotten about. This is the only one that's happened with. Kinda ironic given the title of it. Not only have I seen this before, but I had been searching for it. I first saw it as a kid on HBO with a friend who was spending the night. It both scared the shit out of us and made us laugh. Later in my life I've sought this movie out and have even described it to friends with a higher knowledge of movies than me, and never had any luck. Then I randomly pick this movie out of the blue and it just so happens to be it.
I really hate my review of this movie. I think I went way too spoilery. Something I've been trying to avoid doing since. If you like weird, obscure horror movies with WTF endings, don't read my review, and check this out.
5. HUNDRA
I love HUNDRA! After her entire female village is wiped out by barbarians, the sole surviving Amazon princess Hundra wanders the countryside looking for a suitable male to knock her up and help her repopulate. It's exactly what you would hope for. Cool stunts, great action, and amazing production design. This is impressive low budget filmmaking at its best.
HUNDRA also happens to be the only movie on this list to have a video game adaption: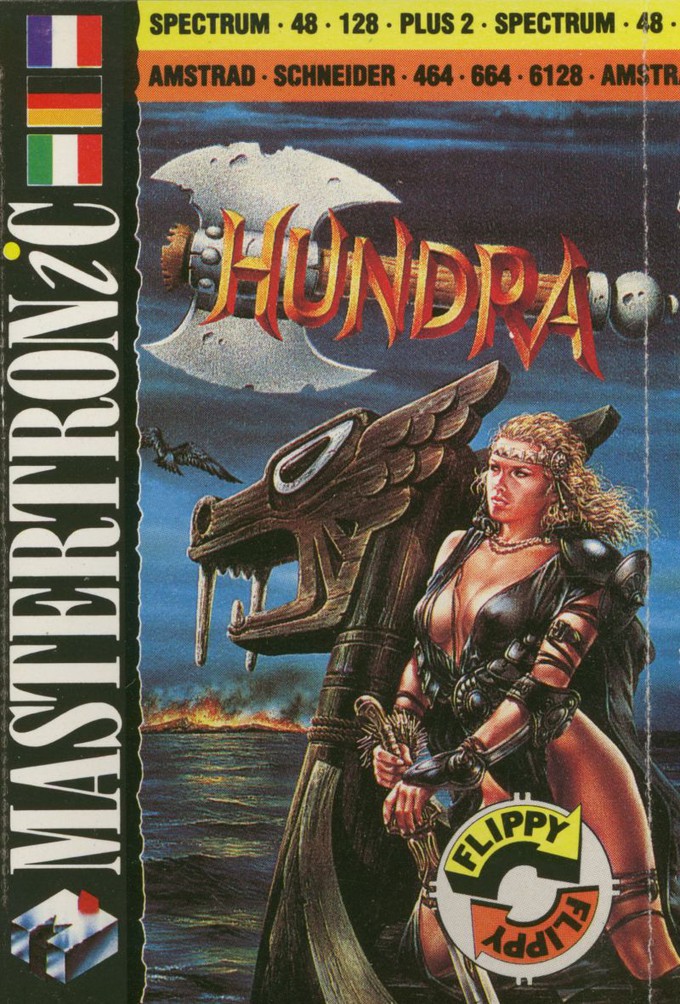 Nobody's clamoring for a DON'T TOUCH IF YOU AIN'T PRAYED RPG adventure game. Although, a MR. NO LEGS first person shooter where you controlled his shotgun wheelchair would be pretty sick.
4. JACK BE NIMBLE
A very twisted, New Zealand flick about an abused teen seeking his twin sister, who had a more privileged upbringing. This movie is great gothic thriller, but it has one of the best acting perfomances of all the movies on this list by Alexis Arquette. Kind of a revelation actually. I'd only seen her BRIDE OF CHUCKY, and a handful of walk-on parts, so I had no idea she was thiscapable.
3. IF FOOTMEN TIRE YOU WHAT WILL HORSES DO?
There hasn't been a theatrically released comedy that has made me laugh this hard in a long time. Told documentary style, it illustrates the wild rantings of a Southern Baptist preacher as he narrartes the horrors to his congregation. According to him, Communists will invade America RED DAWN style. Christians will be rounded up and executed in mass, the ones that aren't will be sent to camps, or tortured in weirdly inventive ways, and of course rapings for the women.
Children aren't spared either, the film is not shy at all about showing kids being tortured and murderered. The ones that survive are taken to re-education centers, and bribed with candy into becoming Commie lovin' bastards.
I know that doesn't sound like a comedy at all, and trust me not everyone's going to find it funny. But just the audacity of it all, the way this lunatic Preacher goes into detail about everything so matter-of-factly like this will truly be happening in the not to distant future. (SPOILER ALERT: It doesn't) The atrocities are filmed way too shoddy to even be taken even remotely seriously. Best comedy of 2019!
2. VICTIM
In 1960's UK, homosexuality was illegal. Prominent gay men being extorted for large sums of money to not have their secrets exposed was a common occurence. This is the setting for VICTIM. After a succesful lawyer's lover commits suicide after being extorted, he decides to track down the blackmailers. Eventually he's forced to come out of the closet to his none too surprised, but supportive wife. Not only is this a great mystery, but it's a groundbreaking and important piece of forgotten cinema.
1. MR. NO LEGS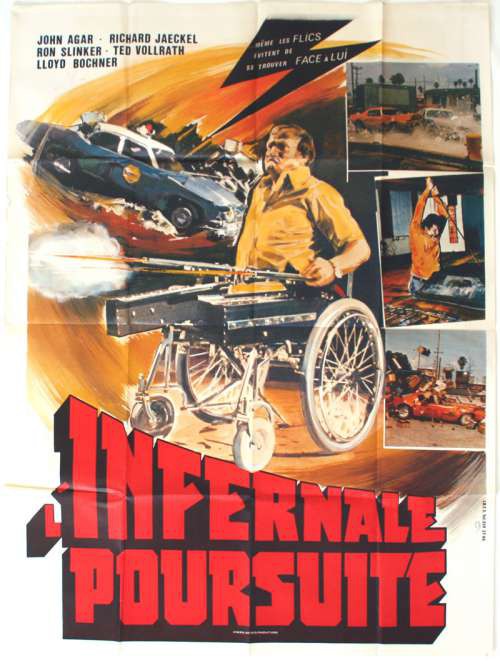 Ted Vollrath (Lou / Mr. No Legs), lost his legs at the age of 18 from a mortar shell while serving as a Marine in the Korean war. Afterwards he would train in karate, becoming a Grand Master and earning black belts in several different fighting styles. The guy is a true badass, and deserving of the title of action hero. He would later go on to form a school that taught karate to people with disabilities. How amazing would a movie be where him and his students take on a gang of neighborhood drug dealers? Sadly MR. NO LEGS would be his only foray into cinema.
I've lived my life by one golden rule, and I've stuck to it my whole life. Never fight a double amputee in a wheelchair. It's a lose-lose situation. If you win the fight, you're the asshole that beat up a guy in a wheelchair. If you lose, you'll be the poor bastard who got his ass kicked by a guy in a wheelchair. Best to avoid the whole siuation. Especially if the guy is Ted Vollrath.
MR. NO LEGS might be a little misleading. By the title and poster you might assume Mr. No Legs is the protagonist. He's not. He's not even the main antagonist. He's an enforcer for the lead villain that goes rogue. Normally that would be a disappointment, but this movie in and of itself is great. Mr. No legs is just the icing on the cake. The movie is about the heroin trade in Florida. After a girl is killed by her boyfriend, who just so happens to be a worker for the smack kingpin, it's covered up and made to look like an accidental overdose. However the girl happens to be the sister of the local drug squad detective, and he makes the investigation personal.
This is just great, gritty 70's cinema that was an absolute joy to discover. Directed by Ricou Browning who played Gill Man in the first three CREATURE FROM THE BLACK LAGOON movies. (By unintentional coincidence I'm wearing a Gill Man T-shirt while writing this.) He also developed SEA HUNT and FLIPPER.
Alright, I'd like to thank you guys for reading this random crap by awarding someone with a prize box filled with random crap. First off I have a copy of MR. NO LEGS on blu-ray. Unfortunately, I'm also giving you a DVD of BIG MONEY RUSTLAS. Dispose of it however you choose. (Bio-hazard suit not included.) There will also be a few more DVDs on this list. To fill out the box I'll be putting in random movie related items. To enter I just need the following:
1. Since I'd like to reward the talkbackers who have commented on articles, only they will be eligible. It doesn't matter to me if you've had an arguement with me, if you've only shown up to say first, bash the site, if you write for the site, busted my balls over a misspelling, Saul Goodman. And if you're not a talkbacker leave a comment below and you're automatically eligible.
2. Use the subject header: DON'T TOUCH IF YOU AINT IT COOL NEWS. Not doing so might mean your e-mail gets lost.
3. Name and full address
4. Talkbacker name
5. I'm thinking of a number between One and one hundred. Guess it.
6. Pick a letter of the alphabet. (This is in case of a tie.)
7.Pick a different letter of the alphabet. (I'm not expecting many entries, but I really don't want to deal with complications.)
I'll find out who won on the evening of December26.
Mele Kalikimaka pardners,
Tex Hula