I had the opportunity to spend this past weekend in the City That Never Sleeps to attend the New York City Comic Con, hosted by Reed Pop Events. Housed in the glass palace that is the Jacob K. Javits Center right alongside the Hudson River, NYCC2021 hosted a bevy of celebrities, vendors, panels, meetups, photo ops, installations, activations, and every manner of salute to geekdom, fandom, nerddom, and all other imaginable -doms. Cosplayers, otakus, Whovians, Trekkies, Jedis, Walker Stalkers, Ghostheads, Marvel and DC Fans, Gaimanites, and even a couple of Juggalos all came out of their Covid slumber to descend upon Hell's Kitchen to finally be with one another after the con went dark last year. Safety protocols were in place in terms of entry, with each attendant having to prove their vaccination status and wear their masks at all times, as well as a purported "reduced capacity," though I can't attest to the validity of that last part. The palpable sense of excitement throughout the weekend was prevalent in every interaction as fans got to rejoice in their mutual appreciation for all things pop culture.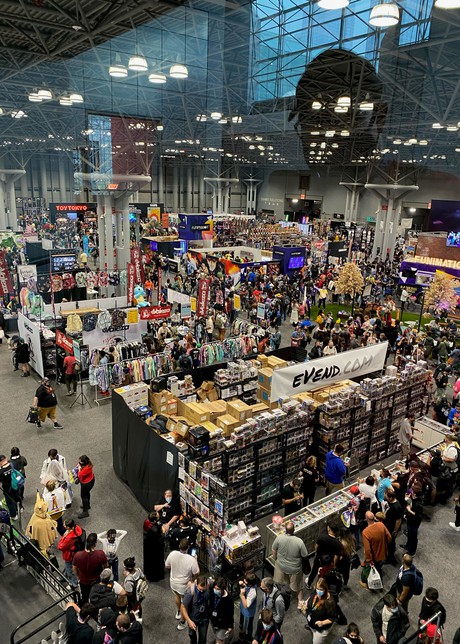 I arrived Thursday morning and was able to enter the Con with very little difficulty, immediately thrust into the throng of bodies in the halls outside of the show floor. My first stop was the Inner Roadway just outside and the HBOMAX "Doom Patrol" activation: a popup attraction referred to as "Carnival Patrol." Danny the Ambulance was parked prominently outside to let people know they were in the right place, in case the 18-foot-tall big top tent didn't clue them in. Carnival barkers entertained while the queue formed, and we were even treated to sideshows from a magician who hammered a nail into his face, a contortionist, and a round of trivia led by a local drag queen. Once inside the tent we were able to participate in character-themed games, such as Victor Stone's Claw Machine, Crazy Jane's Personality tester, Cliff Steele's Slot Car speedway, and Larry's Negative Energy Maze. I won my RC car race but buzzed on the energy maze; I was the last stiff in the tent before they were closing down for a Twitch-streaming interview with cast members Jovian Wade (Cyborg) and April Bowlby (Rita Farr) so I rushed it. Oh, well. No free t-shirt for me.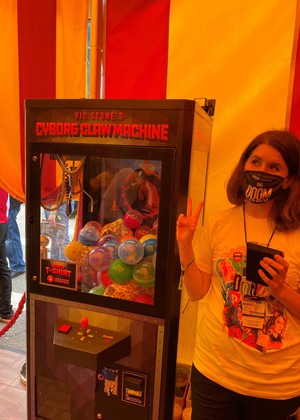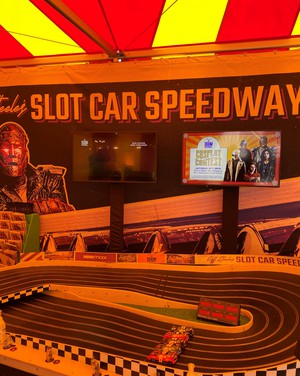 From there I explored the Artists Alley as well as the Autograph and Photo Op area, then headed up to the show floor to see all the vendors, exhibitors, and installations, of which there were plenty. One could easily go into a sensory overload in such a place as their wide eyes take in the stacks of comics, original works of art, collectibles, t-shirts, plushies, action figures, cards, pins, mystery boxes, and so many Funko Pops the brain struggles to conceptualize it. DRAGON BALL took center stage as soon as one entered the floor with massive statues, a walking history exhibit, and a big-screen television for playing the latest iteration of their ongoing fighting video game as well as another broadcasting the teaser for the new film releasing next year, DRAGON BALL SUPER: SUPER HERO.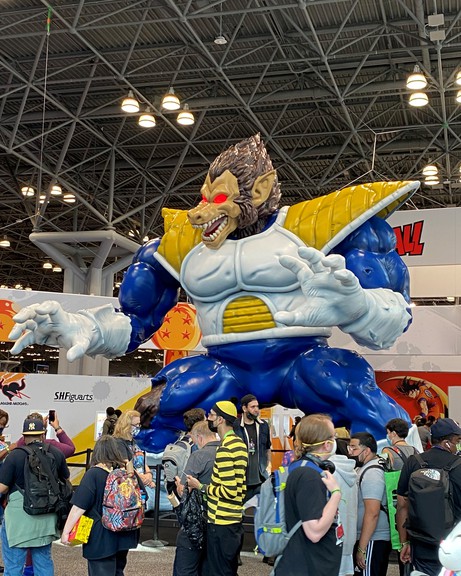 Other notable large-scale attention-grabbing exhibits were present from Shonen Jump, the prolific manga magazine provider; VIZ media, the large manga publisher; Whatnot.com, the community marketplace, which set up a wrestling ring in the center and had guests lined up on either side of its massive booth all four days to spin two prize wheels for posters, pins, bags, and mystery gifts; Demon Slayer: Kimetsu no Yaiba, which had erected a quiet tea-house style refuge in the midst of the bustling floor; Chucky and his new series on SYFY, which consisted of an ice-cream truck usurped by the murderous doll that fans could enter to be treated to a one-on-one confrontation with the killer; Star Trek: Prodigy re-created the bridge of the U.S.S. Protostar; eBay held court in grand style with exclusives from The Hulk, Doctor Strange, and DJ Skee with King Saladeem, as well as hosting a scavenger hunt for ten Funko Pop collectibles represented by hidden light boxes around the Con (I didn't find any of them); and Funimation, the anime-streaming service, held court in two booths, one of which was dubbed Sakura Park and offered a Japanese-inspired oasis in the middle of the convention floor, complete with (fake) cherry blossom trees and a small (fake) stream with a quaint bridge for photo ops. They also had a refuge on the Inner Roadway near the Doom Patrol and Audible "Sandman: Act II" activations.
Thursday closed with William Shatner taking the Main Stage to discuss an old friend, his most recent album "Bill," and his impending journey to space (which, as of this writing, took place without the discovery of any green women to seduce). Response to the panel has been that he "meandered" or "ranted" but, honestly, I found it to be more classic Shatner; he doesn't lose his mind, but rather speaks it in the moment, and as he dealt with the enormity of the journey before him, he brought the whole crowd along on his journey. If you want to check it out, Grogan Productions have a video on their YouTube channel you can view.
As the floor closed on Thursday, we headed back to the hotel. I was honored to stay with three of the creatives over at That Hashtag Show, who were a bunch of swell dudes. If you haven't checked out what they're doing over there you should definitely give them a look. We freshened up and then headed over to The Press Lounge Rooftop bar at the Ink 48 Hotel for a Funimation Cocktail Party. If the party sucked and they provided nothing but Cheez-Its and Fresca at a premium markup to a playlist of hits by the Wiggles I would still say it was amazing just for the view. As it is, the party was a very nice affair with two hosted bars, two hors d'oeuvres stations, a step-and-repeat photo op, merchandise displays, trailer screeners, a photo booth, and even a sneaker installation, all set to a chill lofi lounge set under the moderate New York clouds. We were even given free t-shirts from the Demon Slayer franchise as we departed.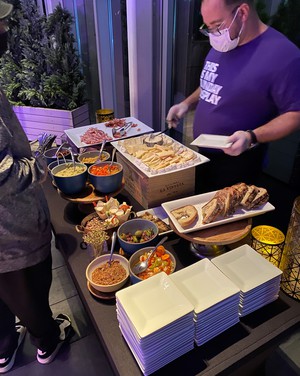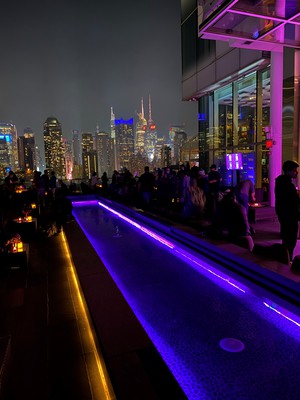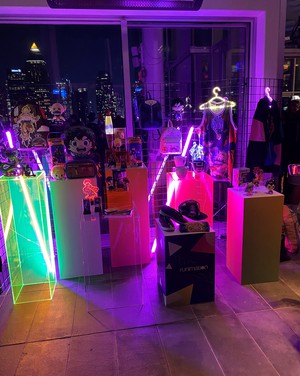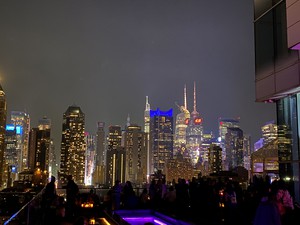 Friday was even more eventful, as the day opened with Adam Savage holding court on the massive Empire Stage, a recent addition to the center that makes the Main Stage look like a green room. Savage talked about his isolation during the pandemic and the surreality of the world over the past year or more, some of the creations he'd been noodling with in his garage during the downtime, and what projects he was excited about in the near future in the world of makers and thinkers. You can watch the panel on Adam Savage's Tested YouTube channel here.
Next up was the world premiere screening of Chucky from the SYFY network. After viewing the first episode before its October 12th premiere, fans were then treated to a conversation with Jennifer Tilly and original creator and series showrunner Don Mancini, who discussed the advantages of presenting the ongoing misadventures of Charles Lee Ray in a serialized format. They teased the reemergence of classic characters from the film series and revealed that series star Zachary Arthur and original Andy Barclay actor Alex Vincent were in the crowd of viewers, who then joined them on stage to finish out the panel. You can view the conversation segment here.

More panels throughout the day, both live and virtual, offered peeks at amazing IP coming our way, such as The Wheel of Time series for Amazon Prime, I Know What You Did Last Summer from Amazon Prime, The Expanse from Amazon Prime, Crossing Swords Season 2 from Hulu, My Hero Academia: World Heroes' Mission from Funimation, as well as "Evil" season 2 and George Takei thrown in for good measure.
The cast of The Boys took the Empire stage to reflect on the first two seasons of the irreverent and violent show on Amazon Prime, with Anthony Starr (Homelander), Jack Quaid (Huey), Chace Crawford (The Deep), Erin Moriarty (Starlight), and Karen Fukuhara (Kimiko) sharing their notable moments on set and off with fans and detractors alike. No hints or sneak peeks at season three, however.
The highlight of Friday came with the panel for GHOSTBUSTERS: AFTERLIFE, which brought Jason and Ivan Reitman to the stage along with co-writer Gil Kenan as well as cast members McKenna Grace, Finn Wolfhard, Celeste O'Connor, Logan Kim, and Carrie Coon. Jason discussed what called him to take up the Ghostbusters mantle and how the experience of directing the film while its original helmsman sat mere inches away affected him while the larger cast mostly discussed how surreal it felt to discuss a film they made over two years ago. Jason Reitman expressed his elation for the film's theatrical release, citing SONY as the "studio that most honors theatrical films." When asked to set up the clips he had brought along, he surprised everyone in attendance by saying "Before I do I'll say this: it's been a while since we started making this film and... you all are the most patient fans on Earth… and, frankly, my father and I think you've waited long enough." Then this convention hall that seats about 3,800 people, filled to capacity and then some, hosted a screening of GHOSTBUSTERS: AFTERLIFE. I will not spoil the film for anyone except to say that I, personally, enjoyed the movie. I can also assume that the thousands of people in attendance seemed to enjoy the movie as many moments were met with thunderous applause and loud cheers that honestly made me miss some of the dialogue in the film, so I'll of course see it again when it releases next month.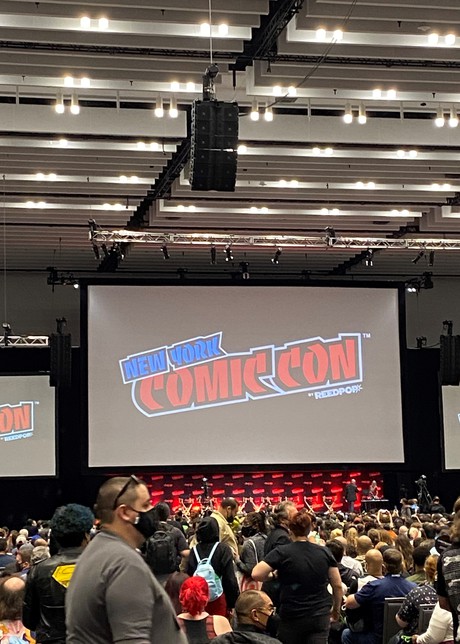 Riding the high of discovering the new GHOSTBUSTERS I had to keep it going, so I left the Javits center and went to the nearest movie theater to see NO TIME TO DIE, which I also very much enjoyed. It's difficult to discuss without diving deep into the wider world of Bond or avoiding spoilers so I'll merely say that I appreciated the film and think it's a proper send off to Craig's run as the super spy, with several classic elements shoe-horned in for the last chapter to appease longtime fans of the Connery and Moore interpretations. It's certainly worth seeing, and like any grand action spectacle, it's worth seeing at the theater.
Saturday was a busy day for me that started with a press press event for the Discovery+ shows "Kindred Spirits" and "Ghost Hunters," which warrants its own article. I also took advantage of a scavenger hunt from Twentieth Century Fox and found "Guy" outside of the convention who gave me a digital copy of the movie FREE GUY, starring Ryan Reynolds, Taika Watiti, Jodie Comer, Lil Rel Howery, and Joe Keery. I then took a brief hiatus to have a record signed by Anthrax and it was back to the Press Room to interview the stars and producers of FX's adaptation of Brian K Vaughn's celebrated comic book "Y: The Last Man," which is also worthy of its own article. (I think we can all agree this one's gone on a bit long.)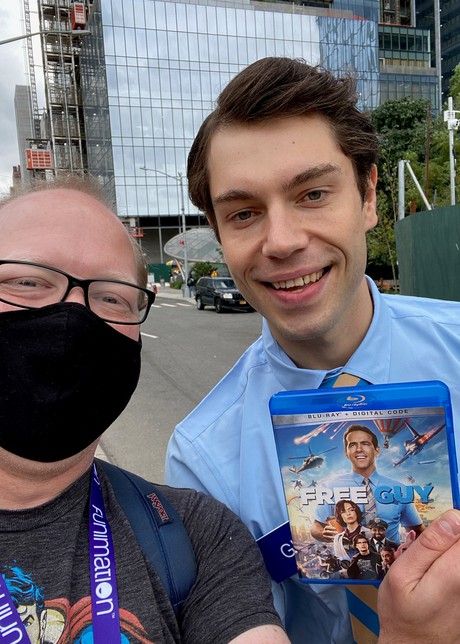 Saturday's panels brought looks at STARZ's Outlander, season 6, Star Trek: Discovery, season 4 on Paramount+, PSYCH 3: THIS IS GUS on Peacock, Hanna, season 3 on Amazon Prime, The 4400 reboot on CW, and One of Us is Lying on Peacock.
Sunday marked the final day of the Con and a shortened schedule, so I went back to the Carnival Patrol to win that t-shirt but managed only to soak the one I was wearing in rain. I attended the panel for Legion M, producers of JAY & SILENT BOB REBOOT, MANDY, and ARCHANGEL, to see what they're working on now. Their current slate of projects involves a stage play, a television series, and a new film currently wrapping up photography in Louisiana called THE MAN IN THE WHITE VAN. The film stars Sean Astin, Stargirl's Brec Bassinger, Ali Larter, and THE CONJURING's Madison Wolfe. You can learn all about that project here.
Panels included peeks at Paramount+'s Star Trek: Prodigy, and FX's What We Do In The Shadows season 3. At 5pm, the festivities came to a close, and I had managed to spend way too much money on keepsakes for myself and others. It was time to go, but I had one more celebrity sighting that I had to get in before leaving town: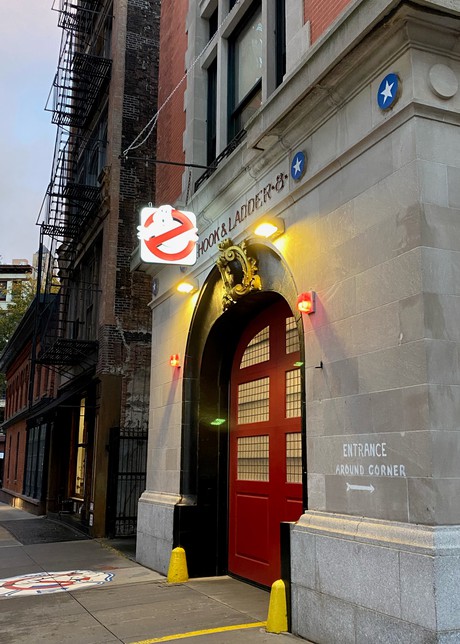 After a few slices of pizza it was time to go home, and wait the long 300+ days until the next New York Comic Con, which I will most definitely be attending.
Until next time, keep it nerdy, y'all!
-McEric, aka Eric McClanahan-