Howdy, y'all! McEric here with a review of the Cannes darling LETO, by filmmaker Kirill Serebrennikov. I had the opportunity to view the film and even chat with co-screenwriters Michael and Lily Idov about crafting this gorgeous, understated rock-n-roll biopic.
Check out the trailer here:
Before viewing the film in its entirety, I had no idea that the characters within were based on actual persons in our relatively recent history. And let's face it: I don't care how cool and cultured your college roommate was, you didn't know who Viktor Tsoï and Kino were, either. And according to Lily and Michael Idov, that's more than okay.
"We're anxious to see if audiences find a personal connection to the film even if they don't know who the artists are," says Lily. Michael adds "Especially if they don't know who these musicians are. The U.S. will be the ultimate test because in Europe and Korea, for example, people actually know who Viktor Tsoï is though his songs have never made any waves in the U.S. The way that we wrote the film and the way that Kirill directed it was such that you don't have to know that these people are real and that one of them has gone on to enormous, though regional, Russian fame and the other sort of ended his days in semi-obscurity. It helps, as kind of a bonus, but at its heart this is a movie about youth, freedom, and friendship and it should be seen as kind of a weird musical love triangle."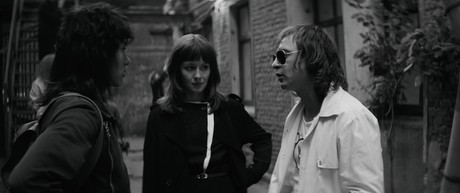 From the first black-and-white frames of LETO, portraying young women climbing through an open window to sneak into a state-sponsored rock show, the viewer is assured that they're getting a quiet view into an otherworldly microcosm of youth and rebellion rarely seen. The grey color palette seems indicative of the oppression of the Soviet Union in the early eighties, and to be sure there are scenes wherein our principles are antagonized by nationalists for their perceived lack of ambition and idolization of Western culture. The passions of the characters come alive in colorized Home Video footage scrolling throughout and interstitial musical numbers with interactive extras and scratch film animation. These renditions of songs by Talking Heads, Lou Reed, and Iggy Pop are often introduced by a character named Sceptic, a fourth-wall breaking storytelling device played with impish delight by Aleksander Kuznetsov.
"That was all Kirill," says Michael Idov when I asked him of the character. "Yeah, basically he took a minor character which we had in Mike's entourage and he elevated him into this kind of Demon of Modernity hanging over the entire movie and commenting on it. This was just part of Kirill's brilliance in this handling of the material."
The performances in the film are wonderful, with Irina Starshenbaum as Natalya "Natasha" Naumenko as a standout. The basis of the film are the real-life Naumenko's memoirs of this period of time in her life when her husband, Mike Naumenko, singer-songwriter of the rock band Zoopark, met and mentored a young Viktor Tsoï in Leningrad, played by Roman Bilyk and Teo Yoo, respectively. Big-eyed adoration and sideways glances give way to an obviously developing love triangle, which is seen as far away as Viktor's first appearance onscreen, though plays out delicately and quietly. The true dichotomy of the film is seen in its muted depictions of punk rockers in repose; their earnest and near-silent steps through life and time, the fragile ballet they dance around one another in their unseen corner of pre-perestroika Russia.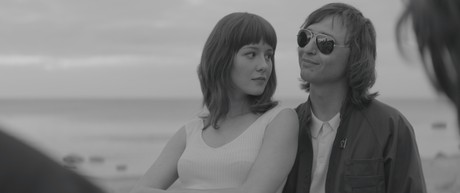 There is a scene towards the center of the film with Mike and Natasha sitting on the bed in their communal apartment listening to music on a reel-to-reel player, about to change the tape. Mike asks Natasha if she'd rather hear T-Rex or Lou Reed, and she says either would be fine; she has no real inclination toward one or the other. Mike knows, as well as Natasha, and even us, that they're not talking about music; they're talking about her attraction to both Mike and Viktor. It is classic cinema, a moment of heightened reality that seems so believable yet wholly omniscient; two people behaving with more grace and restraint than could possibly be hoped for in this Jerry Springer-ringled reality in which we find ourselves. I thought it indicative of a similar scene in 1998's HURLYBURLY when Sean Penn and Robin Wright-Penn discuss the differences or lack thereof between French and Chinese cuisine, and the rapidly escalating discussion is about anything other than food.
LETO, which is Russian for "summer", features wonderful songs throughout, and as a surprise to those who might be familiar with Kino, none of the "big hits", giving little inclination of just how enormous a star TsoÏ, sometimes referred to as "the Jim Morrison of Russia", would become.
"Well, Jim Morrison has never started out quite the same. He's always been a great mystic. Whereas Tsoi, it's interesting, his early lyrics, which we're using in the film, were almost like wry observational humor about the scene he was in. They're these willfully, not naïve, but primitive sketches of being nineteen in the Soviet Union and doing nothing, just hanging out. Which, I think, is one of the coolest parts about the film: we're NOT using any of his big hits. Commercially, it would be so natural to use his better known songs and our endless gratitude always goes to the producers of the film for not pushing us in that direction and in fact agreeing with this amazingly perverse idea of doing a biopic of one of Russia's most famous songwriters and only using their juvenilia, songs they wrote when they were 18 or 19. Imagine doing a biopic of David Bowie that stops before Space Oddity, only focusing on his early indie stuff. That's kind of what we pulled off here."
It's this portrait of the artist as a young man that humanizes the story and makes Viktor relatable as a person, as well as narrowing the focus on Mike and Natasha and the immediate entourage of young idealists. The film, in my opinion, is less about the music and more about the youth, the potential, and the wild-eyed optimism of its principles at this poignant time in Russia's recent history. Though they fancy themselves "punks", the core characters have a reservation about them that grounds their dreams and allows them the restriction necessary to live in a state-audited music scene without bursting through their skin in frustration. One can never imagine the Sex Pistols thriving in such an environment, and the film honestly portrays the discipline needed to do so.
LETO is an achievement, not only in its narrative and message, but in its existence, as well. Director Kirill Serebrennikov was arrested in August of 2017, and later placed under house arrest. As such, the final frames of the film were shot by supporting crew under his carefully detailed instructions. He has since been released from house arrest (just two months ago, in fact) but still faces charges of fraud and embezzlement of government-supplied funds to his theater space, which he will defend in the coming months.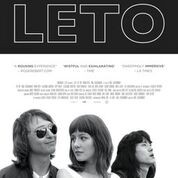 LETO made waves at Cannes last year and will finally land in the states this month, first in New York cinemas this Friday, June 7th, then in Los Angeles on June 21st.
"I'm really excited it's finally coming out in the states. I'm really curious about the reactions of the audience in the U.S. for this film," says Lily. Adds Michael, "I think the reaction of the U.S. audience is the ultimate test if this works if you don't know who these people are. It's great that it's finally coming to the States, you know; we have weird biographies but we're actually American, so for any work that we do to come home in any way, shape, or form is awesome."
I asked the couple what they were working on next, and they're certainly busy. "Well I directed my first feature called THE HUMORIST," tells Michael. "It also takes place in the Soviet Union, it just sort of happens this way, but this character is a thoroughly fictional comedian who ends up going insane and it's actually going to be playing at the San Francisco Jewish film festival in late July for its American debut. Lily and I are always writing together, almost everything we've done is together, and our next project is a romantic comedy in Russian that we would love to be able to not just write but also direct."
After ingesting LETO, I spent many days going over what I'd seen in my head, and, as we all do, comparing it to what I've seen in the past. It certainly has earmarks of many rock biopics, but the color palette and the inclusion of the Sceptic really set it apart. It struck me as a less colorful but no less dynamic VELVET GOLDMINE, and I started to dub it "Velvet Glasnost" around the house, which I rather like. If you're a fan of David Bowie, Lou Reed, T-Rex, and Blondie, LETO is worth checking out just to see, across the sea of time and space, these artists have influenced a world, which in turn influence their immediate worlds.
To quote one of my favorite American songwriters, Jonah Matranga, "There is a summer, it's all the time, for every one of us." If you sometimes have trouble finding yours, let Michael and Lily Idov and Kirill Serebrennikov share theirs with you.
Check out this wonderful feature and until next time, I'll see you at the movies.
-McEric, aka Eric McClanahan-