UNDER THE EIFFEL TOWER is not your little sister's romantic comedy, and I wouldn't have it any other way.
Check out the trailer:
After viewing the film, I was excited to have the opportunity to interview its two stars. I've been a fan of Matt Walsh for many years, ever since his Comedy Central show "Upright Citizens Brigade", named for the improv troupe-turned-theater(s) he co-founded with Amy Poehler, Matt Besser, and Ian Roberts, first aired back in 1998. Judith Godreche was a mystery to me, but her charming performance led me to seek out her back catalogue and view THE OVERNIGHT, with co-stars Adam Scott, Jason Schwartzman, and Taylor Schilling. Which in turn led me to researching the prosthetic penises made for the film, but that's my own journey down the rabbit-hole of whiskey and film production curiosity. Regardless, both actors have impressive resumes, and I was thrilled to discuss this independent treasure with them.
Walsh and Godreche both served as producers and co-writers on the film, adding their own touches to the original story from writer/director Archie Borders (PLEASED TO MEET ME). As Godreche explains "Matt and I were offered by the director to reshape our parts. That led to some story changes; the movie became more of a romantic comedy than it was in the initial script. I think it was more of a buddy story and somehow, within the work of developing our parts and bringing things to them, the love story expanded."
When asked what attracted him to be so involved with this project, Walsh responded "Truthfully, the chance to take my family to France and do a movie. That was the boondogle of it. Then, once I was a producer, assembling the best pool of people and rewriting it every night. I would go home in the car and me, Judith, and [Executive Producer] Danielle [DiGiacomo] would try scenes and try improv as the process for hopefully getting a naturalistic taste to the whole story which was something I was really keen to execute and I think we did, which I'm happy about."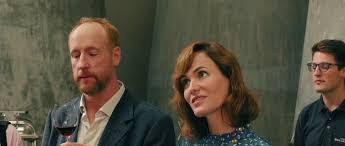 The "buddy story" Godreche refers to finds its roots in the scenes that Walsh shares with his "Veep" co-star Reid Scott (VENOM) as ladies' man and former pro-footballer Liam, replete with Scottish accent and patent joie de vivre. The two characters meet as Stuart is preparing to head back to America with his head hung low. After too many drinks, they decide instead to explore the French wine country, which lands them on a train where they cross paths with Louise (Godreche). Their meet cute is decidedly European, and Louise has soon entranced them both, spurring a triangle of romantic rivalry that the two fast friends play with leaping aplomb. The tropes that ensue are straight from the romantic comedy rule book, with the added detraction that we never fear that Stuart is in any real peril; sure, his heart is on the line, but having already witnessed his commitment to romantic abandon, we know that no rejection can immobilize him or crush his willingness to love and dare again. The stakes are rather low, but that is secondary to the crackling chemistry that Walsh and Godreche share on screen. It is the strength of their performances, the sheer charm of their comfortable swagger, that moves the film along.
Walsh, particularly, is a joy to watch. There is a sincere earnesty to Stuart, who is surprisingly confident when he decides upon a direction in which to move. Once he sets his sights on Louise, he is a bit of a savant in his courtship dance; cooking a fine meal, leading one of her wine-tasting tours, and sitting alongside her to paint the French countryside. I asked Walsh how much of himself found its way into Stuart. "I am a good cook and I know a little bit about wine, probably not as much as Stuart, so there are definitely parts of me in Stuart. I don't drink as aggressively as Stuart. I liked the romantic side of Stuart, that was fun to play, you know: the Against-All-Odds part of going back to being in love and putting yourself on the line and know that it may not happen. That was a really big challenge and I enjoyed being able to step into that. Stuff like that is really true to the genre of romantic comedy and it was really quite fun to do it to my best. It's fun to play that kind of character that follows his heart and is really kind of brave… that's really the kind of hope of a romantic comedy: that you believe in love."
Says Godreche, "With Matt Walsh, there's a real genuine chemistry between us that shows in the film. We really match as actors; loving improv and loving absurd humor. Our dialogue came to us naturally in the scenes and it was extremely easy which made my life easier because, as you know, I was producing. It was very hard, and pretty insane, because we had a very small budget and we were obviously shooting in France and had quite a cast, so it was a complicated film to produce, and the fact that we got along so well was really helpful. We completely trusted each other and it really helped."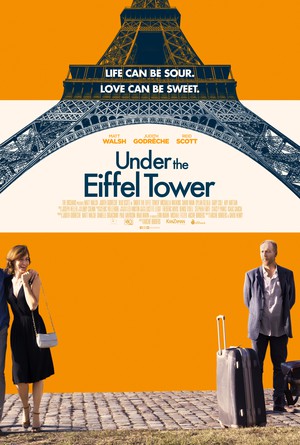 Godreche also shared a behind-the-scenes production secret about the comfort prevalent in some scenes. "We actually drank in some scenes. I was like 'can we just have wine, instead of grape juice?'… which is the worst. I mean, we had so many scenes where we had to drink and you basically just get fat with grape juice. I'm guessing it's the same thing with wine but it's way more fun to drink real wine."
If it weren't enough to star, co-write, and produce ("Judith is a force. She was someone I did not know before this project and she can do a lot of things; she's very talented."), Godreche is also featured as a vocalist on two songs in the film. "We were working on the soundtrack and we had very little budget, and we needed a sweet song while they were cooking and we kept using songs that were too expensive. The music supervisor came up with this idea to ask an amazing music composer to write a song and said 'Why don't you sing it?' because I had made an album years ago [2010's "Toutes les filles pleurent"] and it was kind of an easy thing. It's pretty funny because when Matt saw the film and heard it he did not recognize my voice; he didn't know it was me. Which was good because I didn't want people to be like 'Oh my God, that's her, like WITHIN the scene.' Then Richard Gottehrer, who created The Orchard label, came up with the ending song and he said 'Let's do this. Why don't you sing the end credits song?' So I ended up singing two songs in the film."
The finest treasure in the film, comedically, is the inclusion of Michaela Watkins (BRIGSBY BEAR, Netflix's "Big Mouth"), David Wain (SLEEPWALK WITH ME, MTV's "The State"), and Dylan Gelula (FIRST GIRL I LOVED, Netflix's "Unbreakable Kimmy Schmidt") as Stuart's friends and their daughter, respectively. You may recognize them from the trailer, and their uncanny ability to appear at the most opportune moments for comedy is a bit of movie magic that one accepts, if merely for the reward of their delivery. "Michaela came up with her own jokes and is the most funny thing in the film; she's one of the funniest actors I've ever met and so intelligent. David Wain is obviously a genius and came up with his own jokes, too. It was really a communal work; everyone was trying to make the best of their characters and make them very authentic," recalls Godreche. Walsh added of their contributions "That saves the bacon. That relationship in the film mines a lot of laughs."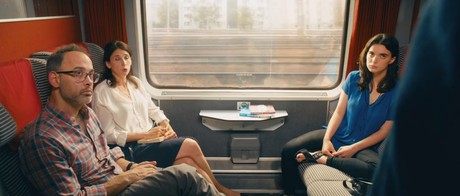 As for Walsh, he is currently working on a pilot for ABC, and has already wrapped filming on HBO's "Veep". "On VEEP, Season 7, Mike was fired from her inner circle, her team, and he now is in the world of the media. He's on the other side; he's the enemy. So it starts with him trying to earn a living for his three adopted children and his wife back home. He's on the road covering this campaign so they of course will cross paths in their pursuit of the presidency but he's not on their team anymore."
Godreche has two projects in the works now, the first being a guest spot on a Netflix she cannot yet announce, but she was able to speak a little bit about the other one. "I shot a film called THE CLIMB which is a first time feature by Michael Covino. He went to Sundance with a short film called "The Climb" and got a lot of attention and developed this feature inspired from his short. It's basically a film where each scene is shot in one take, it's one shot."
UNDER THE EIFFEL TOWER is a fresh, grown-up take on the romantic comedy that showcases real chemistry, subtle comedy, and confident performances. It is currently available on all streaming platforms, and is an endearing, unexpected ride through a land steeped in traditional romance.
Until next time, see you at the movies!
-McEric, aka Eric McClanahan-