Howdy, y'all! McEric here with three quick reviews of movies that you can watch TODAY from the comfort of your own home, or if you're particularly daring, at your desk at work.
These films run the gamut from light-hearted to truly terrifying, but I noted after I viewed them all that there was one unifying theme: They're all filmed in New York City. Aside from that, you'd be hard-pressed to find a way to lump these together for movie night, but I'm open to any out-of-the-box thinking you may have.
First up is a film called WELCOME TO THE FUTURE, a film shot entirely on location at New York City Comic Con by Frank Bonacci. Its IMDb synopsis reads: "Shot in only 7 days, on the sneak, at New York Comic Con and a Star Trek convention, in the world famous Jacob Javits Center, WELCOME TO THE FUTURE is a comedy about two friends having a very hectic day during a Comic Convention."
WELCOME TO THE FUTURE is a fun, quick watch that showcases an ambitious filmmaker adding a level of behind-the-scenes intrigue to a fairly standard slacker comedy. Its true worth is in its title, as it alludes not only to the current reign of the Geek but also our eventual need to reconcile our current ideas of who we are with what we are meant to be. Bonacci's script is often lost in the melee of the inevitably cacophonous crowd shots, but a few good performances and comedy beats keep the film from being suffocatingly conceptual at the cost of watchability. Leon Morgan as Gene anchors the story for the viewer far more than Bonacci's Mike, the latter's story concluding in a frustrating lack of conclusion. Still, WELCOME TO THE FUTURE shows a great deal of promise for Bonacci as a filmmaker and storyteller, playing out like Linklater's SLACKER via Randy Moore's ESCAPE FROM TOMORROW.
You can watch WELCOME TO THE FUTURE right now on YouTube by going here.
Next up is BITE ME, the second feature from writer/director duo Naomi McDougall Jones and Meredith Edwards.
A rather light-hearted romantic comedy about actual vampires who try to navigate their way through our bureaucratic world while trying to find love and themselves. When Sarah's "church" is audited by the IRS she meets James, an awkward and lovelorn British expatriate who never seems to fit in with his surroundings. They see something in one another instantly, and despite their own reservations, develop a tender romance.
I really appreciated this film's message, and enjoyed the overall tone of the feature. The "vampires" herein are really just regular folk with exaggerated iron deficiencies, and it forces us to ask if any of us are so different from one another. What BITE ME really says is that we're all capable of love. Whatever maladies we imagine make us so repugnant are often the result of little more than our own insecurities, and there's nothing more terrifying or rewarding than submitting oneself to the possibility of love. There are further themes of civil rights, medical prejudice, and sexual fluidity, but at its core it's just a sweet little romance with a bite. Through a clever addition, the filmmakers have even made it possible to view without the vampire angle entirely by allowing the viewer to merely focus on the tattoo on Sarah's face; adversity is where you find it!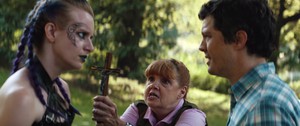 I wasn't sure what to expect before watching the film but I finished it feeling giddy and excited to see what comes next from this talented duo.
The final film was a tonal shift in every sense, and probably shouldn't have been the last film I viewed right before going to sleep. ALONE WITH YOU is a thoroughly unsettling and terrifying thriller for the modern era.
Carried entirely by a visceral performance from Emily Bennett, ALONE WITH YOU is a hallucinogenic descent into madness for the quarantine age. Best viewed alone, the film uses a disturbing sound design along with camera angles that utilize every foreboding hideaway in its single-set apartment to unwind its heroine's and viewer's nerves over its 93 minutes. Co-written and directed by Bennett along with Justin Brooks, ALONE WITH YOU delights in tormenting its lead, and when the veil between normalcy and madness begins to fray, goosebumps will surely crawl along your skin. Add in a sweetly menacing videoconference from Barbara Crampton and you're bound to experience a fitful night of sleep after your first viewing.
Whereas the first two films emerged as charming despite their limitations, ALONE WITH YOU displays no limitations, standing alone as a taut thriller with slick production meant to terrify and discomfort the viewer with its claustrophobia and disconnection.
All of these films are streaming, on-demand, or on DVD today for you to check out. Until next time, stay safe and stay sane!
-McEric, aka Eric McClanahan-