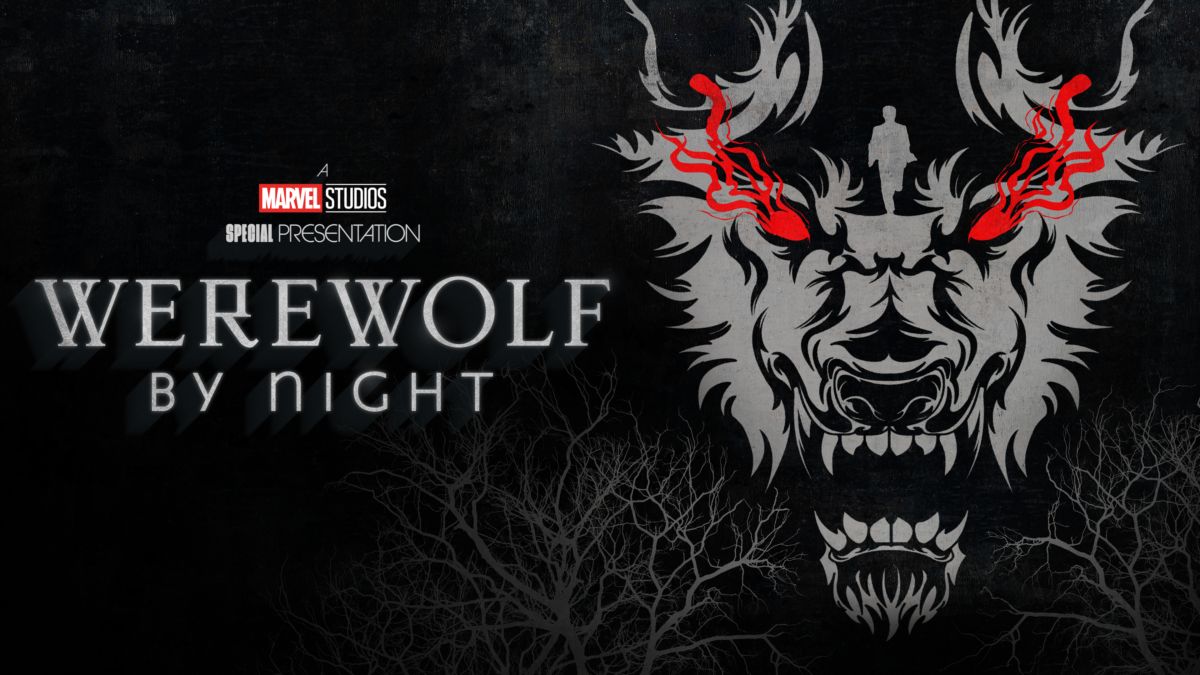 Hello Horror/Marvel fans, Welcome to the House of Macleod's TV review corner. Today we take a look at Marvel Studio's Special presentation of "WEREWOLF BY NIGHT" (TV-14 52M 2022) starring Gael Garcia Bernal, Laura Donnelly, Eugenie Bondurant, Leonardo Nam, Kirk R Thatcher, Jaycob Maya, Al Hamacher and the irrepressible Harriet Sansom Harris, from a story and teleplay by Heather Quinn. Directed by famed composer Michael Giacchino and based on the Marvel comic book, WEREWOLF BY NIGHT is an excellent bit of horror that fits in perfectly with this spooky time of year.
Considered part of Phase Four of the MCU and if the rumours are true, quite a significant part, WBN introduces us to several new characters each of which finds a delightful place in this beautifully made special. The plot follows an evening at the house and estate of Ulysses Bloodstone who has recently perished and wants to name a successor and wielder of the magical stone that bears his namesake. Various monster hunters are invited to the ceremony each having slain an impressive amount of creatures in their own right. Amongst them are Ulysses' Daughter Elsa (Donnelly) and secret Werewolf Jack Russell (Bernal). The ceremony is hosted by Ulysses' widow Verussa (played wonderfully by Harriet Sansom Harris who you'll recognise as Bebe Glazer from the hit NBC sitcom "Frasier") who informs the hunters that in order to win the jewel they must take part in a Battle Royale against each other and then retrieve it from a monster that roams the grounds.
WEREWOLF BY NIGHT is a pleasant little Halloween surprise. It harkens back to 1930s and 40s horror movies of old with great effect making it's (almost) black & white colour scheme atmospheric and intrinsic. Director Giacchino obviously loves these types of movies and you can see it in not only his filming style but the title cards and sets used. The 1930s Art Deco style of Bloodstone's mansion for instance combined with the musical style of the serialised dramas of the time made it look like we are watching a piece that was made in the early forties. You can tell right away that movies like The Wolfman, King Kong, The Mummy's curse, Terror by Night, Frankenstein and The Black Room were clear inspirations and this style is used to absolutely gorgeous effect.
Although there are a few comic book references, WBN is relatively self-contained. It does introduce the likes of the Bloodstone relic (otherwise known as the Hellfire Helix) and Ted Sallis' Man-Thing (the keeper of the Nexus of All Realities and likely setup character of SECRET WARS) but it's never overplayed. You won't get a cameo from the likes of Blade here. Although this does set up an exciting idea; Vampires, Werewolves and all sorts of monsters have existed in the MCU all along, we just haven't seen them. Although this is set in the MCU main timeline we just don't know when, it's never revealed but given the Sushi reference at the end and the fact that Sushi wasn't popular in the USA until after the late 60's I'm guessing sometime well after that.
To sum up WEREWOLF BY NIGHT? I absolutely loved it. It's probably the most fun 52 minutes of TV I've watched all year. While it is VERY Marvel in places, it is also a tribute to classic horror from years long passed. Grab some popcorn, hide behind the sofa and enjoy the show.
I for one hope to see more adventures of Jack Russell and Man-Thing and I'm sure if Marvel has its way, I probably will. Until next time, be safe, be yourself and above all, keep it cool.
Official Verdict: 10/10 The best way to start your Halloween...