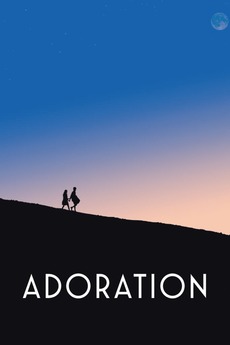 Fabrice du Welz's (ALLELUIA) newest film is making its rounds at film festivals this year, and as luck would have it, I was able to catch it at Fantastic Fest this September. As most people crowded into theaters to see JoJo Rabbit, I entered one of the smaller theaters, excited to partake of a new world full of blood and horror. What I received instead was a twisted, sad, and certainly complicated love story between two star-crossed lovers.
Very much a modernized version of Romeo and Juliet, this film follows a boy and girl which break free from their metaphorical and physical chains and trek the wilderness of France. Their tumultuous relationship during this trek into the unknown is the central theme of the story, not undying love and suicide, as Paul (Thomas Gioria) is ripped out of his fantasy world when he gradually discovers Gloria (Fantine Harduin) is far from the girl of his dreams.
Paul is a young adolescent living with his mother who works at a psychiatric hospital. He is almost entirely left to his own devices which has left quite a mark on the boy's psyche, where he feels isolated, alone, and frankly bored. His only interaction with humanity is his mother, a fragile woman desperately holding on to the last threads of her sanity, who has little time to care for Paul. One fateful day, Paul meets Gloria, a blonde adolescent girl while she flees from her captors. He is struck physically and mentally by this girl, a catalyst that changes Paul's existence and leads him into an uncertain and dangerous future he is unable to control. You want these two to succeed but as life often brings twisted turns, it doesn't seem to be in the cards for this duo. Each trial they face brings them closer yet also severs that connection which leaves Paul uncertain he made the right choice in following Gloria. All he wanted to do is help Gloria but as time progresses, it dawns on him that he is facing an uphill battle with nature, society, Gloria, and himself.
This film is haunting, tragic, and yet still mildly endearing. It is absolutely beautiful to behold: the color correction and set design is gorgeous, the forest is almost out of a fairy tale, and when reality strikes, it is a bitter pill to swallow. There was little to find fault with this film. I will warn you though, it is far from ALLELUIA. If you open your heart and mind to this experience of innocence lost; you won't be disappointed. Presently there is no release date for this film in the USA, but we at AICN will keep you posted when it does.
Until then my ghouls, experience life while you can!
Madame Revenant