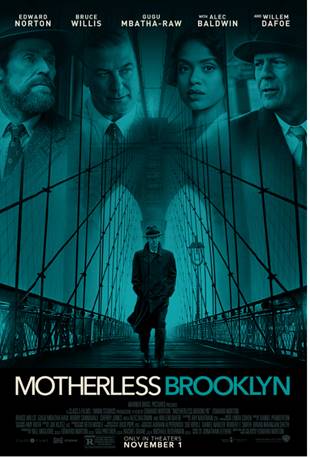 -Hello folks, Mad Dashiell here and thanks for joining us at AICN—
Edward Norton flexes his talents as he stars, directs, and writes MOTHERLESS BROOKLYN, a film adapted from a novel by Jonathan Lethem. The story is set in 1957 New York City in the Brooklyn streets, and it follows Lionel Essrog (Edward Norton), a detective who has Tourette's, his disorder marked by involuntary tics. Like JOKER, we are exploring a man who has to find ways to cope in society with their mental illness. Unlike JOKER, Essrog has found ways to make his mental disorder work for him as he finds a place for his unusual talents working for Frank Minna (Bruce Willis), a small-time owner of a seedy detective agency. The film starts right off with a deal going sour and Frank, his boss gets killed. Now, Essrog and what remains of the agency "The Minna Men"—Tony Vermonte (Bobby Cannavale), Danny Fantl (Dallas Roberts), and Gilbert Coney (Ethan Suplee)—must keep the business afloat while tracing the few clues that their late boss left behind to solve the whys and wherefores of Franks murder and of coarse, time is against them.
Does MOTHERLESS BROOKLYN find a home among the modern gumshoe films ranging from CHINATOWN to L.A.Confidential? It's no CHINATOWNbut it has the heart of it in ways. So ya, I would say so. MOTHERLESS BROOKLYN works far better than your average hip postmodern story on its sheer emotional impact alone. The struggle of the main character's humanity shines a light guiding us along the path of the mystery well enough and we do start to care about Essrog's search for his mentor's killer right out of the gates. As an old detective fan, there was only one plot point that made my eyes roll, damn those helpful matchbooks in stories... Still, In the old fashion of a good mystery rolling itself out, through clever writing, the audience has a chance to put some of the missing pieces of the puzzle together before Essrog does. It's a damn fun ride, perhaps chase is a better word, and the host of amazing actors play together like a symphony of dazzling talent gathered, go check it out while ya can in theaters.
Speaking of the amazing actors, Gugu Mbatha-Raw (Black Mirror, Beauty & The Beast) does a fantastic job as Laura Rose. Laura bridges a world apart from Essrog as well as catches him up to speed on the plight of the working class Harlem inhabitants. Alec Baldwin plays the heartless visionary tycoon Moses Randolph. Mr. Randolph has his sights set on building whatever massive structures he wants even if that means squashing communities under the nasty boot of gentrification. It's hard not to see the nods in our political system today as Randolph looks on to what is easily mistakable at 1st to be a burning Trump effigy. Willem Dafoe plays a guy who simply goes by the name Paul. Paul's a skulking do-gooder skeleton with his own set of skeletons in his closet. Why don't we get a last name? Probably for a good reason. Everyone has their own story to tell and by the films end, you will know MOTHERLESS BROOKLYN down to the Dead End kids tender early years.
MOTHERLESS BROOKLYN had its world premiere at the Telluride Film Festival on August 30, 2019, and will be released in the United States on November 1, 2019, by Warner Bros. Pictures.
Mad Dashiell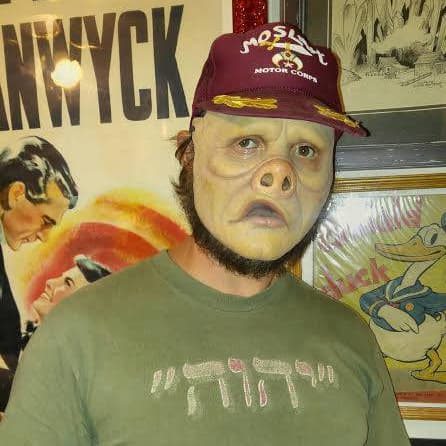 Yes