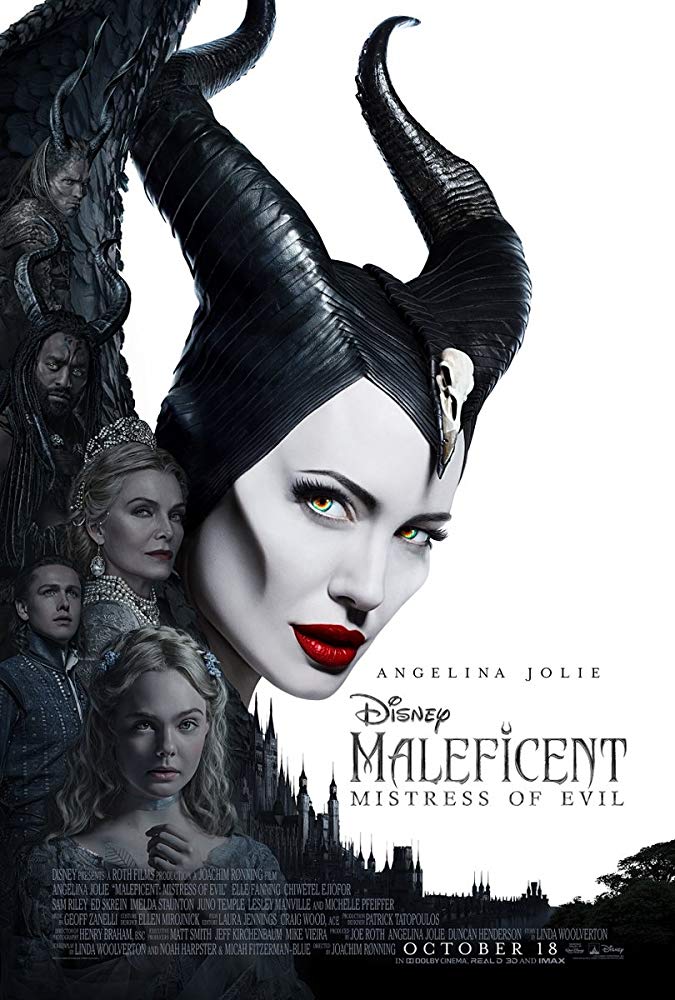 Hello everybody, Mad Dashiell here and thank you for joining me today. Director Robert Stromberg and Angelina Jolie are back with their reimagined iconic Disney enchantress for Maleficent 2. Once again this dark fantasy story digs its roots even deeper into the age-old classic. Old and new characters combine to spin a tale for a new generation of viewers.
Elle Fanning also returns as Aurora, in Maleficent 2 we see her ruling kindly over her fairy domain. Aurora has accepted the mantle passed on from her true fairy godmother, the Queen of the Moors. Having left her former kingdom behind she now rules the magical forest realm along the shores of a human kingdom. The very same kingdom that Prince Philip (Harris Dickinson, Country Lines 2019) is from. Here we see a somewhat interesting turn of events after the prince heralds the news of asking Aurora's hand in marriage.
It classically and comically takes a page from the old film (Guess Who's Comming To Dinner 1967). Needless to say, things don't go particularly well from there as the two worlds collide. Michelle Pfeiffer commands the scenes as Queen Ingrith. That said, the chemistry between the Queen and Maleficent is most certainly the backbone of the film all the dazzling effects aside. But let us not fool ourselves. This is the type of film you go to for the spectacle therein. For that, it is certainly well worth the family fun afternoon to be had.
Maleficent 2 plays along a bit like Avatar mixed in with the Lord of the Rings for kids. This isn't to say LOTR is not for kids, don't get me wrong. But for the sake of film comparison, this isn't anywhere near as dark as Peter Jackson's vision. But it sure isn't the minstrel's tale brought to us by Ralph Bakshi either. In Maleficent 2, we are looking at the time where iron is being introduced to the world. Fairy folklore refers to this as the twilight of the Faye. This is a violent war that erupts, between the Faye's (Fairey folks) fight for survival vs humankind's dominance over the entire world.
Some parts of the battle were tongue in cheek, for sure. You definitely won't get a vibe that the Faye was reading up on Sun Tzu's Art of War before their final fight. But Maleficent 2 is still gorgeous to look at the entire way and I enjoyed my time at the picture show. I wouldn't say they did any radical or new but we get to see another chapter of Princess Aurora waking up to how treacherous her world really is. If you are a big Sleeping Beauty fan, don't sleep on this one while it's in theaters.
Maleficent 2 will be released in the US- October 18, 2019. The cast also includes Chiwetel Ejiofor (12 Years A Slave 2013), Robert Lindsay(Grace of Monaco 2014), Sam Riley (Radioactive 2019), Imelda Staunton (Downtown Abbey 2019), Lesley Manville (Ordinary Love 2019), David Gyasi (Cold Blood 2019) Juno Temple (Lost Transmissions 2019) and Ed Skrein (Born A King 2019).
Mad Dashiell