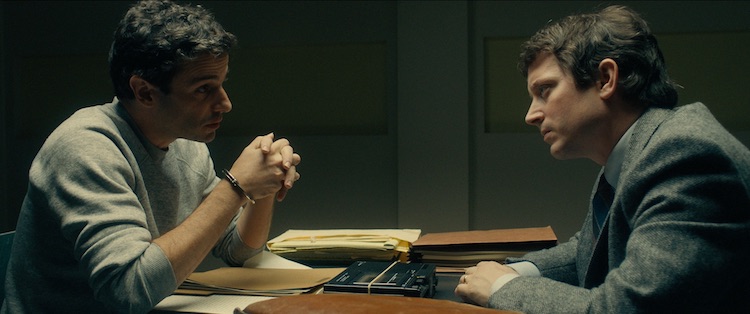 Hey, friends. Barbarella here. If you're a true crime aficionado, and even if you're not, you've probably heard of Ted Bundy. NO MAN OF GOD presents a depiction of the complicated relationship that formed during his incarceration between the notorious serial killer and FBI Agent Bill Hagmaier. Starring Elijah Wood (LORD OF THE RINGS) and Luke Kirby (THE MARVELOUS MRS. MAISEL), the film comes to theaters and on VOD and Digital this Friday, August 27. I had the pleasure of speaking with Luke via telephone, and as soon as I made my introduction, I heard barking, and so begins the conversation.
Is that your dog?
"Yes, that's Homer. He really wants to talk to you."
Awww. What kind of dog is he?
"He's a poodle puppy. He's very small. We can't tell if he's a toy or a mini."
(After a few more awws and comments, I pivot into professional mode.) In addition to Ted Bundy in this film, you also played Lenny Bruce in THE MARVELOUS MRS. MAISEL. What are the pros and cons of playing a character who's based on an actual person?
"The pros are that there's a glut of material available to that person's history. A lot of times, if they're a twentieth-century person, there's live footage so you can see the person inside their body. You can hear their voice, sonically. You just have all of this great stuff to chew on and use. The con is that you have to choose what you use. Then, of course, there's also the con of some people you play, you're more compelled by and drawn to than others. You know? Not to overemphasize the work that we do – it's not brain surgery, as everybody knows – but you do carry a bit of a feeling of responsibility to it.
"In playing a real person, there's a responsibility in some ways to them, like Lenny who already has a legacy, who has people in the world who remember him and love him, people who feel like he brought a lot to the world. Then on the flip side of that, we have this other guy who was a destroyer of worlds. By virtue of the entertainment, the shock value, and ghoulishness and chill factor, there's a huge marketplace for him. There's that kind of legacy that I don't feel a kind of kinship or responsibility to."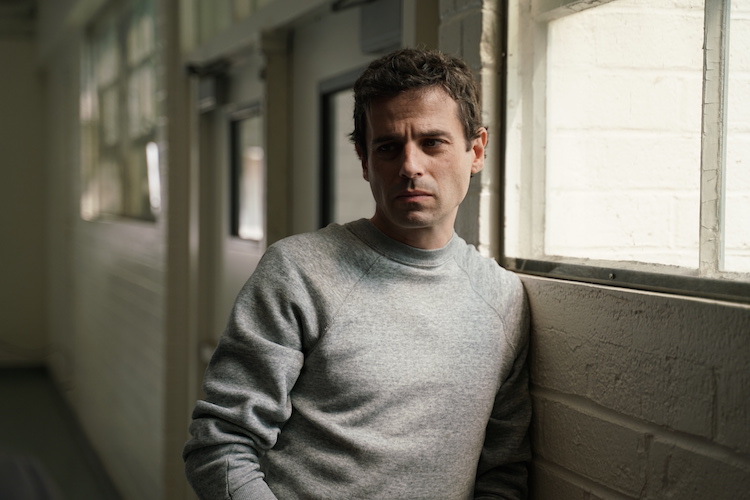 Did researching for the role of Ted Bundy give you any kind of a different perspective on him?
"Not especially. I feel very strongly, at this point, that he's no longer in the world, if that makes sense. I didn't feel that way going into it because of how much we lift up this stuff with true crime and that whole realm of entertainment. Coming out of it, I just was like, "Oh yeah, he's gone."
Would you talk a little bit about the relationship that Bundy developed with the FBI agent?
"Sure. The best grace that we had with the movie was that Bill was around and had these stories to tell about his time with [Bundy] over the decade, and he was also available to us. I was able to listen to his retelling of it all, both on recordings and just over the phone. We got to know each other. It was a great source for information. He brought me into the human frame of mind for this, because he went in there in the interest of getting to better know what is going on when people inflict this trauma on other people. There was something about getting to know Bill that kind of brought a human thread to it that made me feel better about approaching it all."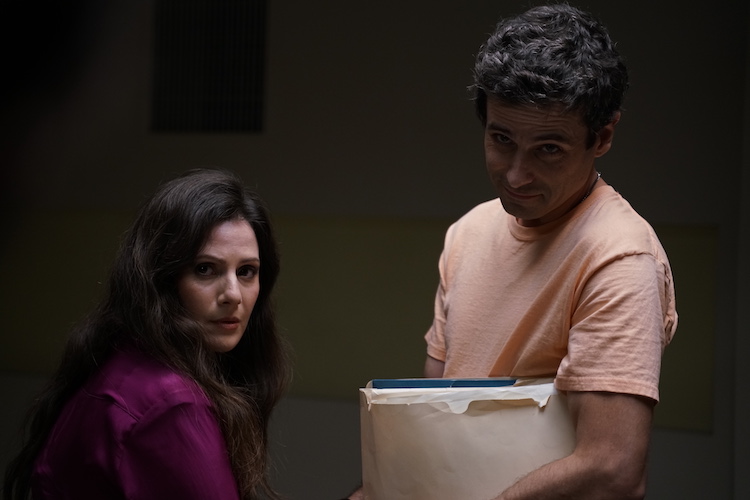 There's some clever dialogue in NO MAN OF GOD. When you read the script, what jumped out at you the most?
"I was just struck by the sense of, "Boy, this is a challenge to try to make." It's all going to take place, basically, inside of one room. That's not an easy task for filmmakers. Thankfully, it wasn't really my thing to think through. I think they've done an amazing job with how they shot it to make one room feel a little more dynamic.
"I was compelled by the relationship that these two guys forged. I wouldn't call it a friendship. I don't really know what to call it, but I was compelled by that aspect of it. Also, that this story was, in its own way, addressing a multitude of quandaries around criminal justice. The death penalty was certainly an interesting aspect of the story. The feeling of wanting to destroy a destroyer, that was compelling."
I cannot look at Elijah Wood's eyes without thinking at least once of Frodo Baggins. Do professionals, such as yourself, run into that, as well? Would you also share what you liked most about working with him?
"He's been around since I was a kid, so I've loved him since way before LORD OF THE RINGS. I found myself thinking about RADIO FLYER. I don't know. I'm sure it comes as no surprise that he's just a tremendous man, a sweetie pie, and a diligent worker. It was really awesome to come out of lockdown and go back to work. Everybody, as you can imagine, was just so happy to try and get back into the swing of things. It just was so good, albeit anxiety-inducing and concerning, to get back into it. Elijah does have a really lovely presence. With his company being part of the production, I felt very supported. Nothing felt too self-serious. I think we were able to enjoy ourselves, in spite of the material. I attribute that a lot to both Amber [Sealey] and Elijah. Just an awesome dude."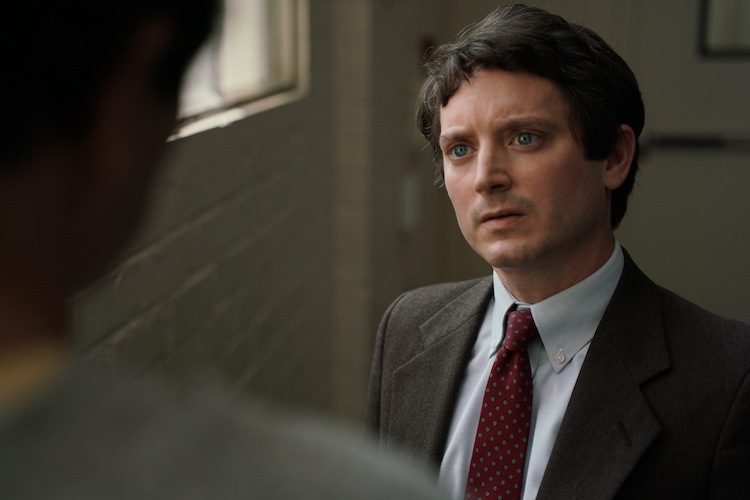 I believe that actors can often have more empathy, in general, just because they're constantly putting themselves in other people's shoes. How do you think that acting has helped you evolve as a person?
"I think my therapist would say, "Very well." I don't know that I can answer it myself. I do think of it as a bit of a back and forth, though. You do bring stuff back from your work and let it kind of try and shine on your own life. It does give you new perspectives."
Are you a fan of true crime, at all?
It's not my bag. "It's not my bag," who says that? (laughs) It isn't really something that I'm especially drawn to. I always find it a bit creepy, and I'm kind of like, "Why would you want to put yourself through that?" But, my wife feels very differently, so it's on our TV quite a bit. I understand that there's a world for it. Obviously, the psychology around this stuff is fascinating. The psychology around sociopathology, psychopathology is interesting. The fact that people live lives that are so seemingly innocuous, but in the underbelly [they] are inflicting harm. There is a kind of a curiosity to all of that, and, of course, forensics has its own little intrigue because of science. I don't begrudge it. I'm just a scaredy-cat."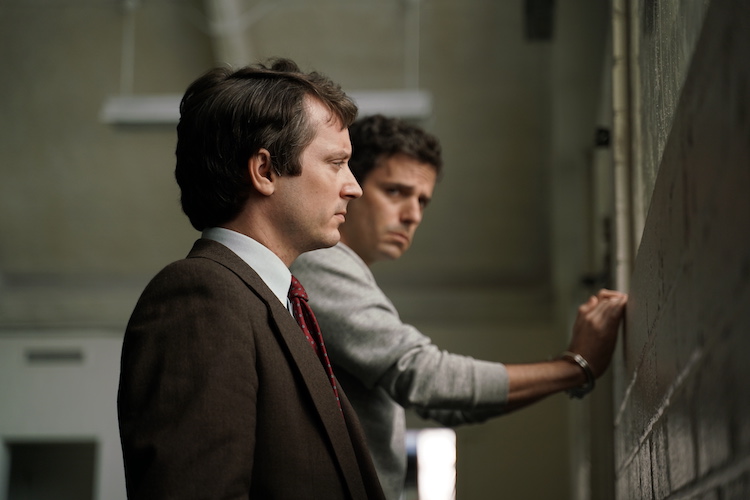 Do you think you tend to be more of an optimist or a pessimist?
"Oh. I'm just trying to find the slipstream, hoping to break even. I do have that sort of sense, that very cliched sense, that the pendulum swings in the universe. I don't know that the fulcrum moves at all. I hope that it does. Towards something better. I just don't know."
Has working on NO MAN OF GOD changed you at all?
"It's a hard time to reflect on it just because of how peculiar the year has been. It's just so much else going on, or in some ways so much not else going on. I think that this is a shared feeling with a lot of people. I don't really know who I am in the world because I've been without it for so long. I've made friends. I made a friend in Amber; I made a friend in Elijah and other people from the movie. In that way, I'm sure that it's made things better."
Well, awesome. I appreciate you taking the time to talk with me today.
"The pleasure's mine, Barbara. Thank you."
Say bye to your puppy for me.
"I will. He says goodbye. He's going to miss you, though."
You can check out Luke Kirby and Elijah Wood in NO MAN OF GOD, coming to theaters, Digital and VOD this Friday.