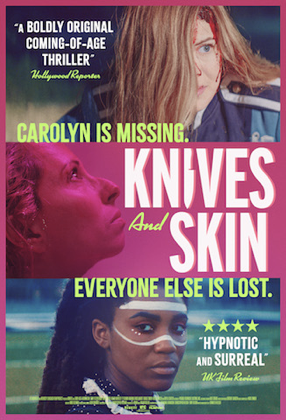 On December 6, IFC Midnight is releasing the mystical teenage noir KNIVES AND SKIN in select theaters, On Demand, and digital. Here's the synopsis of the mystery/drama:
What happened to Carolyn Harper? Part suburban nightmare, part neon-soaked teenage fever dream, this tantalizing mystery traces the waves of fear and distrust that spreads across a small Midwestern town in the wake of a high school girl's mysterious disappearance. As the loneliness and darkness lurking beneath the veneer of everyday life gradually comes to light, a collective awakening seems to overcome the town's teenage girls- gathering in force until it can no longer be contained. Unfolding in a hallucinatory haze of lushly surreal images, KNIVE AND SKIN is a one-of-a-kind coming-of-age noir that haunts like a half-remembered dream.
Written and directed by Jennifer Reeder (SIGNATURE
MOVE), the film stars Marika Engelhardt, Audrey Francis, Tim Hopper, and Kate Arrington.
Check out the official trailer for KNIVES AND SKIN below!
Unfortunately, I wasn't able to fit KNIVES AND SKIN into my schedule at Fantastic Fest back in September, but I have been looking forward to catching up with the trippy looking flick when it opens next month. Be on the lookout for Doctor Abominable's review of the teenage murder mystery in the coming weeks!