Hey folks, Harry here... I know, I've been gone for years. Today, we lost KIRK DOUGLAS at 103 years young. I can't stand the idea of a tribute going unwritten for perhaps the Greatest Actor/Producer there has ever been. I love classic movies and sharing that love with as many folks as possible.
When people think about Kirk, they think instantly of SPARTACUS or THE VILLAIN or THE VIKINGS. This piece is going to be quite a bit long and filled with lots of Kirk Douglas. To kick things off I've got an hour long interview from the year I was born (1971) between Dick Cavett and a bearded Kirk. Here, give it a watch - in particular I love the clips from THE WAR WAGON of Kirk demonstrating multiple acrobatic ways to mount a horse.
If you watched all of that before reading this, you rule, that's exactly how this is intended to work. I think my fave part is where Kirk is talking about how hard it is for him to watch a movie that he stars in, because there's little things that bother him, but that his favorite film to watch that he's in is the brilliant LONELY ARE THE BRAVE, based on the novel that helped birth Stallone's FIRST BLOOD and the Rambo franchise. He's a cowboy that won't be fenced in, and things go terribly wrong. The modern age against a simpler way of life.
Another one of those details about Kirk Douglas' life that is so damn admirable is his ability to walk away from Hollywood and find the money to tell the stories he wanted to tell. Like the 1971 film he did with Johnny Cash called A GUNFIGHT, which he got financed by the Jicarilla Apache Tribe in New Mexico. The ultimately got distributed by Paramount Pictures and made good money for all.
I was a Junior in High School when I saw this next interview with Kirk. He was promoting his autobiography called THE RAGMAN'S SON. This was 1988 and THE TONIGHT SHOW with Johnny Carson. In that book you get a real look at Kirk and his life. His father could read, sold old rags and pieces of tin and other metals. He found junk and found a home for it. Kirk was an actor that refused to be typecast. More than that, he felt there were stories that demanded to be told. It's also a biography - warts and all - showing life in a ERA very different - even inconceivable of today. The book has always turned some off of Kirk, because they feel he is bragging about his life. With this, I always reflect on that scene between Glenn Ford and Young Clark Kent, where Clark says, "Is it showing off when a bird flies?" Douglas was an Eagle. Most of us never leave the ground of life. He was a man that wanted a better world. But believed in making movies that were also just pure Entertainment!
Here's one of the oldest interviews I could find tonight. From 1958 and has Douglas speaking in fluent French. Things like this always amazes me. He grew up speaking Yiddish at home, as his family immigrated to America from Belarus. His parents had almost no education, but Douglas was a sponge for knowledge. Check this out:
That was an interview for the press tour of Richard Fleischer's brilliant THE VIKINGS. In fact, this is why Douglas' hair is long and why they show VIKING artifacts at that one point. THE VIKINGS was one of the very early films my parents recorded on VHS in the 70s. Always been obsessed with it. The score, the production value, Kirk getting his eye ripped out. For you folks that don't quite understand French, here's a 1958 interview with a Dutch interviewer that was happening again in the promotion of THE VIKINGS. The coolest part of the interview is him talking about getting ready to shoot SPARTACUS in January of 1959 - and then telling the cast so far and at that point they hadn't yet cast Jean Simmons, who played his wife Varinia.
Next I have a 1979 interview between David Parkinson and Kirk Douglas - this was around the time of THE VILLAIN - THE VILLAIN was a very seminal movie in my memory because my father has always hated it. However, the film became one of those rare titles where he coaxed out of me why I liked it so. THE VILLAIN is Hal Needham's tribute to the LOONEY TUNES and THE WESTERN GENRE. Now sure, the film is no BLAZING SADDLES, but seriously - what the hell is? For one, I liked Arnold Scwarzenegger's White hat hero. The wanton silliness of the movie absolutely tickled me - and I've never ever lost that kid feeling when I watch it. The stunts were crazy with cartoon sound effects. As Douglas describes the film, it was a Farce!

Another fun aspect of that interview, besides the anecdotes - and the fun of realizing Douglas definitely had his goto stories, that he told over decades. What I love about the interview is that's SATURN 3 Kirk Douglas hair. He was shooting SATURN 3 with Harvey Keitel and Farrah Fawcett around that time - and if you're watching this interview and thinking, "Wow, he's so good looking for a 63 year old!" - Well, you can see many nude shots of Kirk Douglas shot around this time by Stanley Donen. Particularly shots of Kirk's undimpled butt!
Here's a fun and insightful interview piece where Douglas is talking about his long tumultuous history trying to get ONE FLEW OVER THE CUCKOO'S NEST produced - and how he was dying to play the role Nicholson took an Oscar home for.

Now before I go through my favorite Kirk Douglas movies, in order of release - Have you ever seen Burt Lancaster and Kirk Douglas singing "IT'S GREAT NOT TO GET NOMINATED" at the 1958 Oscar Ceremony! It is all the happy. That was the year, when Kurt Douglas didn't get nominated for his work in the utterly brilliant Stanley Kubrick film, PATHS OF GLORY - which was somehow completely shut out for all nominations. Meanwhile Lancaster was screwed out of a nom for his work as JJ Hunsecker from SWEET SMELL OF SUCCESS.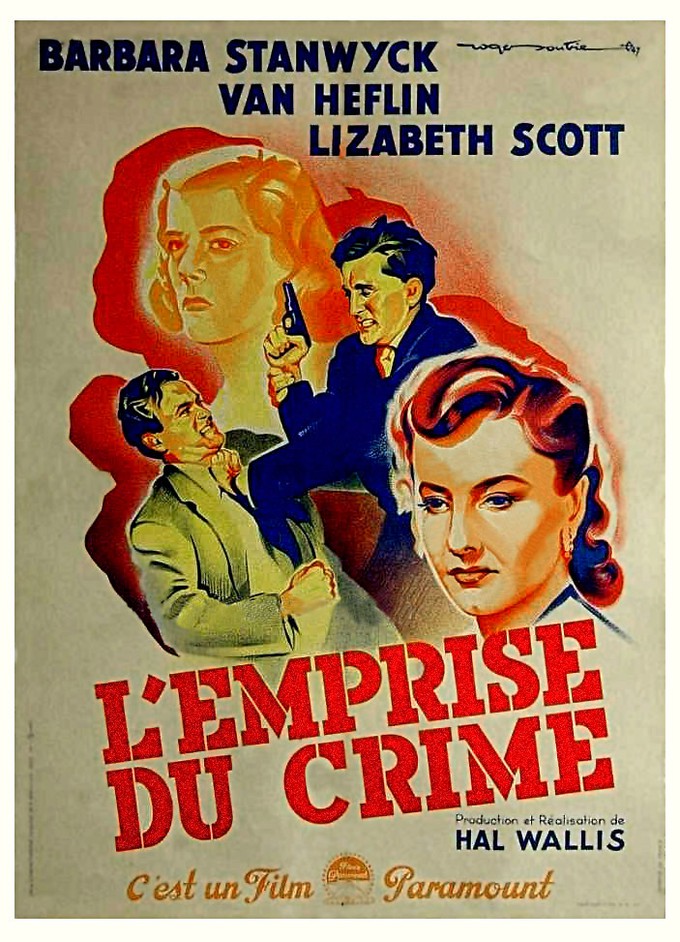 THE STRANGE LOVE OF MARTHA IVERS (1946) - Lewis Milestone, director of the brilliant WW1 film ALL QUIET ON THE WESTERN FRONT - a film several thousand times superior to 1917, personally. Anyway, Milestone is responsible for first getting the 30 year old Kirk Douglas before the motion picture cameras. I first became aware of the film via my passion for Miklos Rózsa, who did the score. It took years before I finally came across the feature and was delighted by the nice guy that Kirk played. This is more a Barbara Stanwyck & Van Heflin film, but right out of the gates... Douglas had it.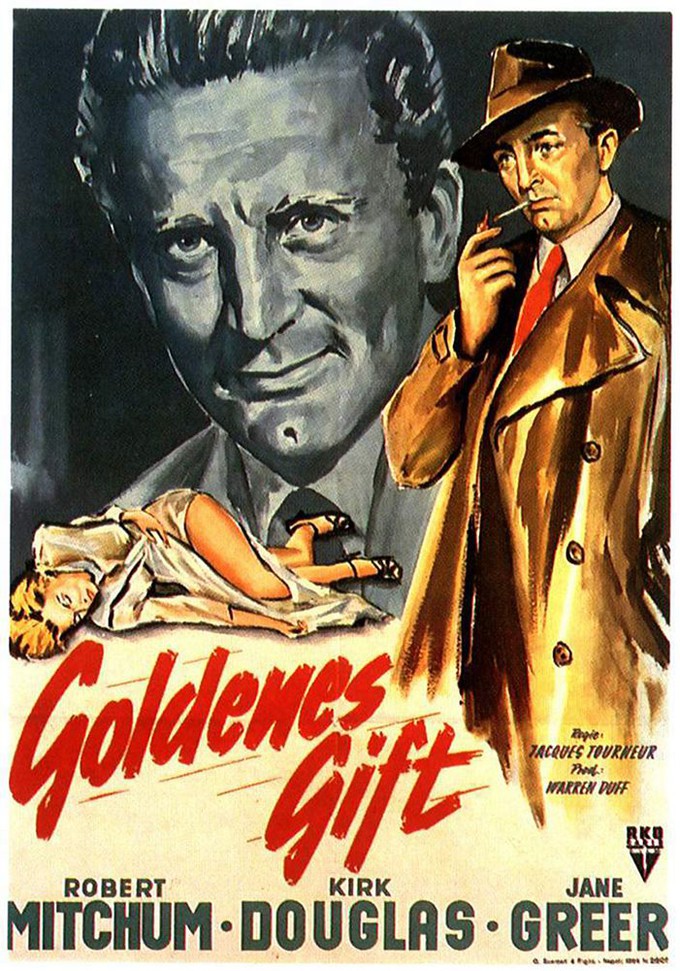 OUT OF THE PAST (1947) - From the director of CAT PEOPLE, I WALKED WITH A ZOMBIE, CURSE OF THE DEMON & THE LEOPARD MAN... Jacques Tourneur came one of the crown jewels of Film Noir. Again, this is Robert Mitchum's movie, but Kirk Douglas' Whit Sterling is an electrifying master manipulator & gambler. If you haven't seen this film - rectify immediately!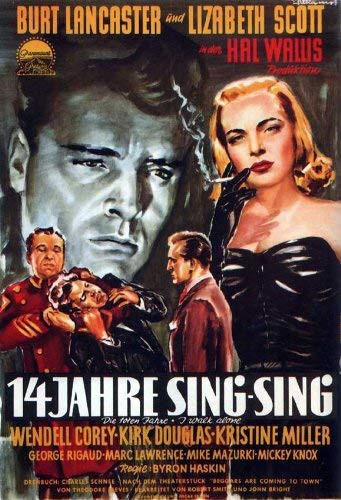 I WALK ALONE (1947) - From the director of WAR OF THE WORLDS & FROM THE EARTH TO THE MOON & ROBINSON CRUSOE ON MARS... Byron Haskin came this Bootleggin' gone wrong Noir. Burt Lancaster plays Kirk's bootleggin' partner with a 50/50 split agreement, but Lancaster gets caught and years later tries to collect his half from Kirk, who has parlayed his Bootleggin dough into a nice Club - and feels he owes Lancaster squat. It's another great film!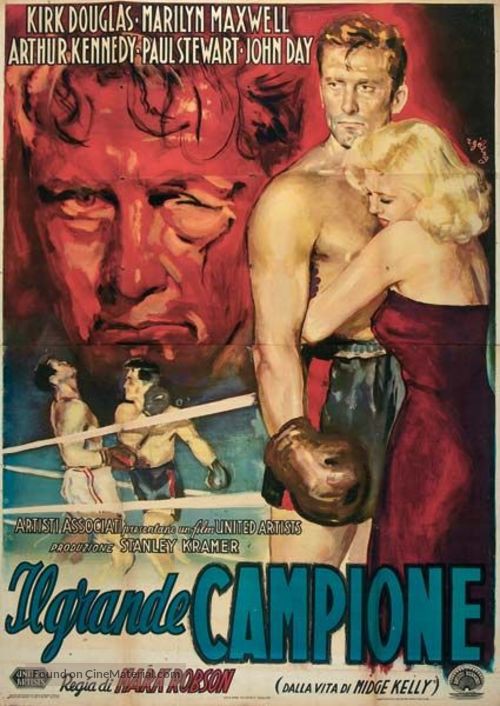 CHAMPION (1949) Directed by Mark Robson, who came out of the Val Lewton realms with GHOST SHIP, THE SEVENTH VICTIM and others, but went on to do VON RYAN'S EXPRESS, VALLEY OF THE DOLLS and the last film to play the original Alamo Drafthouse. This is THE Kirk Douglas movie for me. It's also the reason I don't love RAGING BULL nearly as much as others. Sure the cinema is unrelenting in that film, but give me Midge over Jake any day of the week. Carl Foreman's script pops like nothing else and Dimitri Tiompkin's score is fantastic. As a ROCKY geek, CHAMPION is just the template you see Sly putting his particular Cinderella story tweaks to, but the willingness to just get ugly as fuck. For me, this is when Kirk Douglas became unforgetable for all time.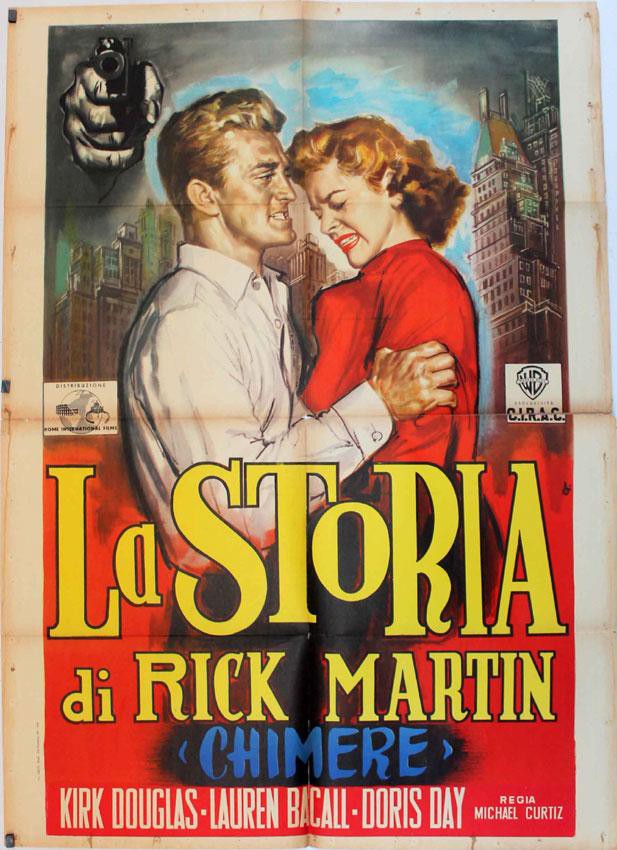 YOUNG MAN WITH A HORN (1950) Directed by my fave director of all time, Michael Curtiz (ADVENTURES OF ROBIN HOOD, CAPTAIN BLOOD, CASABLANCA, YANKEE DOODLE DANDY & tons more) Here Kirk plays the Trumpet and becomes famous with it. You see the rise, the ego, the alcohol and - well see the movie. Again written by Carl Foreman, the film just works incredibly well! It also paired him with Lauren Bacall (they were classmates in Acting School and settled on being lifelong friends.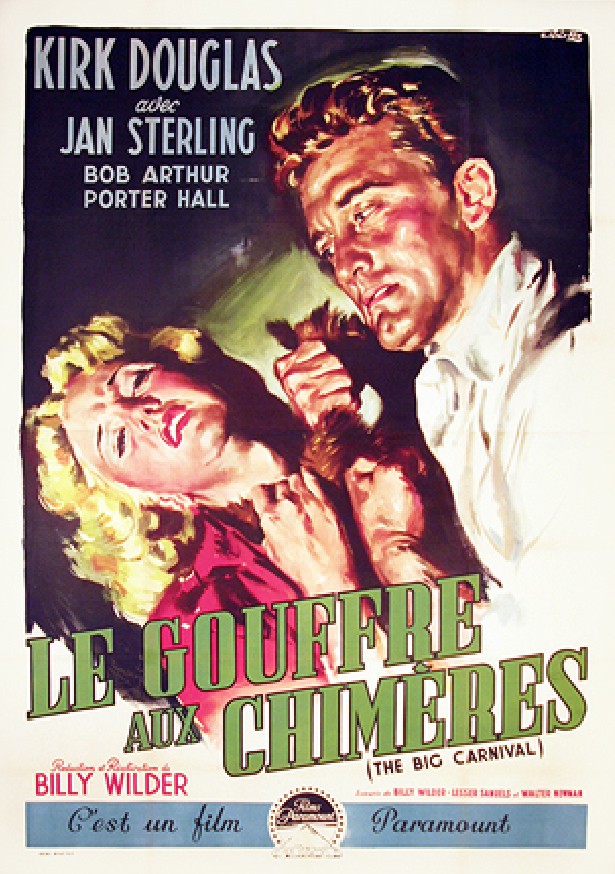 ACE IN THE HOLE (1951) By the brilliant Billy Wilder comes a film so great, two of its titles were used as Chapter titles in my Biography. The film is about the addiction and cutthroat evil the media is capable of to keep a story going. You know, a story that becomes a story everyone is talking about? This is a film drawn from true events and turned into something entirely new. One of the most powerful Journalist movies ever made. Absolutely unforgettable. It was only nominated for Best Screenplay - and it was a crime that Douglas wasn't nominated. He is legendarily great here.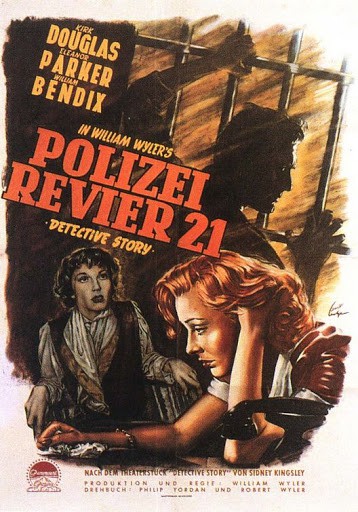 DETECTIVE STORY (1951) - The director of BEN HUR, MRS MINIVER, BEST YEARS OF OUR LIVES, ROMAN HOLIDAY & THE COLLECTOR comes a tough as nails story about Douglas' Detective searching for someone giving backalley abortions leaving bodies in their wake. Yup, pre- ROEvWADE Abortion Detective Story. Wait till you see this. Difficult subject matter handled straight on, unflinching and the procedural nature of the story plays right along with the best crime tales we get today! Brilliant film.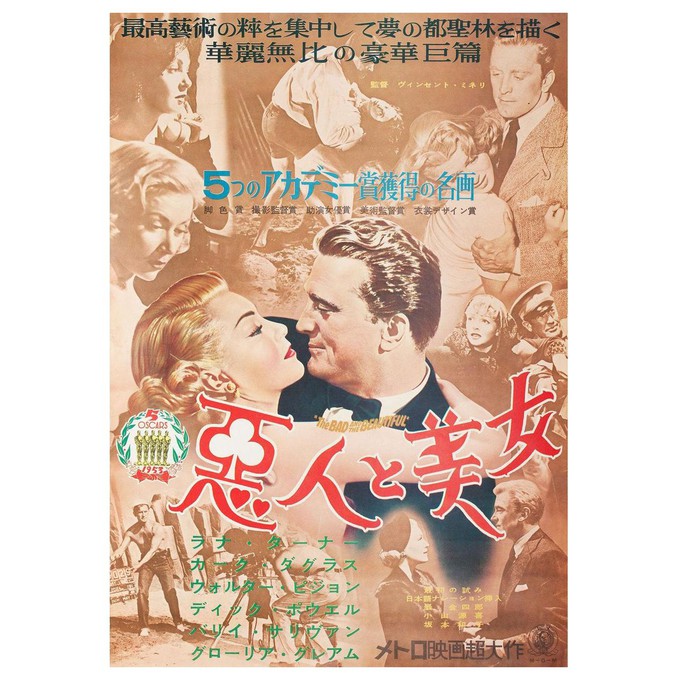 THE BAD AND THE BEAUTIFUL (1952) Directed by Vincent Minnelli and is every bit as brilliant a dramatic picture as his musicals like AN AMERICAN IN PARIS and BRIGADOON and CABIN IN THE SKY and THE PIRATE and GIGI! If you remember those early Kirk Douglas movies above, when he was working with Directors from Val Lewton's world - but also David O Selznick and even Welles. The film is one of the great HOLLYWOOD tales put to film. The dialogue in this is just the best - the whole world of filmmaking so seductive, yet seedy and oft-putting. I love the line, "Don't worry. Some of the best movies are made by people working together who hate each other's guts," that Douglas lets fly. If you love movies about making movies - this is seriously amongst the very best! The Box Office Champ of 1952!
20,000 LEAGUES UNDER THE SEA (1954) Directed by Richard Fleischer, the son of Max Fleischer, and the director of such classics as THE VIKINGS with Kirk, but also FANTASTIC VOYAGE, DOCTOR DOOLITTLE (the great one), BOSTON STRANGLER, SOYLENT GREEN (happy 2020), AMITYVILLE 3D and CONAN THE DESTROYER. The film is a perfect film. Note perfect. Brilliantly cast. Perfectly captured. And with a great Kirk Douglas musical sequnece. "Whale of a Tale" is amongst my fave sea shanties! Peter Lorre, James Mason - and that turtle shell uke! That Pipe Organ! THAT NAUTILUS. I watched this film as soon as I heard Kirk was gone, cuz I needed a pick me up. The Box Office Champ of 1954!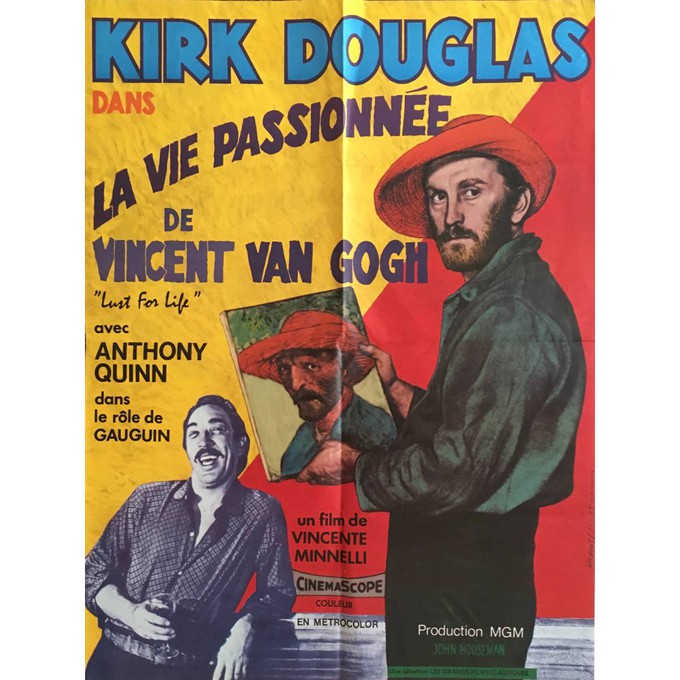 LUST FOR LIFE (1956) Co-Directed by Vincent Minnelli and George Cukor. Kirk won the Golden Globe for playing Vincent Van Gogh,was nominated for the Oscar and didn't win, though Anthony Quinn won for playing Paul Gauguin. This film is beautiful to watch, the colors are just gorgeous. Quinn and Douglas are just magnificent together in this. The entire film is vibrant in every possible fashion.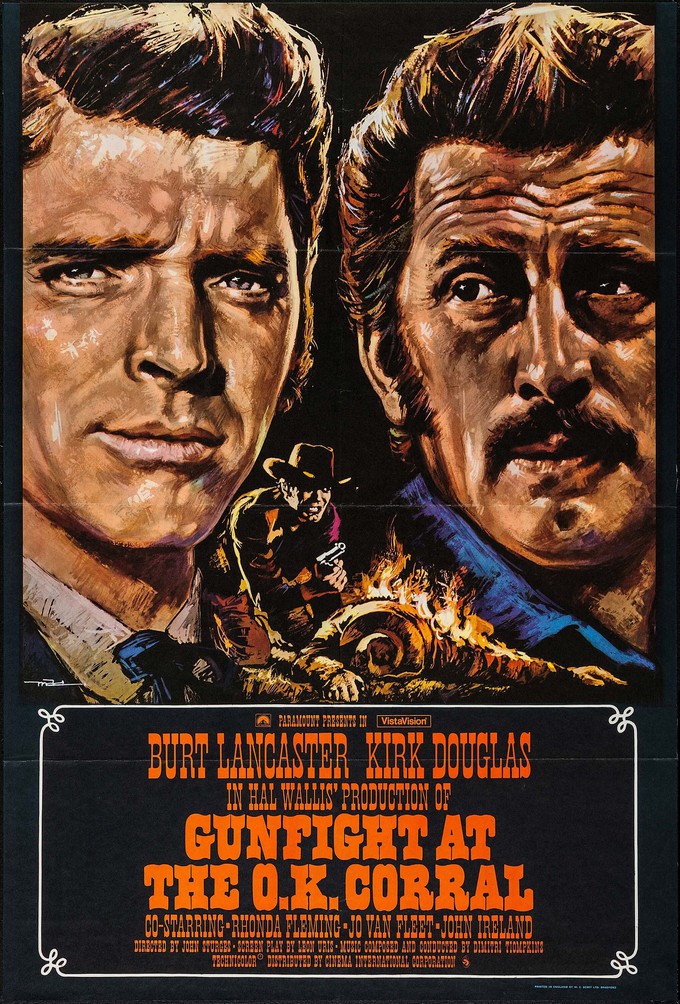 GUNFIGHT AT THE O.K. CORRAL (1957) - directed by John Sturges, a tremendous director behind THE OLD MAN AND THE SEA, THE MAGNIFICENT SEVEN, ICE STATION ZEBRA, BAD DAY AT BLACK ROCK and JOE KIDD. Oh yeah and THE GREAT ESCAPE! This was a huge event movie. The Box Office Champ of 1957. Burt Lancaster was Wyatt Earp, Kirk Douglas was fucking Doc Holiday, Deforest Kelley was Morgan Earp (yes Dr McCoy!) and Dennis Hopper (crazy young) as Billy Clanton!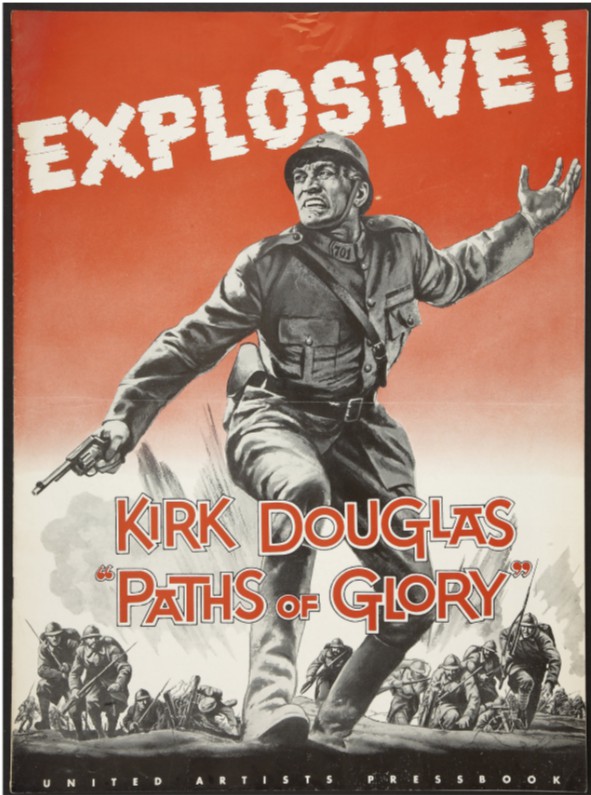 PATHS OF GLORY (1957) - Directed by Stanley Kubrick. You know who he is. I've always thought of this for Kirk Douglas like Spielberg doing JURASSIC PARK and SCHINDLER'S LIST the same year. GATOKC was a Box Office super hit, while PATHS OF GLORY was made to curb the world's lust for War. Banned in France for years, this is masterful Kubrickian genius. When Douglas gets pissed, it's amazing. Actually, it is all amazing. The film just does it all perfect. Douglas made a lot of perfect movies for my money and Kubrick only made perfect movies!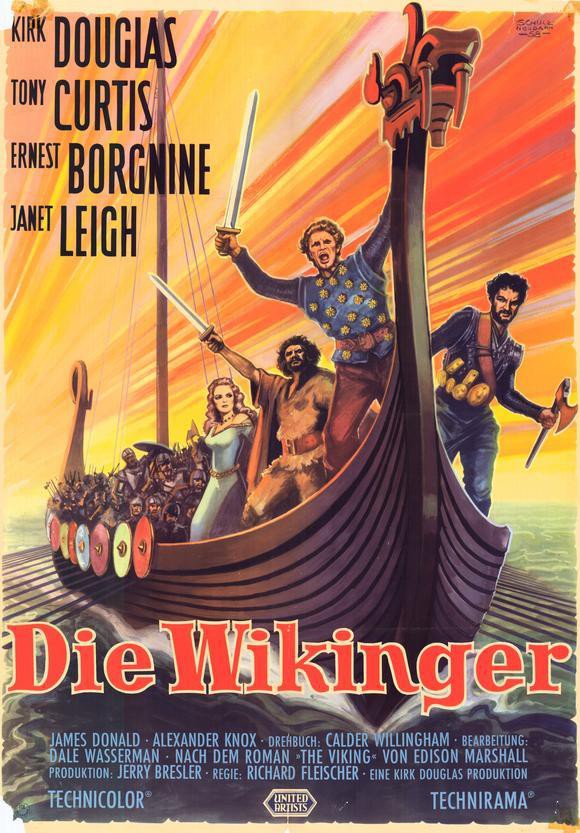 THE VIKINGS (1958) Directed by Richard Fleischer - This was a long in gestation dream project of Kirk Douglas! I love every freaking second of this movie. It is, without doubt, my favorite VIKING movie. It is bigger than life and just struts. The Viking games, the drinking hall insanity, the siege of the English Castle, Borgnine's pit! RAGNARRRRR!!!! Douglas with the one blind eye ripped to hell. Janet Leigh is angelic here. I watched the film twice tonight as I've written this. Cureently rewatching YOUNG MAN WITH A HORN. A breathtakingly beautiful adventure film like few others. Top Box Office hit of 1958!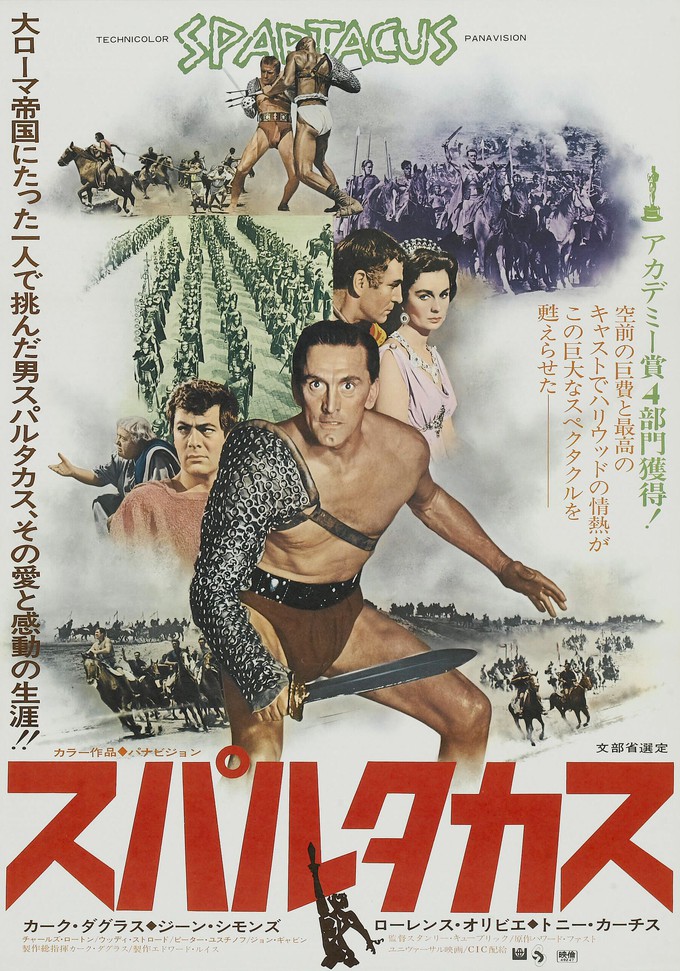 SPARTACUS (1960) Directed by Stanley Kubrick - there are films larger than nearly every other film and that's SPARTACUS. It reteamed Douglas and Tony Curtis - and like THE VIKINGS, it too was the BOX OFFICE CHAMP of 1960. My favorite call back to this film is in a little film not nearly enough people know called GRAVY TRAIN aka DION BROTHERS - and Stacy Keach standing up tall and shouting out, "I'm KIRK FUCKING DOUGLAS!" a line written by Terrence Malick! SPARTACUS. SPARTACUS. Kirk Douglas has left us and we have SPARTACUS for all time!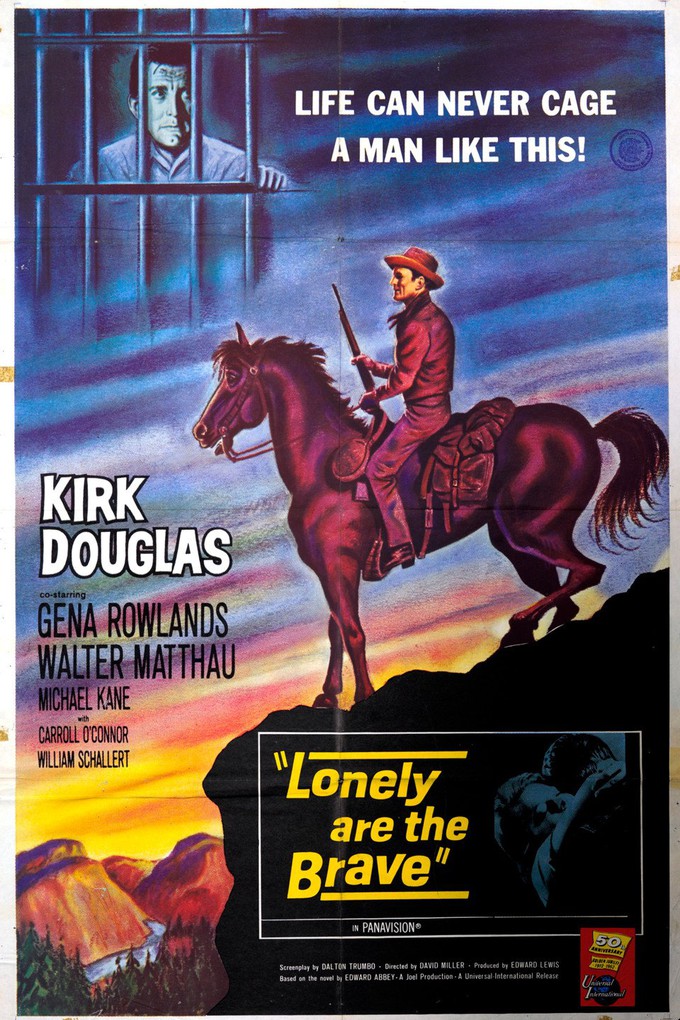 LONELY ARE THE BRAVE (1962) I found this film because of BUTT-NUMB-A-THON. That year I was scheduled to end the show with JOHN RAMBO with Stallone showing up to introduce it, but the VFX that came in the week of the event - were so off that Sly didn't want to risk showing the film in that state, something entirely reasonable - but I had discovered the tie between FIRST BLOOD and found a gorgeous print. It has been working its way into my heart further and further. Cowboy vs Military & Cops. This was Kirk's favorite film he made and I absolutely get it. Don't fence me in!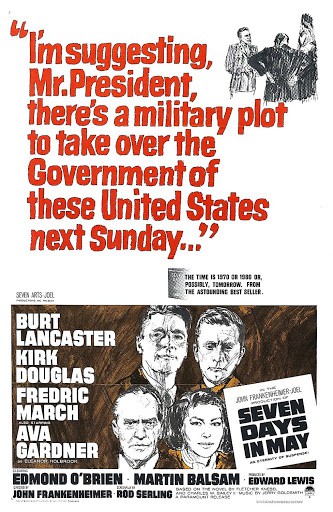 SEVEN DAYS IN MAY (1964) Directed by John Frankenheimer and starring Kirk, Burt Lancaster, Fredric March and Ava Gardner. It is a military coup film to overthrow an obviously deranged President that is putting the safety of the United States at risk and the only folks that can save us... are obviously the military! Love Edmond O'Brien in this. It's a Frankenheimer film so you know it moves and blows the lid off by the end. Can't praise this one enough!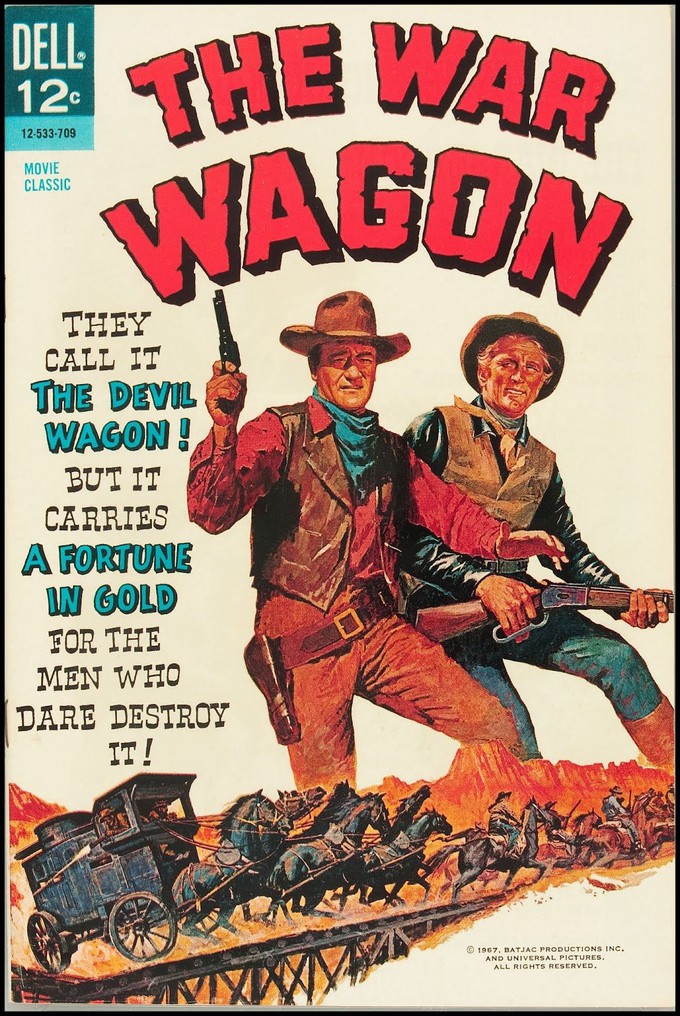 THE WAR WAGON (1967) This is John Wayne and Kirk Douglas - in a crazy nearly comedy western, that is just dynamite! I love the Wagon itself - it is pure Steampunk Western looking in design. The film roars along with another great Dimitri Tiomkin score propelling it beyond the speed of any horse.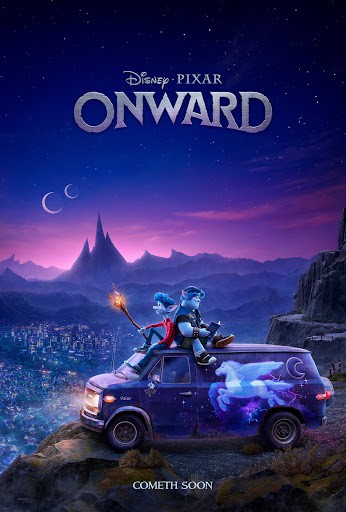 THE MASTER TOUCH (1972) This is an Italian Heist flick with a really awesome Ennio Morricone score and a fantastic Kirk Douglas, a dynamic Giuliano Gemma. This is one of the Quentin Tarantino Film Festival films he played - and it is absolutely worth tracking down.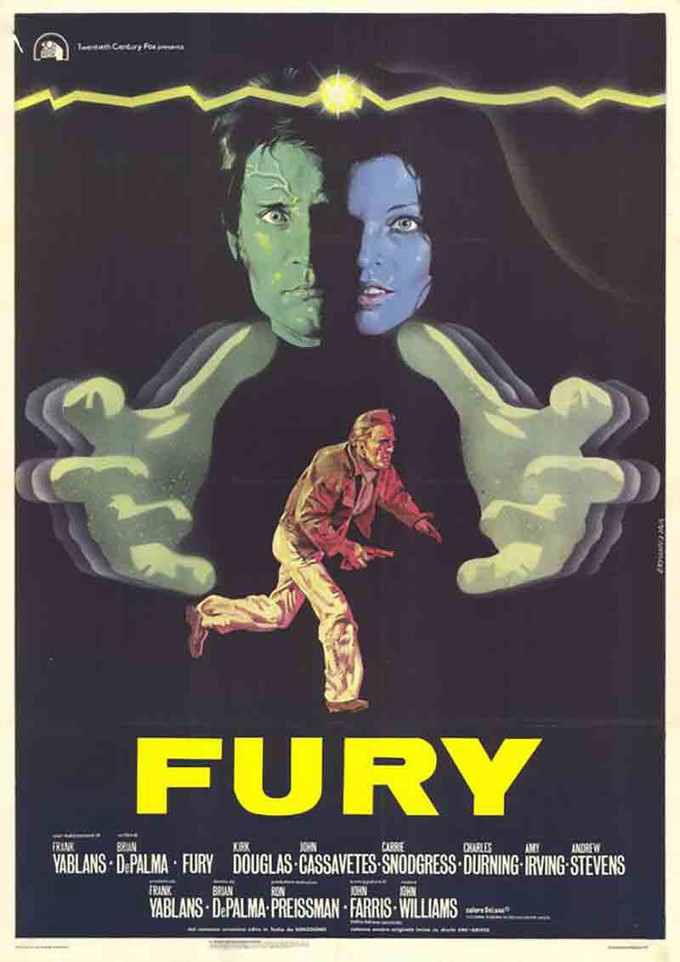 THE FURY (1978) by Brian DePalma - you better know and love him. This isn't a universally beloved film... but it's so damn... what it is and unapologetic about it. I saw this at the drive-in and made the connection to Jean Grey and the X-Men and while it doesn't go SUPERHERO with it, the idea of its crazy telekinetic plot is just exactly my speed. Also - ya kind of have to love any movie with John Cassavetes and a young Amy Irving.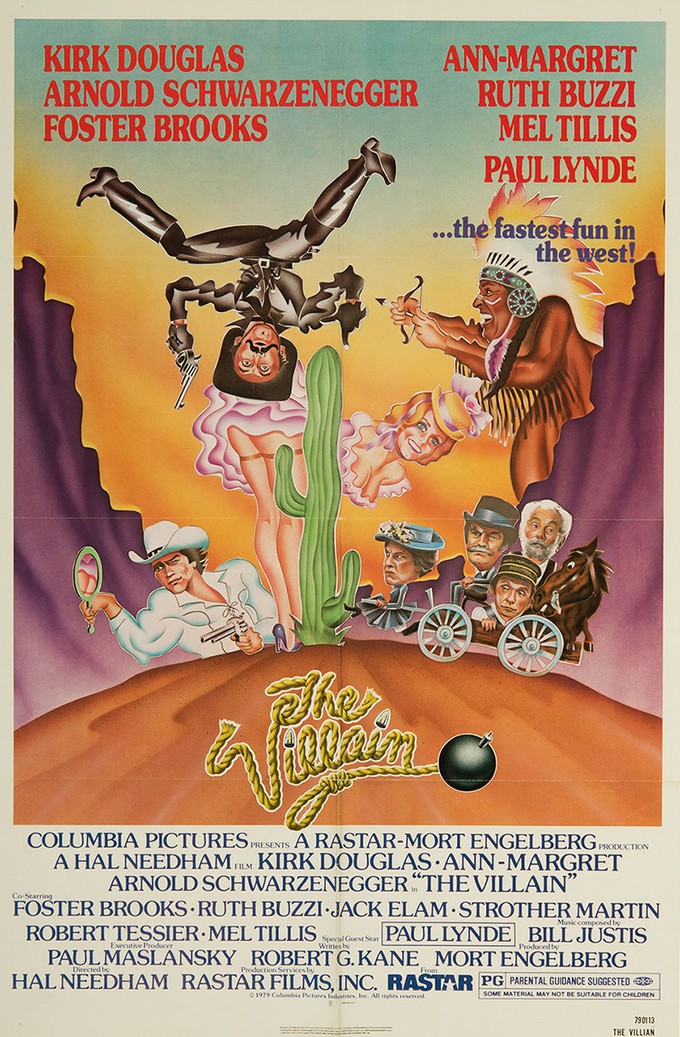 THE VILLAIN (1979) by Hal Needham (SMOKEY & THE BANDIT, HOOPER, CANNONBALL RUN, MEGAFORCE) - this is the craziest Scwarzenegger film ever made. Moreso that even HERCULES GOES BANANAS, just because he's just not yet the Arnold we know cinematically. But watching this with JINGLE ALL THE WAY - will give you whiplash.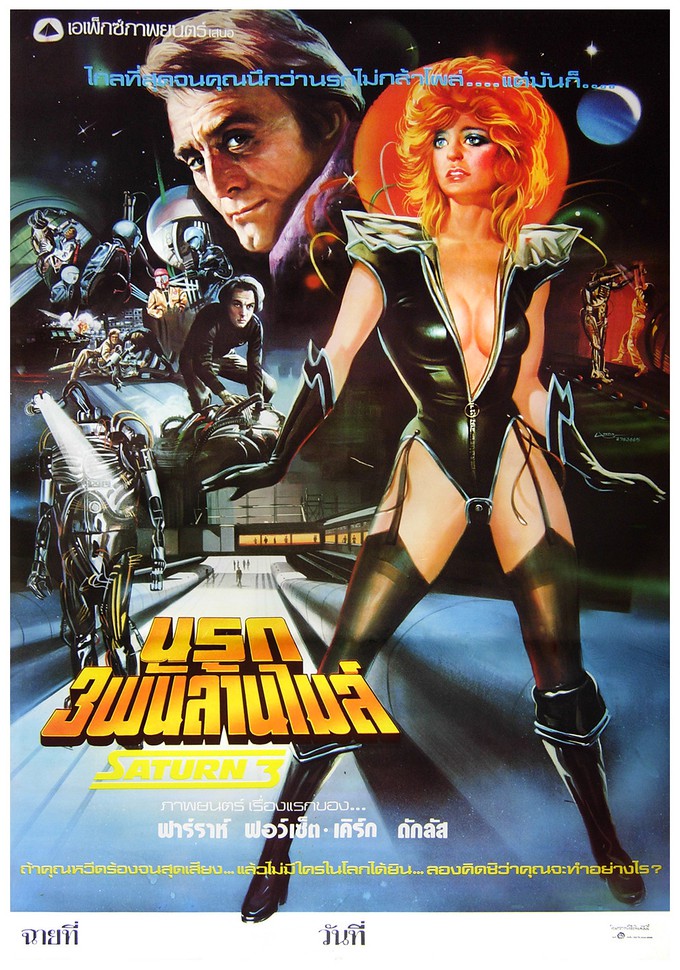 SATURN 3 (1980) Stanley Donen directed this - one of the wierdest damn science fiction films you'll see. One of the oddest Harvey Keitel performances ever. Kirk Douglas butt! And a constantly confused Farrah Fawcett. And the robot... This film works in ways that are very difficult to describe. I need to watch this again soon.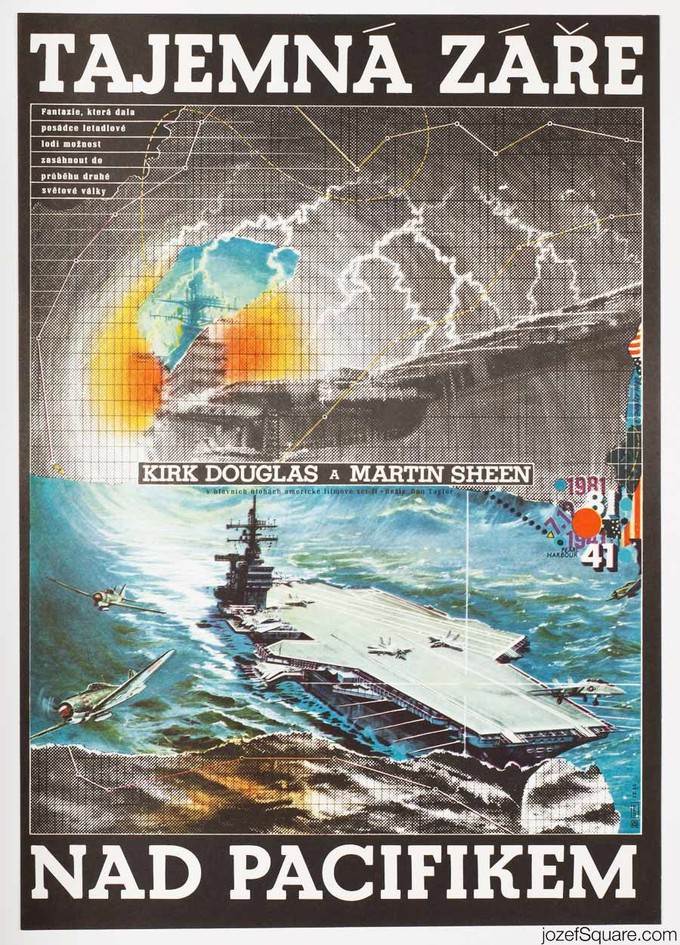 THE FINAL COUNTDOWN (1980) Directed by Don Taylor - the man behind ESCAPE FROM THE PLANET OF THE APES, STALAG 13, OMEN II - and this is a great sci-fi flick about one them there military experiments. The idea of sending a modern aircraft carrier with its jets back in time to prevent Pearl Harbor - I mean... and it rocks. I love this flick!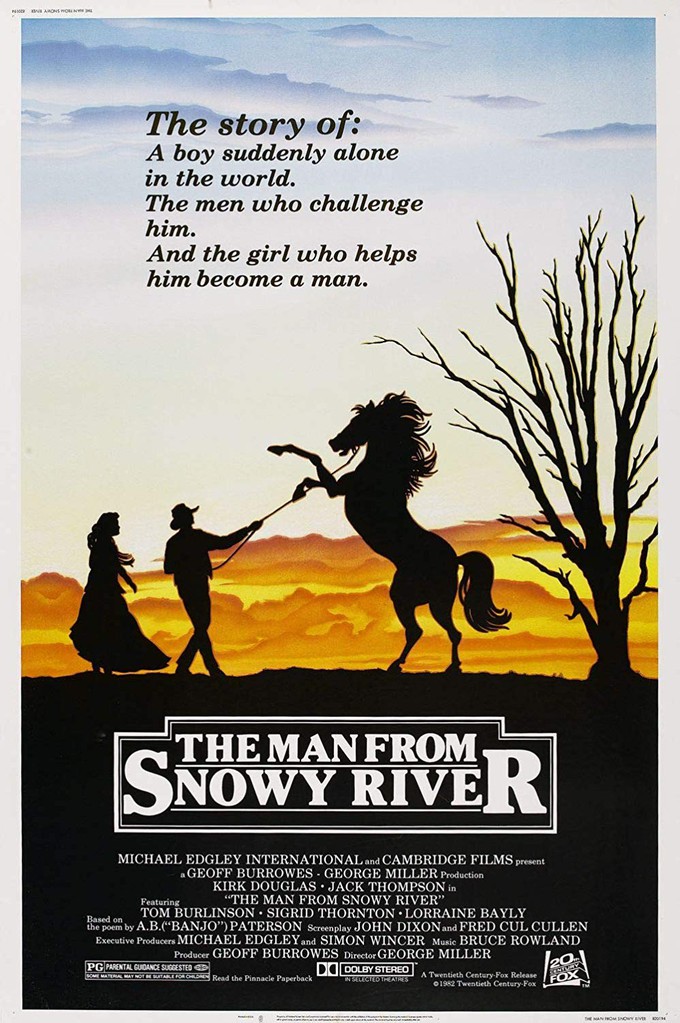 THE MAN FROM SNOWY RIVER (1982) Directed by George Miller, not that one. This was my mom's most repeated film in my Junior High and High School years. She watched this and LONESOME DOVE a countless amount of times. It's like a Western in Middle Earth. Douglas is great in it.
Those are my favorite Kirk Douglas movies. The man was a towering giant, a fantastic immigrant success story in America - and a star that made us feel and think and fight for what is right. He is as great a star as there has ever been. My heart goes out to his family and fans that have spent the last century loving his work. Now... go watch some Kirk Fucking Douglas movies!!!