We've been begrudgingly yet patiently slogging through 2020 and you may find yourself occasionally wondering what it all is for. Why are still trying to go forward? To what great reward?
Well, Netflix answered that question with the official trailer for Charlie Kaufman's new film I'M THINKING OF ENDING THINGS, premiering on the streaming site on September 4th. Check out the trailer here:
There is so much to digest here, from David Thewlis (the HARRY POTTER films, WONDER WOMAN) with his tortured cackle and changing hair, to everything Toni Collete (HEREDITARY, THE SIXTH SENSE) is doing onscreen. Jesse Plemons (AMC's "Breaking Bad", GAME NIGHT) needs no camera effects to be off-putting, and Jessie Buckley (WILD ROSE, JUDY) radiates nervous energy as the focus of the film.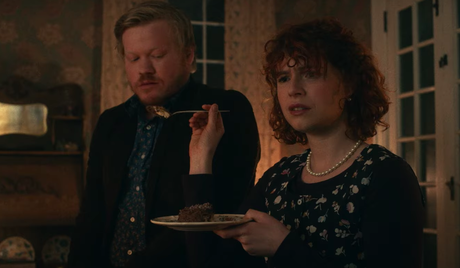 Kaufman's penchant for imagery and atmosphere are on full display in this trailer, from the dog shaking off its wetness becoming the soundtrack of the trailer to Buckley's repetition of her boyfriend Jake's name yet no mention of her own. We see her sanity begin to unravel as she finds herself lost, first in time, and then within her own sense of self.
The film looks primed to be a heartbreaker of ETERNAL SUNSHINE OF THE SPOTLESS MIND-proportions, with some of the more "quantum psychic" moments of BEING JOHN MALKOVICH. The film is based on a novel by Iain Reid of the same name, which I admittedly haven't read, but may after I see the film. It's a short wait; less than a month. Despite all that's going on, I feel like I can make it there.
Charlie Kaufman's I'M THINKING OF ENDING THINGS premieres Friday, September 4th, 2020 on Netflix. Will you be checking it out?
Until next time, stay safe and stay (relatively) sane.
-McEric, aka Eric McClanahan-