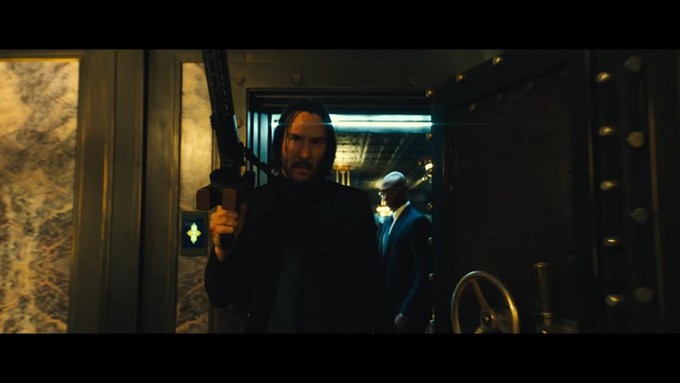 Like forces of nature or its character itself, John Wick exists due to specific, undeniable, and legitimate reasons. The heat of condensation released, the sudden shifting of tectonic plates, the death of his wife first. Then that of the living, barking heirloom she left him. The viewer is very likely to forget all about them by the time they are on full force, and all there is to think about is the path- or lack thereof- they leave behind.
Which is not to say this series of movies- a full-fledged franchise by now, after this third installment grossed more in its opening weekend than the original did all throughout its entire run- is purely soulless and heartless blockbuster season drivel- quite the contrary, in fact. JOHN WICK: CHAPTER 3- PARABELLUM may come off- maybe, as a whole lot of purposeless violence and action for the newcomer. Very much in the same vein as Avengers: Endgame. Wick will undoubtedly come off as nothing but pablum, to anyone who has never before watched a Marvel Studios release. To the constant followers who, since 2014, have been following the exploits of Keanu Reeve's second most recognizable character it is more than only that- the first minutes of the original when the genesis of all the bloodshed that is to follow is laid out make sure of it.
I can´t think of any other movie besides Mad Max: Fury Road which has, since the coming of the brainchild of director Chad Stahelski, screenwriter Derek Kolstad and, by now, also star Reeves, been so thoroughly dependant on sheer spectacle and still, not only be able to make sense but, have a genuine soul. Or souls, maybe, for it is truly difficult to try and pinpoint where the raison d'etre of the series as a whole and PARABELLUM in particular lies. Is it Stahelski's stylish aesthetic choices and fight choreographies or Kolstad's eccentric and unexpectedly addictive world-building? I might argue it is mostly on Reeves' shoulders, which extracts maximum effect from his mostly deadpan delivery, imposing build and obvious dedication to the part but the fact is this is all the product of a benign perfect storm of fearless creativity, professional ambition and go-for-broke attitude from everyone involved.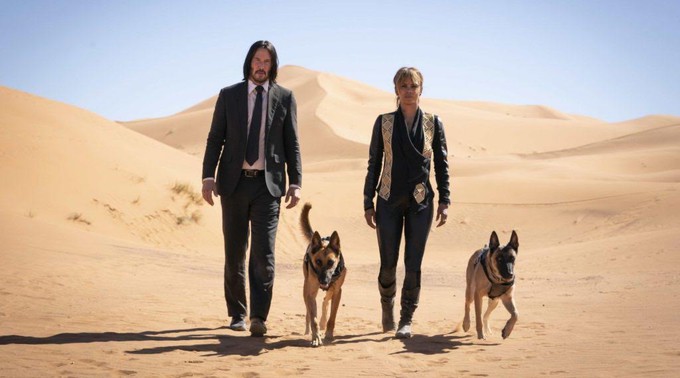 The beginning minutes of PARABELLUM are some of the most unequivocally exhilarating and fun I have seen within the wide-ranging universe of action cinema and, undoubtedly, a textbook example of how to use digital imagery in the benefit of your creation rather than being overwhelmed by it. A barehanded (aided only by books, to be honest) brawl in the New York Public Library. Later is followed by a prolonged multiple-knife battle in an antique store (full with antique guns and blades). Then by a horse and motorcycle chase beginning in a barn and eventually extending throughout the soaked, multicolored night streets of the city and it all is breathtaking, an audiovisual impressionistic assault not to be differently judged than Malick's abstract ramblings in the worst of cases, a masterclass in film pacing in the best of them.
After that, the movie takes a deep dive into the surreal world of guidelines-bound lowlifes that it has been steadily developing since day one and we are swiftly introduced to the first glimpses of screenwriter and Hollywood's latest wunderkind wannabe Shay Hatten's upcoming spinoff Ballerina, led by a regal turn by Anjelica Huston which leads the way for Halle Berry's return to undeniable big screen relevance. The setpiece her Sofia and Wick headline in Morocco (aided by her two Kevlar vest-clad german shepherds), a shootout against an apparently endless army of opponents, jolts the film back into full intoxicated mode.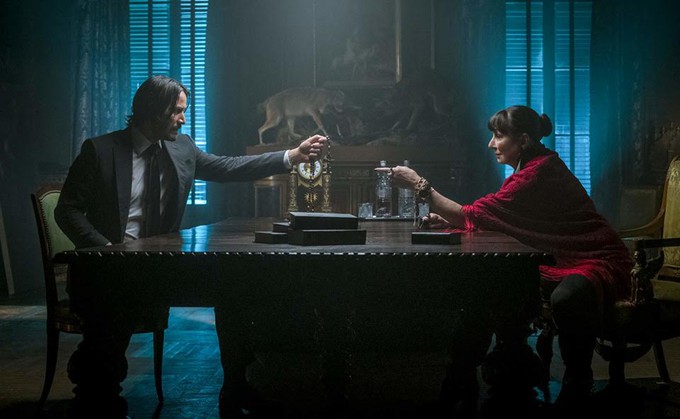 Returning also are Laurence Fishburne as the Bowery King along with Ian McShane and Lance Reddick as, respectively, the manager and concierge of The Continental Hotel (an institution poised as well for its own TV series debut), not one of them content with merely supporting an already fabulous cast but dead set on actually shaping the film according to their own marvelous portrayals and unique delivery of lines.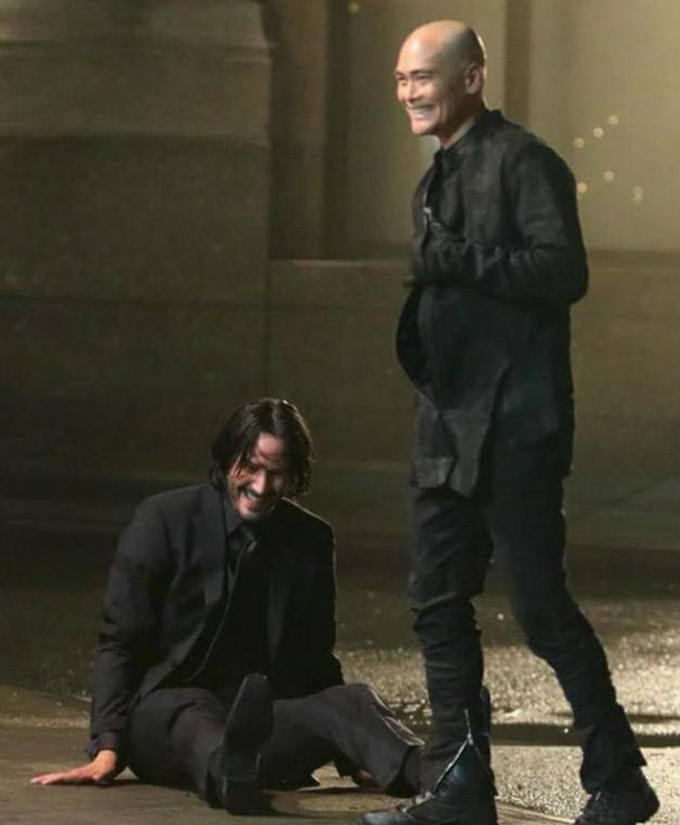 New to the ensemble are Marc Dacascos, finally hitting a long overdue shot at wide mainstream recognition, as (well, what else?) an expert martial artist/ master assassin who is, nonetheless, not opposed to dwelling in some more light-hearted moments as well and Asia Kate Dillon as an Adjudicator, something of a mouthpiece for the High Table at the vortex of this entire universe, very professionally hellbent on making sure all due punishments and retaliations are inflicted on the proper targets and order is, at last, reestablished once more after Wick's transgressions.
John Wick's eventual return to New York and, more specifically, to The Continental, now deconsecrated after McShane's refusal to step down from Management after his disloyal mishandling of the situation, boils down to a long siege scene that is, in turns, exhausting, brutal and very beautiful. The fight against Cecep Arif Rahman (from The Raid 2) and Yayan Ruhian (the epic climactic fight in The Raid and also its sequel; Merantau, Beyond Skyline), particularly, is a showstopper. Funny and hard-hitting at once and the ultimate showdown with Dacascos may very well be the only set piece in cinema history in fact enhanced by product placement with its gigantic, all-encompassing Carl F. Bucherer Wristwatch blindingly luminous billboard framing the non-stop violence in decadent splendor and radiant flashiness.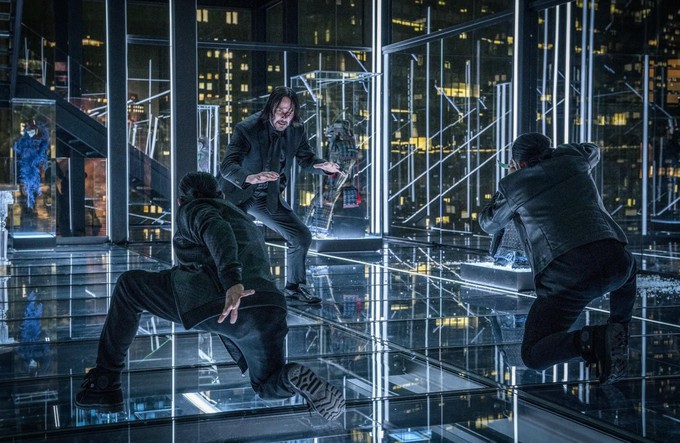 This is one movie lovingly crafted for fans of this deadly man's life or designed for action cinema connoisseurs uninterested in anything particularly meaty- hardly for anyone else. For those within its intended reach, Wick's trembling hand rising as he shakily mutters "Yes" in response to the film's last question, one that promises way more to come, will unquestionably send shivers of excited impatience down their spines.
Eloy Ricardo Balderas Salazar