Hey friends, Barbarella here after speaking with Jay Baruchel. You may be familiar with the Canadian actor as the voice of Hiccup in HOW TO TRAIN YOUR DRAGON or from his work in some of Seth Rogan's films, but now he's taking the reins on a horror film called RANDOM ACTS OF VIOLENCE. Starring Jesse Williams, Jordana Brewster, and Jay, the film comes out today on VOD, Digital HD, DVD, & Blu-ray. In the film, some real-life events begin to mimic the gruesome scenes in Todd's comic book Slasherman. Keep reading to find out what Jay had to say about his homeland, the film, and with which Muppets he would recast the movie, if required…and it should be.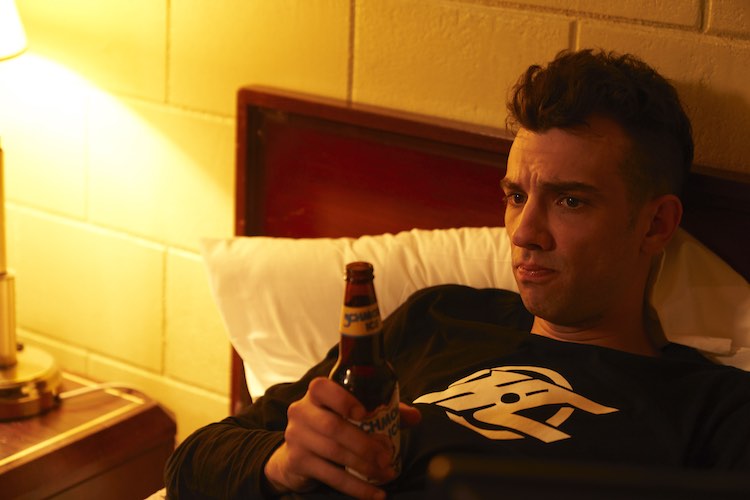 I have a question that's not really related to your film. There are so many amazing comedians that come out of Canada. What is it about Canada that breeds such comedic talent?
"Oh, gosh. Yeah, there's different theories. I think the best one I've heard is that we grow up seeing as much British TV as we do American TV, and obviously Canadian TV, too. This means that we're just raised in two very strong forms of comedy, and it just kind of ends up creating its own thing, ultimately. So, I think it's exposure to more shit maybe, but also I think people don't realize that it's not limited to comedy.
"From the dawn of cinema, in the silent era, the world's first movie star, Mary Pickford, was Canadian. Norma Shearer, also Canadian. Marie Dressler, Canadian. Mack Sennett, who directed the Keystone Cops and all the Charlie Chaplin shit, also Canadian, so it's from the inception of the art form, we've been going down there and helping to make it."
Why did you decide to pivot to horror?
"Oh yeah, not a pivot. Seems like one from the outside, potentially, but for me, it's like, "When did I decide to pivot to comedy?" I fell into that and got to make a living at it, and I'm very, very grateful for it, but I was making horror movies long before I ever went out to LA. What we did all throughout high school was watch movies and make movies and fucking trade issues of Fangoria. I've wanted to make horror movies since I was a kid. For me, and anyone who knows me, this is all I've been working towards. The entirety of my career as an actor has been all an effort to sort of get me to this place. It's all I've ever really wanted to do."
Cool. So this movie obviously has a very '80s horror vibe. What is it about horror in the '80s that you love?
"Oh, Jesus Christ. Yeah. I don't know. I suppose if I spent a bit of time analyzing it and unpacking it, I could figure a satisfactory answer. I think it's more that I was born in '82 and came of age in video stores, and that was the golden age of slashers, and it was always shit that you heard about that you were too young to see, but maybe the older kids saw. So even if I didn't really see Jason do anything until I was thirteen, fourteen, somewhere in there, I knew who he was. And I had nightmares of Freddy five years before I ever saw NIGHTMARE ON ELM STREET. Yeah, it's down to being a kid who was born in 1982, and everything that came after."
All right. My next question's kind of a three-part question. This was adapted from a comic book. How did you come across the source material? How long did it take you to adapt it to a screenplay? And what was that process like?
"Yeah, so it's terribly unromantic at every turn, I think. The story starts ten years ago when my writing partner, Jesse, and I both read a comic book by Jimmy Palmiotti called "Back to Brooklyn," and we really, really dug it and got a meeting with the rights holders, a company called Kickstart in LA. And they were like, "Well, this is the best thing we have, and we've been trying to get this going." But basically, they didn't know Jesse or me from Adam, and they were trying to suss us out. And they were like, "Well, we have this other thing called 'Random Acts of Violence' that we're trying to turn into something. Read this and see if you have a take." And so it was really just two kind-of-new writers trying to prove themselves. At first, we were just trying to see if we were going to do our job and see what we could see in this comic.
"And we read it and loved it and obviously saw there was a lot there, and so we did our first pass as a first outline ten years ago. And over time, we never bailed on it. In fact, we just got fused to it more, and then at a certain point, took ownership of it, I'm sure, much to the chagrin of the people that actually own it, but we took emotional, philosophical ownership over it. Then at a certain point, it stopped being just a thing we were kind of hired to do to test ourselves with; it became what we cared about the most deeply. Then eventually, I was like, "Well, I don't want anybody else to direct this." I saw it in my head and felt it in my heart pretty vividly. And so, it was eight years from treatment to production.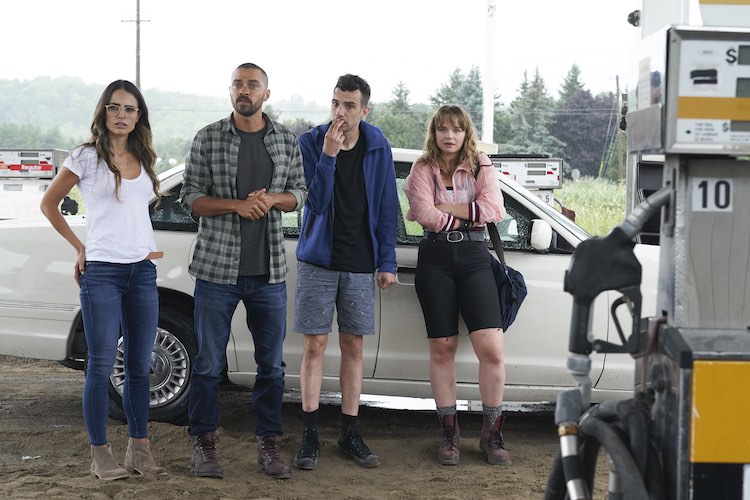 "And then in terms of, "How do you kind of approach that?" We saw our job as, hopefully, adding to and continuing the conversation that the comic book started. And Jimmy Palmiotti and Justin Gray are incredible collaborators. Very, very early on, they gave us kind of creative permission. They said, "The book is the book. The movie is the movie. If you've got to change anything, add anything, take away – whatever journey you guys have to take to make the movie, just do it." They were incredibly supportive and the furthest thing from precious. With Jimmy saying, "Just do your thing," we felt free to kind of paint with whatever colors came to us organically."
If you had to cast all the main characters in this movie only with Muppets, who would you cast in the roles?
"Good question. Well, clearly Kermit would play the Jesse Williams role, which would necessitate Miss Piggy playing Jordana's role. And then I think I'm probably Gonzo. And I think Slasherman is probably Animal. Animal or the Swedish Chef is probably the best option."
The Swedish Chef would be fun in that role.
"Yeah, he's already got a knife in his hand, too."
What do you think this film brings to the genre?
"Oh gosh. I'm really going to tread lightly; I don't want to get anyone mad at me for being sort of ponderous or vain or anything. But, look, hopefully we bring all that any movie could ever hope to bring, which is truth and energy. I hope we've made something legit that people could tell isn't bullshit and comes from a pure place, and hopefully, we did it with some energy that you haven't seen before. So yeah, truth and energy, or heart and peace."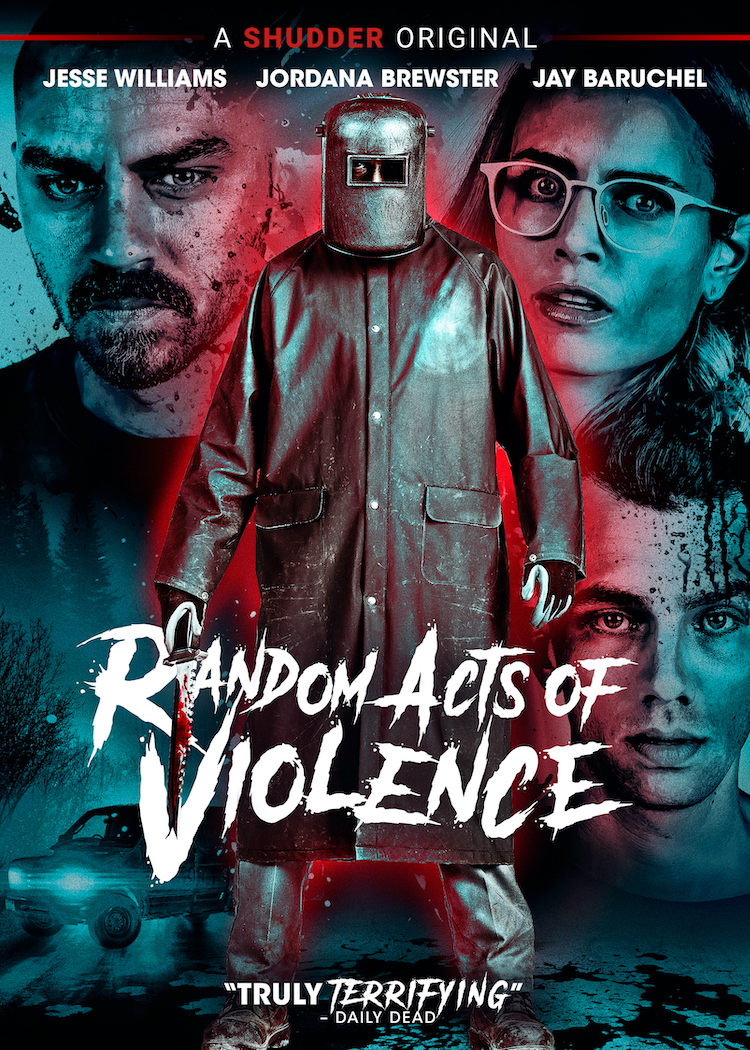 Okay. Would you talk a little bit about some of the music choices and sound design?
"Yeah, absolutely. I had ten years to think about it. You have a lot of time to just kind of fucking dwell. I've got a soundtrack for this thing for almost the entire time, and certain things have come and gone off it, but I knew I wanted to walk this line of foreboding, dread, and melancholy. I thought that was a kind of interesting place to put it and seemed to be thematically correct. My composer duo Andrew Gordon Macpherson and Wade MacNeil are two of my best friends in the world, and they've been doing incredible work on "Dark Side of the Ring" and shit. Also, one of them acts in the movie, and the other one edited it, so it was a real family thing, with everyone wearing more than one hat. And when one of your composers is your editor, the two processes can inform one another and you can kind of design stuff with that in mind.
"We knew we wanted it to be kind of less chord progression-y and more that sort of sound-bed kind of thing. We knew we wanted it to be textures; we wanted it to match the mental breakdown that Todd goes through. I also think we're all basically the same age, so we all have the same fucking synth addiction, and we listened to a lot of the same shit. What's cool is I made this movie with a bunch of guys that I hang out with anyway. And when we're not making movies, we're still having barbecues or watching hockey or whatever, and we talk about the stuff we give a shit about, which is movies and music, and so this movie is kind of the realization of a lot of things we discussed in the backyard. "Man, wouldn't that be cool?" "I dig it when this is like this." "You know what, I love this. Blah, blah, blah." This is the sum total of what we think is interesting."
For me the choices around music and sound were probably the aspect I appreciate the most in RANDOM ACTS OF VIOLENCE. The vibe is very much that of an 80's slasher film but with a much lower body count than that to which many slasher fans may be accustomed, so set your expectations accordingly. It is available now on VOD, Digital HD, DVD, & Blu-ray.
Check out the trailer.