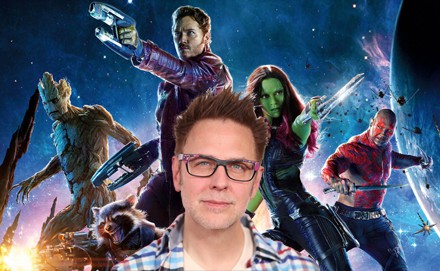 Hey folks... Precious Roy here... for my very last time!
Variety is reporting that James Gunn has been rehired to direct GUARDIANS OF THE GALAXY 3, from his own script.
It looks like James Gunn will be directing SUICIDE SQUAD 2, before helming GUARDIANS OF THE GALAXY 3, becoming our first Marvel Cinematic Universe & DC Cinematic Universe filmmaker!
It's no secret that myself, Wheels/Matt, and Dannie have all come out very loudly in support of James Gunn. Gunn was fired from the third installment of the Guardians of the Galaxy films after an alt-right filmmaker began pressing for his firing by bringing up old shock-humor tweets Gunn made years earlier. Gunn had already apologized for the tweets and left them up as a matter of transparency.
The top Disney brass were unmoved by the apology, and not even a series of special meetings with Gunn could keep him on the project. One can hardly be too angry at Disney (unless one is Dave Bautista-- respect, Dave) for cutting ties during a critical time for them, as the Fox merger was underway. But the merger wraps this week, and it looks like with it, comes any threat Cernovich could have presented to the project or the merger.
Perhaps, decades from now, we'll discover that Gunn was never truly fired at all-- and the whole thing was a smokescreen to keep the 4chan and alt-right movements from upsetting their plans? Probably not, but damn, I would love it if it was.
Gunn himself has responded on Twitter regarding his return to the franchise:
March 15, 2019
Karen Gillan beat the rest of the cast to the punch with this tweet:
We are groot

— Karen Gillan (@karengillan) March 15, 2019
I can see some of the Talkbacks already, and I will just let it do what Talkbacks do, There's no point in arguing with someone who's shouting into the wind.
As for me, I was absolutely sad to see Gunn leave the franchise, especially since, as Bautista pointed out, it was not for his behavior or his past, which Gunn apologized for twice, but because of pressure from people who did not like his assessment of President Trump. As I pointed out back then, caving into that pressure was most unheroic, and I'm glad things have turned out as they have. This is such a win for understanding and decency, and especially for the license, which has done wonderfully under Gunn's writing and direction. And I think I'd like to go out on a win.
So, this is my goodbye, Talkbackers, as a writer and reviewer for AICN. I'm leaving Ain't It Cool, effective immediately, to pursue other ventures.
I came here when Dannie put out the call to a mutual friend (thank you, Donna!), and I've loved working for Dannie, and getting to know the other writers over time, as well as Harry Knowles, In particular, I am so very glad that I met and befriended Matt 'Wheels' Essary, who after our joint coverage of STAR WARS: THE LAST JEDI, became a long-lost brother in all things geeky and cool.
It's been a blast bringing news and reviews to you folks since October 2017. Thanks for the support I got, even the support that was "you MISSPELLED THAT NAME, numbnuts!" I hope I managed to improve along the way, and I'll likely stick around as a Talkbacker for the foreseeable future, both here and on other sites.
-- Christopher Hooker, 'Precious Roy'