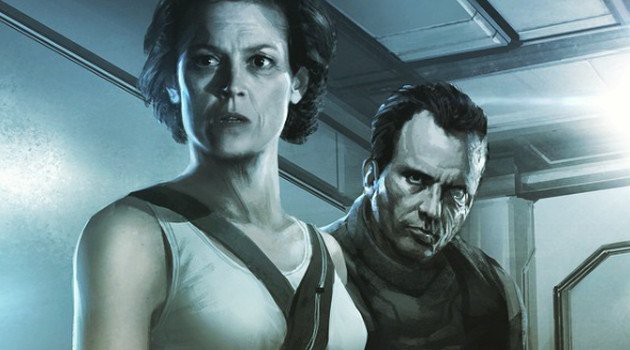 Hola Dannie aqui,
Today the news hit the web that due to Disney's purchase of Fox Studios James Cameron thinks that Neil Blomkamp's "ALIEN 5" is more of a possibility than ever and is quoted in a video interview with IGN via Bloody Disgusting as saying "I'm working on that, yeah."
The video was recorded on the red carpet at the premiere of "Alita: Battle Angel" a film James Cameron (co-writer and producer) and Robert Rodriguez (co-writer and director) are firmly behind.
Here is the quick video.

This is a project AICN has been reporting on since February of 2015 click here to read what Nordling wrote four years ago. "ALIEN 5" is supposed to be a direct sequel to "Alien" and "Aliens" throwing "Alien 3" in the garbage and reuniting Ripley, Newt, and Hicks. This project has not yet been given the green light and seeing as Cameron has said he likes Blomkamp's script but is busy with his "Avatar" series this leads me to believe maybe Cameron will likely (hopefully) take on the role of executive producer. This would give fans a huge sigh of relief, and I assume it will happen if "Alita: Battle Angel" is a box office dominator. Considering Disney's love of bringing back beloved franchises, the willingness of prior actors and actresses, as well as the admiration from Cameron I have faith we may be blessed with a Blomkamp ("Chappie," and "District 9") Alien flick. How do all of you out there in Geeklandia feel about the prospect of a Blomkamp Alien film? I hope this film gets a green light, and I think Blomkamp is an impressive filmmaker who revels in character development and breathes life into his creatures and machines. Fingers crossed I hope this isn't just a big tease.
Stay Strong, Live Good, Love Movies!
Dannie H.L. Knowles aka Pekosa Peligrosa