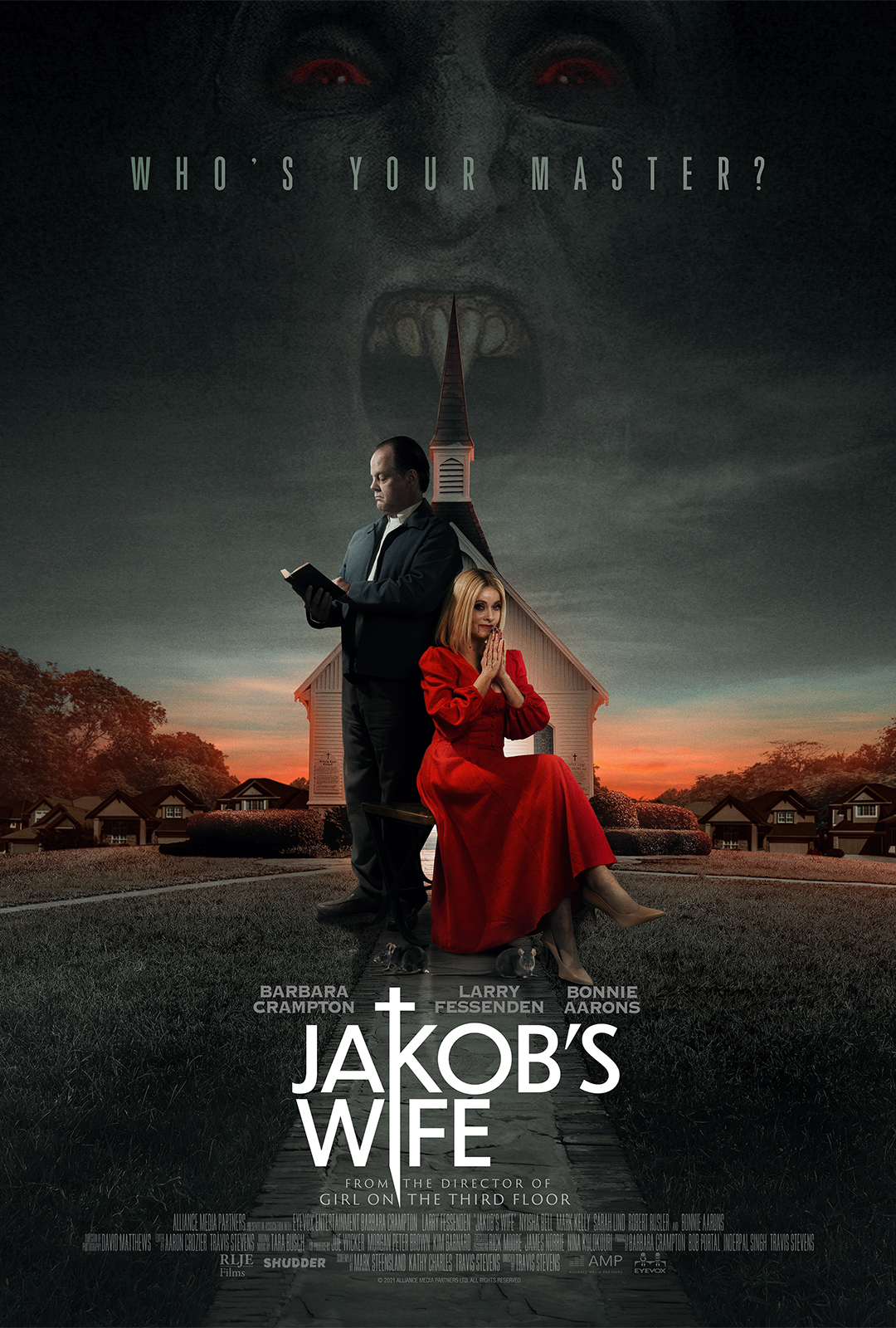 Though this year's SXSW Film Festival was held virtually, the programming at the event did not disappoint, especially in the Midnighters category. Directed by Travis Stevens, JAKOB'S WIFE celebrated its world premiere at the March fest and did the midnight category proud with its all-star genre leads, Barbara Crampton and Larry Fessenden, as well as the prerequisite twisted subject matter.
In JAKOB'S WIFE, don't-call-her-scream-queen Crampton transforms from fading preacher's wife to sultry siren after a run-in with a supernatural force that causes her to rearrange and reevaluate her station in life. JAKOB'S WIFE is the kind of movie the Midnight category was made for- a great balance of terrific performances, gory effects, a bit of camp, and legit scares that all make for a bloody fun film-going experience.
I was fortunate to have the opportunity to speak with director Travis Stevens ahead of the film's SXSW debut. I hope you enjoy our chat!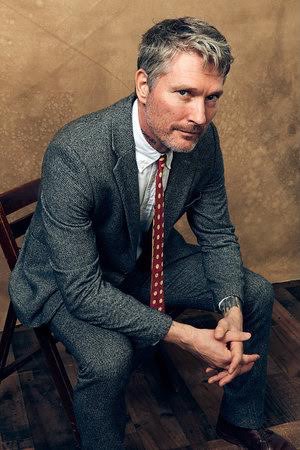 Annette Kellerman:
Hey Travis. Thanks so much for chatting with me today. I appreciate your time.
Travis Stevens:
Oh, good morning. Thank you. Are you kidding? I appreciate your time. Thanks for doing this.
Kellerman:
Absolutely. I guess we'll get right to it- how did Jakob's Wife find you? I see you credited as a co-writer, but was this your brainchild or did someone else bring it to you and you nurtured it along? Tell me how it found you.
Stevens:
Yeah. Well, it actually found Barbara Crampton. The original script written by Mark Steensland had won a screenplay award at Shriekfest here in LA five years ago or so, and they had sent it onto her and said, "Hey, we think you might be interested in this," and she read it and was like, "Oh my gosh. This would be a great movie for me." And then she spent years developing it and working with different people. Kathy Charles had worked on the script with her and then at a certain point Barbara sent it to me. I had just done GIRL ON THE THIRD FLOOR, and Barbara and I had worked together on a movie called WE ARE STILL HERE, and she sent it to me and I was like, "I can see the potential for this movie, and yes, I would love to go on this journey with you." So, my work on the screenplay began then, and it was really just, I wanted this movie to give Barbara a chance to play a character that went through a huge transformation and really show the world what a great actor she is, and so that was the primary goal, was really working on that material to bring a truth to it, ground the character and give her a lot of fun things to do in this particular subject.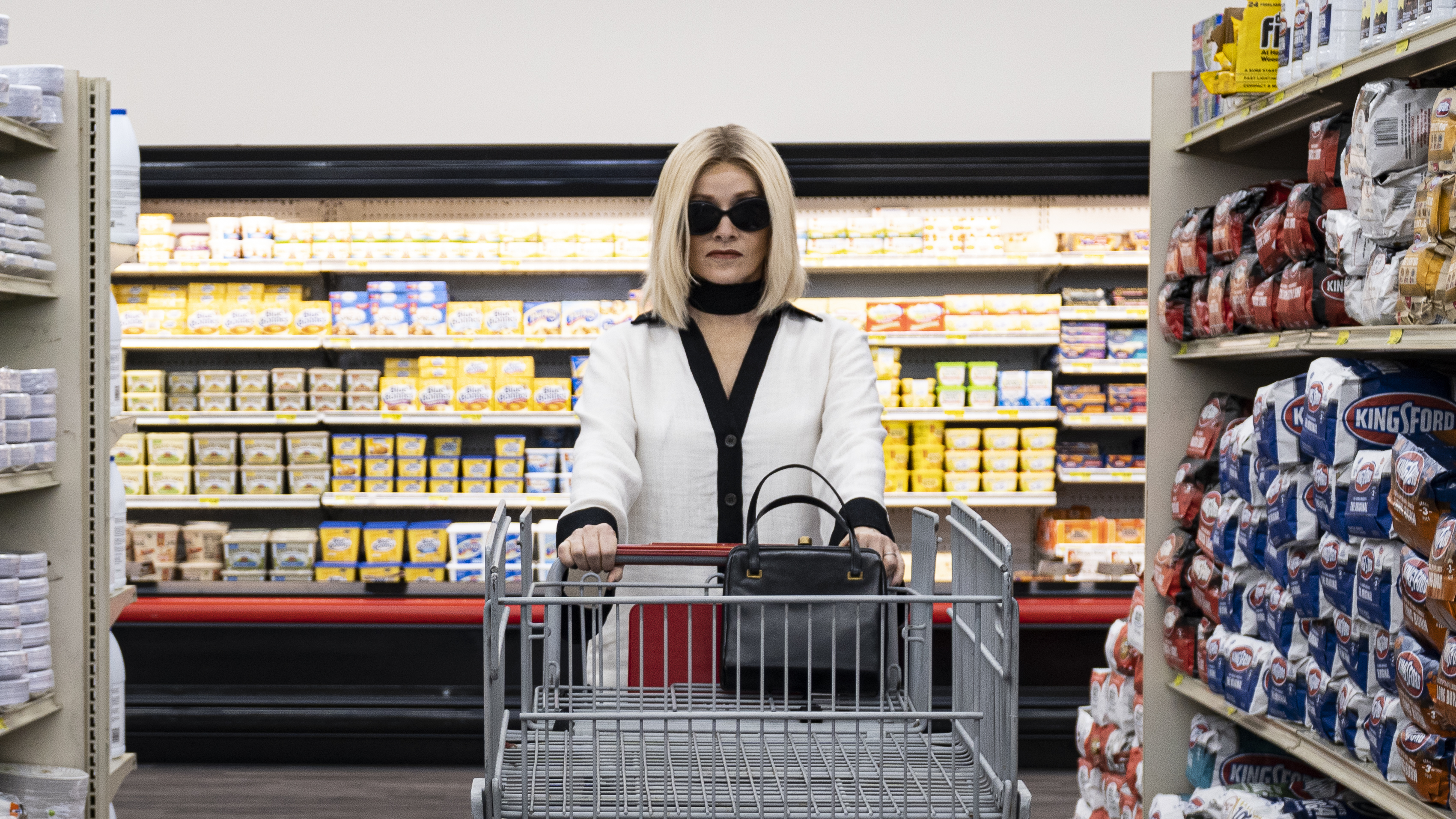 Kellerman:
Totally. It's such a fun, juicy role for her. And I noticed you obviously are no stranger to genre films and producing, and of course you mentioned your directorial debut, GIRL ON THE THIRD FLOOR. Talk about your transition from producing to directing. Was it always the goal? Was it more of an organic thing like, "This project's for me?" Can you talk a little bit about making that transition.
Stevens:
Well, I think with the movies I worked on as a producer, they were really collaborative and educational for me as well. It just got to a point where my confidence as a storyteller felt strong enough that I could see myself writing a screenplay and I could see myself directing the movies. So, I still like producing. I'm still producing, but it's really nice to... You know, as a producer your job is to nurture, support and help someone else execute an idea, their vision. It's been nice to just focus entirely on my vision for the past couple of years. So, I feel really grateful. I'll still produce movies. I'll still help other people get their movies made, but at the same time it's nice to sit down at the computer in the morning and go, "Right. What's today's adventure going to be like?" And start writing.
Kellerman:
I've been around now for a little while and done the festival circuit and everything. I mean, there's always been obviously a big horror following and genre following, but it seems like in the last 10 years or so, just with the festival circuit and obviously with online, social media and websites and stuff, I don't know, it just feels like there's this community that's formed. It's just so fun looking over your filmography and being like, "Oh yeah, he's worked on that, and then that connects to this." Can you talk a little bit about the whole community that's formed around genre filmmaking in the last 10 years and where you fit in it?
Stevens:
That's a great question. It seems that the only way these horror films have been able to fly is because there is such a strong community there to support them, that community that supports those festivals, that then supports the distributors who release the films, that supports the filmmakers as they're on their journey. That basically created its own sustainable ecosystem. It's just this beautiful garden where artists are cross-pollinating with critics, with distributors, with poster artists, with musicians, and it's thriving. It doesn't require, let's say, traditional Hollywood companies, big studios to say, "We see value in this." It's this community that's seen value in each other and is able to nurture each other. I feel very fortunate to have been a part of that and to have the movies that I've been involved in go through that system. Festivals like South by Southwest and Midnight Madness and some of the more regional festivals are such a huge part of raising the profiles of the movies, giving writers, both critics who are established or are maybe on their way up, giving them a chance to experience the movies, talks about the movies, giving the filmmakers, the cast, all of which don't have the sort of muscle of a studio behind them telling people, "This is important." It's all of these, the festivals and the critics and that online community talking about the movies that draws an attention to it and helps everybody rise up. Everybody levels up and it's just beautiful and I hope it goes on forever.
Kellerman:
I know. It's so great. It's really fun just to have kind of seen that over the years. I mean, I've been with Ain't It Cool pretty much since the beginning, and I feel like since Fantastic Fest has come around in Austin and The Chattanooga Film Festival... I just hear of all these new, amazing genre fests and it's just so cool how, like you said, it's this self-sustaining community and we just want more and more and more, so I hope it goes on forever too.
Stevens:
Yeah. It's true with any sort of scene, like a music scene or theater scene or whatever. It's like, if we all are supportive of each other, we can turn it into a thing and I hope that everybody does that and I hope everybody extends a hand to people trying to get into the scene now who maybe aren't as established and we'll keep this going for generations.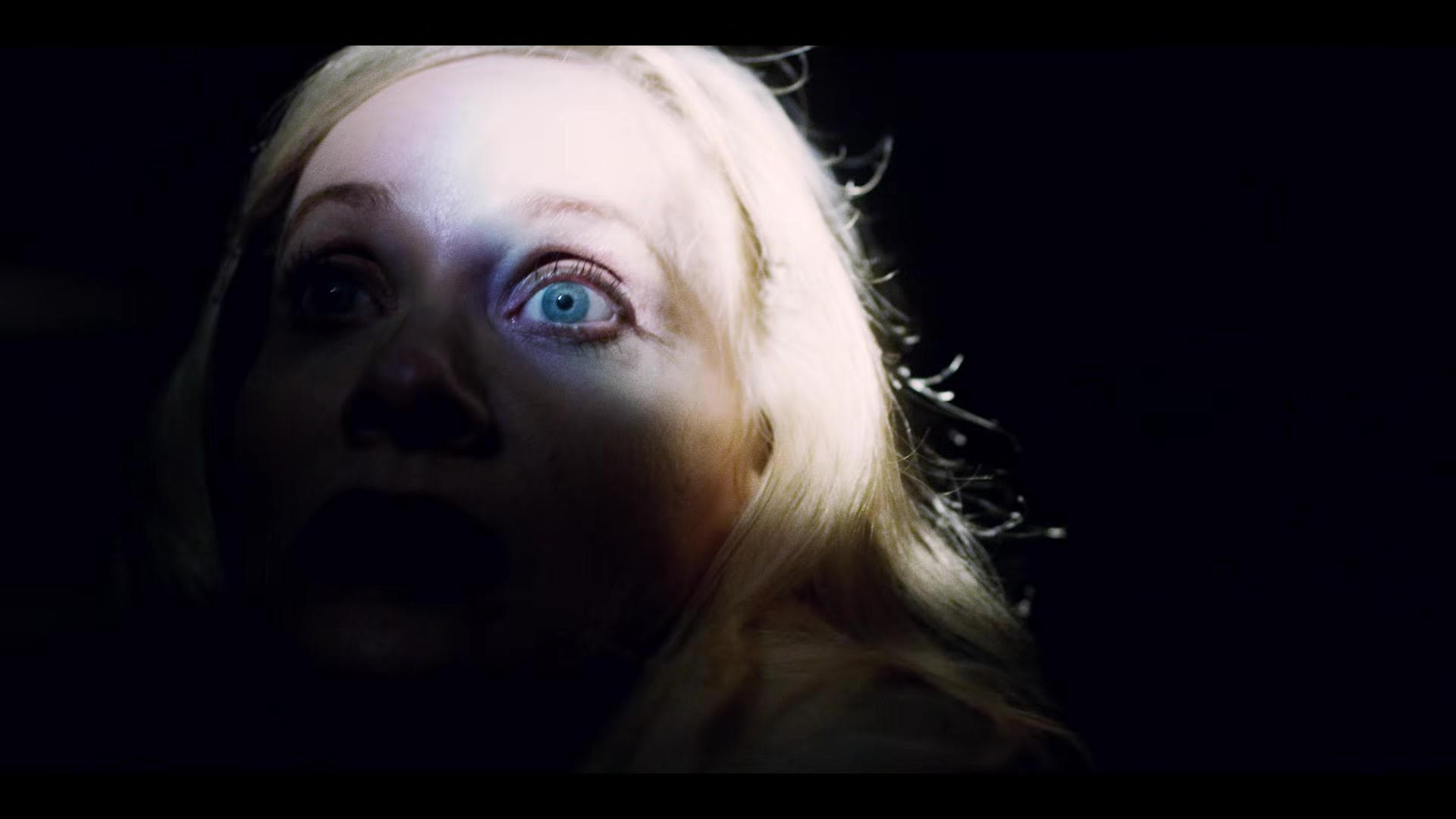 Kellerman:
Right. And, just kind of speaking to that a little bit is your clutch casting. I mean, obviously Barbara was attached because she was attached from the beginning, but then you have Larry [Fessenden] who has become sort of the stalwart of genre filmmaking. Can you talk about casting him and getting him on board with this?
Stevens:
Yeah. So, I had worked with Larry and Barbara on Ted Geoghegan's WE ARE STILL HERE, and when it was clear that this was going to be this big transformative role for Barbara, it was important to cast her husband with a dance partner who could be nimble on his feet and sort of help that relationship feel grounded and truthful, and also to be able to adjust that relationship's needs too... because things go crazy once she changes. Larry, both as a performer and as a filmmaker and as a person, he's so warm and supportive and funny and understands even when he's not acting in front of the camera, he understands what's required to keep people at their best. And I'm thinking, if we're going to do this, he would be the absolute perfect dance partner for Barbara, so the three of us can go and do this story together. And it was so exciting to be like, "Hey Larry, we want you to play against type," because often he'll come into the horror movies as sort of a wild, more chaotic character who comes in and just has a big flash. But then we're like, "We're going to start you repressed, conservatives, buttoned down, and over the course of the movie they'll loosen up," and he was like, "Yes. This would be great." So, I felt really fortunate to have both Barbara and Larry in a movie in roles that maybe audiences hadn't seen them play in a long time.
Kellerman:
I guess, speaking of casting... I don't want to get too spoiler-y, but let's just say a central character emerges who traditionally would probably be portrayed by a male actor and I noticed that there's a female actor in that role and it's so cool. I really love that choice and I was wondering if you could talk about that a little bit.
Stevens:
Yeah. Well, it's really good to hear that because not everybody picks up on that. A lot of people have seen the movie. It's really nice to hear like, "Oh okay, cool. Somebody did pick up on that." In the course of recalibrating what this movie was about at the writing stage and really wanting it to be... This was a movie about Anne rediscovering her own power. It became very important for that external character to not be an either/or choice between her husband and the external character. It needed to be a choice about, "Anne what do you want for yourself?" And changing the gender of that character allowed those conversations to be about Anne's happiness, not, "Come with me for a better life." And it was like, "Yep. That makes a lot of sense," and it allowed the story to do what we wanted it to do, focus on the things that we wanted it to focus on, and then the fun thing was like, "And then let's go with a really classic design for the character."
Kellerman:
Yeah. Absolutely. I loved that it's ambiguous. I did pick up on it, but it's not really a thing. But anyway, just kudos. I thought that was pretty cool.
Stevens:
Thank you.
Kellerman:
And before I run out of time, I always love to ask nuts and bolts questions. You have some amazing effects gags in this film. Can you talk a little bit about working with your effects coordinator and how much of that was on the page and how much was maybe developed later in the process and also just how do you manage those practical effects while still reigning everything in?
Stevens:
Yeah. I benefited from years of producing. So, having an understanding of what is capable and possible at this budget level helps inform what I put into the script when I'm writing. So, Marcus Koch and Jessie Seitz his partner are a couple I've worked with in the past. I worked with Marcus on WE ARE STILL HERE and 2 other movies [I produced] HOVER and MOHAWK. He's a great special effects guy. So, I just said, "Here's what I'm thinking," and just wrote the script based on the budget we had and what I thought was physically possible. I think as you get more experience as a filmmaker, you get more experience on the mechanics of how these things work and you start thinking of ways you would do them yourself. So, there's some throwback gags from like THE WIZARD OF OZ. There's so many old school movie tricks that don't take a lot of money, they just take an awareness of the nuts and bolts, like you said, in order to do them. So, I just try to put them in there. Often they work and sometimes they don't and we need to find another way to accomplish the same moment.
Kellerman:
Right. Well, I thoroughly enjoyed them. You know you're a horror fan whenever you talk about how fun the splatter is, but it was really fun splatter!
Stevens:
Yeah. These characters are gleeful when they feed. I was like, "Yeah, it should feel like when a dog has a garden hose and it's playing with it." So, we really committed to it.
Kellerman:
Totally. Buckets of blood. Well, I think they're probably going to cut me off here in just a second because by my account, my 15 minutes is up already, but thank you so much for chatting with me. I really enjoyed Jakob's Wife. I know that your festival experience will definitely be a little different with the virtual situation, but congratulations on South by Southwest and I hope it all goes really well for you guys.
Stevens:
Thank you so much, and thank you for the great questions. It was really nice.
Kellerman:
Awesome. Thanks. Have a great day.
Stevens:
Thank you.
Check out JAKOB'S WIFE when it opens in select theaters, On Demand and digital on 4/16!
Cheers!
Rebecca Elliott
aka Annette Kellerman