Hey, friends. Barbarella here. It's spring in Austin and that means actors, musicians, fans, and industry personnel from everywhere descend on the city to experience the joy and chaos that is SXSW. The festival curates films from all over the world, and this year, Irish horror, THE CELLAR makes the cut.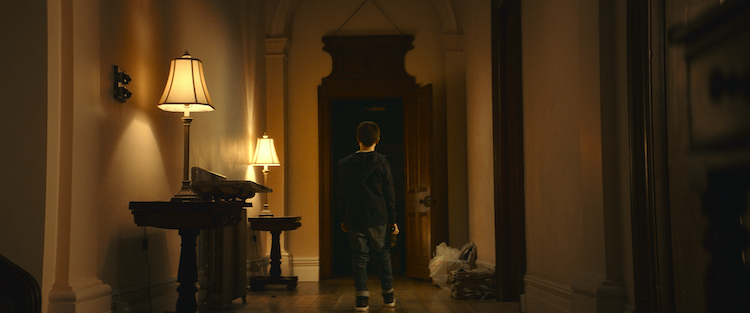 Written and directed by Brendan Muldowney, the film approaches horror from a different angle. A family's daughter goes missing not long after moving into the Xaos House, previously owned by a renowned physicist and occultist obsessed with finding the eleventh dimension. Convinced her daughter's disappearance is related to the house, Kiera searches for answers in the hopes of getting her back.
I had the opportunity to speak with Brendan and cast members Elisha Cuthbert and Eoin Macken. Check it out.
Barbarella: What inspired the idea?
Brendan: It came from a short film that was originally inspired by Robert Wise's THE HAUNTING. I just wanted to make an atmospheric short film, and it was inspired, as well, by a comic I used to read called "The Thirteenth Floor," which had an elevator in a tower block, which was sort of like Hal – a computer that would talk. But there was no thirteenth floor on this tower block due to superstition, and if the lift didn't like someone, it would take them to the thirteenth floor, and the thirteenth floor could be anything. It was like going through into some supernatural or surreal place.
Barbarella: Elisha and Eoin, what did you think of the location, and what was your experience like filming there?
Eoin: It was a really interesting experience because it just had this atmosphere to it. There were actually weird little creepy forests around the back of the house, too. Brendan, do you remember that one that was just around the back, you kind of walked through the fields of sheep? For some reason, anything that's like in the middle of nowhere that has fields of sheep and forest just automatically seems a bit creepy. It's like this really scary house in the middle of all this – there's always mist and deep rumbling cows at nighttime. Brendan liked to film at nighttime as well, which always adds to the atmosphere.
Elisha: Yeah. And the many variations of rain that you get in Ireland added to the mood. It was a really amazing place to film and to be sort of in the bubble that we were in, because of it being 2020 and having to deal with the pandemic. We really did feel like we were all living in that house. It was quite something.
Eoin: Yeah. Also, it did have this kind of weird home-chapel in the house, which is kind of creepy, and a lot of weird rooms and stuff to them.
Elisha: Oh yeah. It definitely had a very creepy vibe.
Eoin: Super creepy.
Barbarella: Of what are you most proud in regards to THE CELLAR?
Eoin: [At the time of this interview,] I haven't seen the movie yet. I wanted to wait because I really wanted to watch it with Brendan and Elisha in a cinema and with an audience, because for me, that's a really important part of making films. From when I filmed it, I loved working with Elisha in a kind of dynamic I think we created, from a character point of view, and I loved working with Brendan because I think he's a really clever filmmaker. I thought the script was really tight, so I'm as excited as all the audiences to see it, because I had such a good time making it, and I thought the whole concept scared the hell out of me.
Elisha: Brendan obviously was amazing to be able to shoot this film and get it done without any issues during COVID, at the height of it. I mean I'm so proud. We, the cast and crew, got through it and made it happen. It really was a special experience. Watching the film, it just sort of comes off the page and on the screen. I just thought the film really looked beautiful. The shots were so well put together, and the movie does look really elevated in such a beautiful way. Personally, I was eleven years old when I started acting, so to see myself portrayed on film as a mother of two, it was really cool. It was really interesting, and yeah, there's a lot about the movie to love. I'm really happy with it.
Brendan: I'm very proud of the cast and the crew. I'm very proud because everyone gave it their all.
Barbarella: Would you talk a little bit about what this means to have it playing at SXSW?
Brendan: To have a festival like SXSW recognize it, really makes me very, very happy for the cast and crew, because they put everything into it, and this is a reward that I think they deserve. I'm delighted.
Barbarella: Have you been to Austin before?
Brendan: I haven't, no. I'm looking forward to seeing the Alamo [Drafthouse Cinema].
Eoin: I have. I love Austin. I love SXSW. I think Janet Pierson has done a really phenomenal job over the years with South by. I've been there a couple of times, and I've loved it. It's one of my favorite festivals to go to. It really is. And they always have such great movies…like THE CELLAR.
Elisha: I shot a movie in Austin, so I know the city, but I've never gotten to go to the festival, so I'm really excited that we get to actually be there in person, and I get to see the festival and be at the premiere. It's going to be so great.
At the time of this posting, THE CELLAR's already premiered at the festival, but it still has a couple more screenings. It will play the evening of March 15 at Stateside Theatre and the evening of March 16 at the Alamo South Lamar. If you're attending the festival and enjoy original, atmospheric horror, you ought to check it out.
Barbarella out!