Hey friends, Barbarella here. THE ANGRY BLACK GIRL AND HER MONSTER, an urban retelling of a classic Mary Shelley tale, comes to theaters on June 9, 2023. It will be on demand and digital on June 23, 2023. It will also stream on ALLBlk and on Shudder at a later date. When teenager Vicaria loses too many people, she postulates that maybe death is a disease, and if so, it can be cured. She begins her experiments to find such a cure in a neighborhood where drug dealers hang out on a couch in the park, and an abandoned building makes for a great laboratory. While this movie contains a great deal of social commentary, it weaves admirably throughout the story. I never once feel as though I get my face shoved into a pile of look-what's-wrong-with-everything, but I definitely receive the intended messages. Full of interesting perspectives and characters, the film reanimates the creature feature with a social conscious.
I had an opportunity to catch up with the cast and writer/director while they were in Austin recently. Even though I was exhausted when I arrived to meet up with them, the delightful conversation I had with Bomani J. Story, Laya DeLeon Hayes (Doc McStuffins), Chad Coleman (The Wire), and Denzel Whitaker (Black Panther) actually made me feel much more awake. (Good company does wonders for a person's energy level!)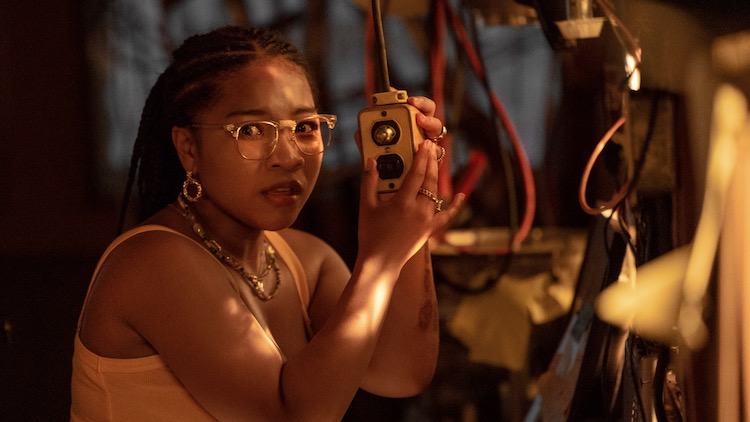 Barbara: Denzel, I love your character in this. I just think he's very nuanced. Would you describe how you built out your character and developed him?
Denzel: Oh my God. Yeah, absolutely. We were kind of chatting about this last night. I never really told Bomani, but when I first got the sides for the audition, the character didn't necessarily move me. It was something personally within my career. I was adamant about not necessarily playing the same stereotype. So often, especially as a black man, you get either somebody from the hood struggling, or you play the best friend to the lead white character, and those were two things that I didn't want to do anymore because I had done enough of them. When I got the material, I'm looking at the sides, and it maybe took me about an hour to really find the humanity within the character. Even when I auditioned for it, I said, "All right, well, if I'm going to put down the role of Kango, what is the nuance behind it?"
Denzel (cont): Yeah, sure, he could be intimidating on paper, but he's saying a lot here. Why is he saying this? And for me, what really clicked was the callback, where I got to be on Zoom with Bomani during the time, because this is still post-pandemic. Being on the callback with Bomani was very reassuring because he challenged me every single step of the way. Every single time we would look at a Kango line, we would both be like, "Okay, why is he saying this?" And I'd be like, "Bomani, I don't know," and he'd be like, "No, take that same line and apply the same character, apply the same dynamics that we've already crafted. You know this community. You've been here from the get-go. You've seen probably your OGs, your father, your grandfather run this community. So now, when you are basically having your boys around, you're not only providing job opportunities, but you're also looking out for them if somebody were to try to infiltrate the community. Now play from that head space. If Jamaal, who's your side, is supposed to be this big, intimidating guy, obviously you can't fight him bare-knuckle. So how do you really get a Jamaal like that on your side? It's with your mind."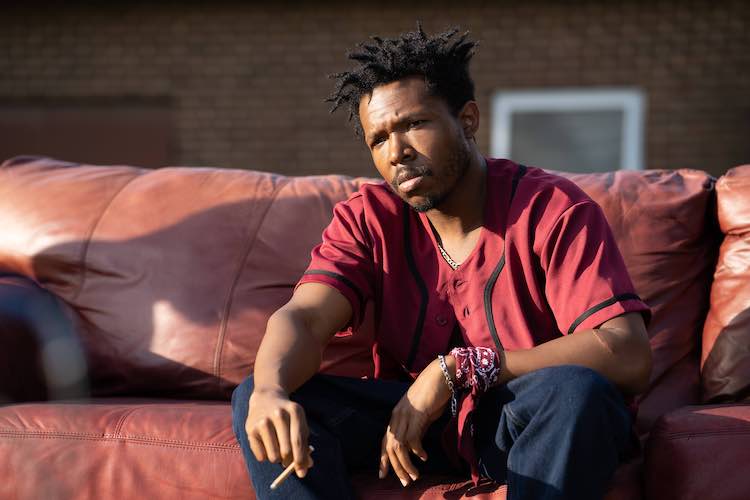 Denzel (cont): And those are the different things that we really wanted to sort of crack the code on with the character, Kango. And I'll give some credit to Chad over here. It was the first time I had ever watched The Wire, but I told myself while I was doing the role of Kango, there was only one series I was going to watch because I wanted to study characters like Stringer Bell. I wanted to study characters like Marlo, who were just iconic figures coming from storytelling of the drug game, so all I watched was The Wire the entire time while I was filming this.
Chad: Dope.
Barbara: In what ways are you similar to and different from your characters?
Chad: I'm a father, a thousand percent. And I love my daughter, and [I'm] just a real protector provider, so that part. Now, the other part was the vulnerability. I love the vulnerability of the man. I am a vulnerable person, and I've had my own struggles and issues in life. I had powerful empathy for him, for what he's going through and the amount of love that he has for his family. That's just real to me.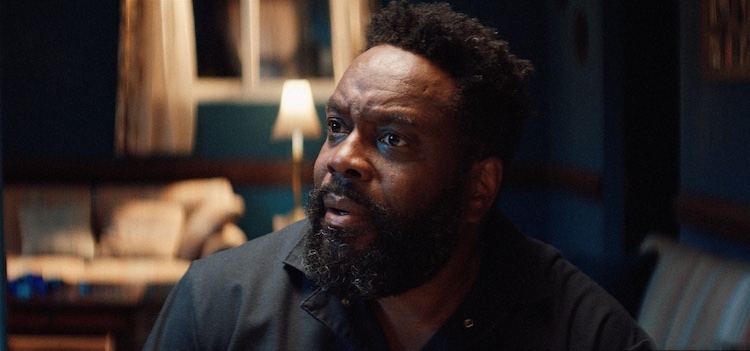 Laya: I felt like when I got the audition for Vicaria, she was just a character that I needed. I learned a lot from her just by playing her every single day. It's that feeling of being a young, black girl in this day and age that I think a lot of people can resonate with, especially if you're put in her situation. But that love for family, that's her motivation throughout the film. It's just trying to put the pieces together. You even see that with Chad in that scene with the teacher. She has love for her family. She has love for her community. She marches to the beat of her own drum, and she's not willing to conform to anybody's ideologies. She is herself, and she's going to keep it that way. If anything, it was inspiration just to be able to play her. I learned a lot from Vicaria, and of course, as an actor, I learned a lot from Chad and Denzel, being able to work with them, too.
Bomani: She's also really into cutting bodies up.
(Everyone laughs)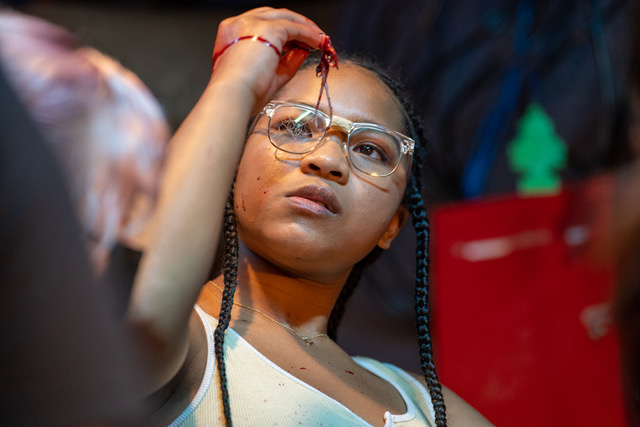 Chad: She don't want to say that in front of us. She always nurtured her daddy. I love that. She was just as protective of me as I am of her. I loved that.
Denzel: My parents from very early on were always adamant about being more than what the world sees you as. Unfortunately, we have to be mindful of that because society has a perception of who we can be and how we look. So although I'm not intimidating or maybe into certain activities like Kango is, to me, what's most interesting is his mind. It's what he doesn't reveal on the surface. Like I pointed out earlier, if Jamaal is his sidekick, so to say, and that's like his best buddy, well, he controls Jamaal and everybody around him with his mind. For Bomani and I, we've always found he's the chess player, and I love playing chess. I love calculated moves, strategy. He doesn't reveal everything on the surface at once. And that's what I think really resonates with me personally about Kango and that I was happy to interject.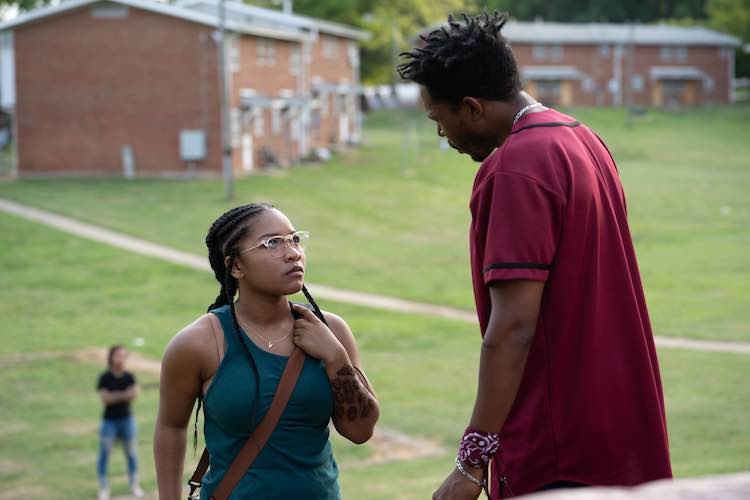 Denzel (cont.): And another thing too is from the moment Laya and I first met and we got to hang out, as soon as we touched ground in North Carolina, she immediately became like a little sister to me. And to watch this spark of energy, to just watch her talent, her creativity, there's this natural, beautiful innocence that's still there. Just seeing where she's at right now and then seeing the trajectory of where she's about to go, even though I'm number two behind her number one, it was like, "Okay, how can I be of service to guide you wherever you need to be? How can we all be of service?" And not that she even needs us, but how can we be of assistance?
Laya: But I learned a lot from working with both of you guys. Truly. To have that type of synergy and energy throughout each scene, it's needed, even during the rehearsal process, which was strenuous at times.
Chad: She's a pro.
Denzel: She is a pro. Yeah. Absolutely.
Chad: She's a pro's pro. She was wonderful to play with. She's an old soul. She's got a lot going on in there. And yeah, (to Laya) I'm telling you, sky's the limit of you. You have it. I'm telling you. To watch you on that screen, you carried that movie. Beautiful. I really honestly feel like I can't see nobody else doing that. You hit so many notes.
Denzel: Not a false note.
Chad: Never.
Denzel: But you know what the real thing is that she'll be crying, and you know how it is doing an emotional scene. You got to work yourself up to that, step away. She'll all of a sudden just break out in tears, and the next moment, she'll be like, "Oh, that was wonderful." I was looking at her sometimes like, "Yo, where did she get that?" She would be so committed.
Laya: Thank you.
Barbara: Bomani, what do you feel are the most important takeaways people should have?
Bomani: Well, for me, this is really about humanity. I don't want to say accepting who you are, but just not letting people dictate who you are. And I think there's a lot of that in here, even with the scene with her interaction with her instructor, where it's something as simple. It's like the monster thing; that's the big thing because it's the Frankenstein's story. But just the scene when she's arguing with her teacher, and the teacher, for lack of better words, says like, "Your ideas are silly. You don't know what you're talking about, and you need to shut up and stop." It's not until her father comes in, it's just like, I don't care if she has obtuse ideas. It's just like, "What are you doing?"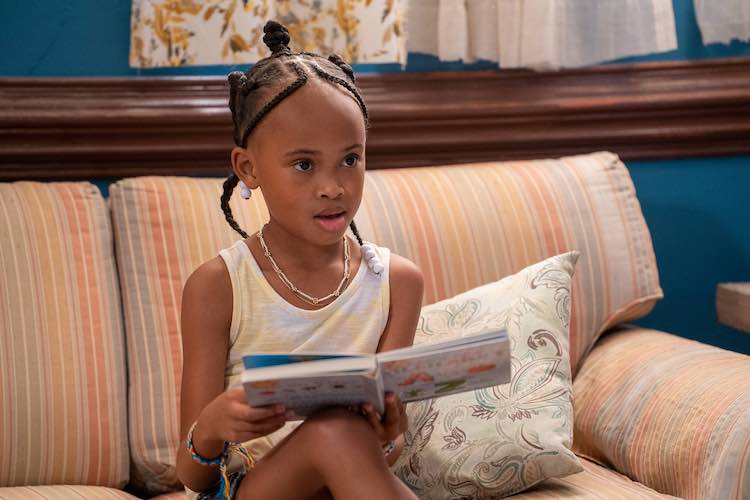 Chad: Yeah.
Bomani: To me, the mark of a good horror film I always want to try to achieve is like Jaws; after you watch it, you don't want to swim in oceans anymore. With The Descent, you don't want to do underground cave climbing anymore. You know what I mean? Those are the horrors that you take with you. And to me, like you said of the film, you call someone something long enough, and they believe it. It's just, to me, the horror element is just like if somebody tells you something, calls you something, whether it's stupid, ignorant or whatever it might be, a racial slur, and then you believe it and you buy into that, I feel like that's one of the most horrifying situations that you can be in. It can alter your entire life, so to me, if someone can take away something like that, it's just, don't buy into that shit.
THE ANGRY BLACK GIRL AND HER MONSTER will be in theaters Friday, June 9, 2023 and on demand and digital June 23, 2023. It will also stream on ALLBlk and on Shudder at a later date. Check out the trailer!