Hey friends, Barbarella here! It's Spring Break in Austin, Texas, and that means talent from around the globe converges here for SXSW, bringing their unique flavors of music, movies, and ideas to the endlessly growing city. This year, one such talent, Bomani Story, brings his reinvention of Mary Shelley's Frankenstein to screen. Seasoned with urban flair, The Angry Black Girl and Her Monster not only offers messages that will appeal to the underrepresented population it targets, but also pulls others into its tale of a young girl's drive and determination fueled by her love for her family. The story focuses on a teenager who believes death is a disease that can be cured, and she believes she can find that cure. Some dialogue and scenes hit hard, encouraging conversation and self-reflection after viewing.
I strolled to a fancy hotel in the heart of everything to meet up with writer/director Bomani Story and cast members Laya DeLeon Hayes ("Doc McStuffins"), Chad Coleman ("The Wire"), and Denzel Whitaker (Black Panther). We had a delightful conversation. Check out this excerpt from it.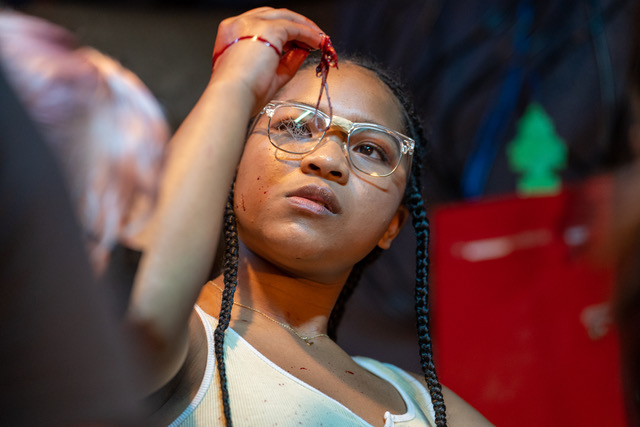 Barbara: What does it feel like having this movie screening here?
Chad: It's incredibly exciting here. Last night was magical for me, man.
Denzel: Yeah, absolutely.
Chad: You always want to be a part of something that's relevant and right now. This is it. And it's just an honor, the responsibility of this film, the power, the subject matter, just an amazing experience. I'm really proud. The energy, the way we relate to each other, and we're all just experiencing it together. It's special all the way around for me.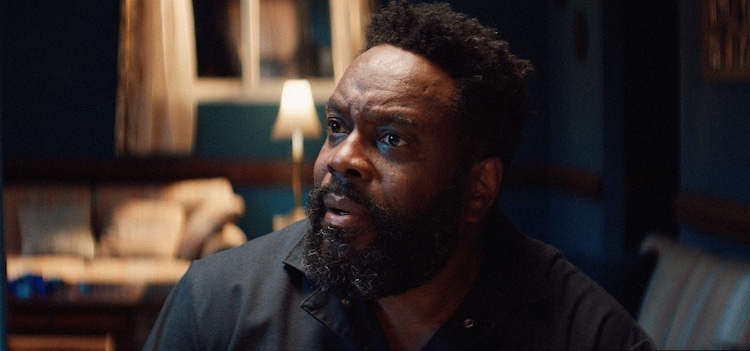 Laya: Yeah. I agree with everything Chad said. I think it's also a different experience when you go through something together. Just filming this movie had its own challenges, but we stuck together as a team, obviously as a cast and crew. To see it all come together last night and at this film festival, which personally for me, is just a real dream to be here. I've watched so many of these interviews, so I saw the backdrop yesterday when we took photos, and I was like, "Oh my gosh, this is real." And then just to be with everybody again, to reunite, it's just a really special experience that we all get to do together with the story that's so original and fresh, thanks to Bomani. And like Chad said, it's relevant to the times, and it's powerful as well. So I feel very grateful to be here.
Denzel: Yeah. South by Southwest, I'd agree with you, it's always been a dream to come here because as one of the film festivals, I've always seen it as off the beaten path. They talk about the diversity that comes to South by Southwest, the intersection of music, film, and television, and also just tech. It's really interesting, so it's cool to have a project like this that kind of almost hits all buttons at once.
Culturally, what it's trying to say, just the sci-fi element of it, too, the tech that Vicaria is putting together is really exciting. The city of Austin has just been such a joy. And then, I think, similar to what you guys had already mentioned, it's like we were such a family unit while filming, and you could feel it last night when we were debuting it. As soon as we got on the carpet, it's like, "I haven't seen my family in a minute. What's up?" It was great to be back together and just to share that energy, and I truly enjoy working with each and every one of you, so then share that experience and to see it for the first time on the screen was just magical.
Bomani: I'm having an out of body experience, to be honest. It's very weird for me. You know what I mean? But obviously, I've always dreamed of having a film here. I think any filmmaker will. It's one of the greatest film festivals, and so to have the movie here is just really, it still hasn't sunk in yet. Premiere hasn't sunk in yet, and I'm just like, "Man, this is all going to hit me a couple of days later." I'm just having this out of body experience and doing the thing.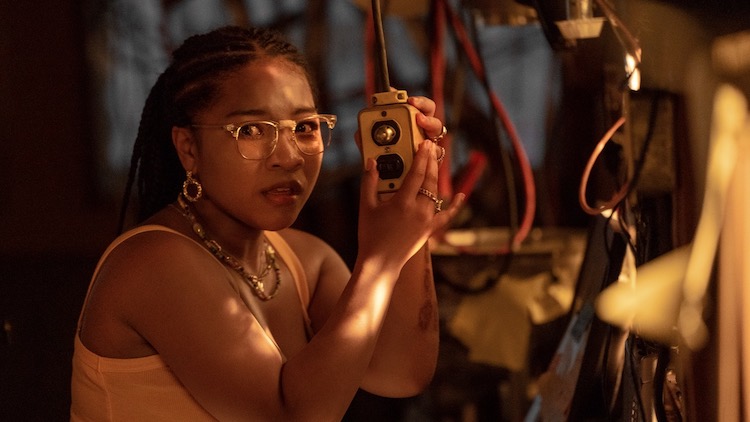 Barbara: When you first found out it was in the festival, were you jumping around, screaming, calling everybody?
Chad: Yeah. It was a group text.
Bomani: Yeah. We got a group text. Oh, my God. Yeah. I called Laya. She was screaming. Yeah. You know Denzel, let him know. You know what I mean? I was calling him. I called Chad, woke him up, like, "Now, wake up. You want to hear this."
Chad: Yeah. I'm going to wake the hell up. No coffee. This is my first film festival.
Barbara: Really? That surprises me.
Laya: No way. Stop it. Really?
Chad: Yeah.
Bomani: That's crazy.
Chad: Yeah. I was going crazy. So excited, brother. Yeah. Oh, man. This is the first. What we experienced last night, and this part of it, yeah. No, all the rest of the stuff is Comic-Con stuff, like I'm saying. This is the first time. And I'm just saying, it was such an important thing. This is an important film, bro. This is important, you know what I mean?
Bomani: Yeah.
Chad: People are struggling and messing with and not knowing how to get at it. You got to get at them. And the other thing is when I get out of the lift, I saw all these people, so I said, "Am I in the right place here?" Then I hear (imitates Bomani laughing), and I said, "I'm in the right place." I think that's my GPS right there. I ain't heard this man laughing in how long? As soon as I hear it, I knew it was no other.
Bomani: Well, I'm honored to be able to share that experience with you, man.
Chad: Yes, brother. You are my GPS.
Bomani: It's funny you say this, because when I was back in college, in the classroom, we'd be in a theater, and there'd be hundreds of people in there. And during movies, I would laugh at inappropriate moments, because I have a fucked up sense of humor. But then I would go around, I'd meet people, and they'd be talking to me, and then someone would say something funny. I'd start laughing. They're like, "You are the kid in the class. You're the one laughing at all the messed up stuff in the class."
Barbara: That's funny. I relate to that because I laugh at some stuff, and I'm the only one laughing. I'm like, "Come on, this is funny. Don't you get it?"
Chad: It's a twisted sense of humor.
Bomani: Yeah.
Barbara: What do you feel are the most important takeaways people should have?
Bomani: Well, for me, this is really about humanity. And I don't want to say accepting who you are, but just not letting people dictate who you are. It's just, to me, the horror element is just like if somebody tells you something, calls you something, whether it's stupid, ignorant, or whatever it might be, a racial slur, and then you believe it, and you buy into that. I feel like that's one of the most horrifying situations that you can be in. It can alter your entire life. So to me, it's just, if someone can take away something like that, especially with Vicaria's quote at the end, when she's talking to them like, "Don't buy into that shit." You know what I mean? It's just, don't buy into that shit.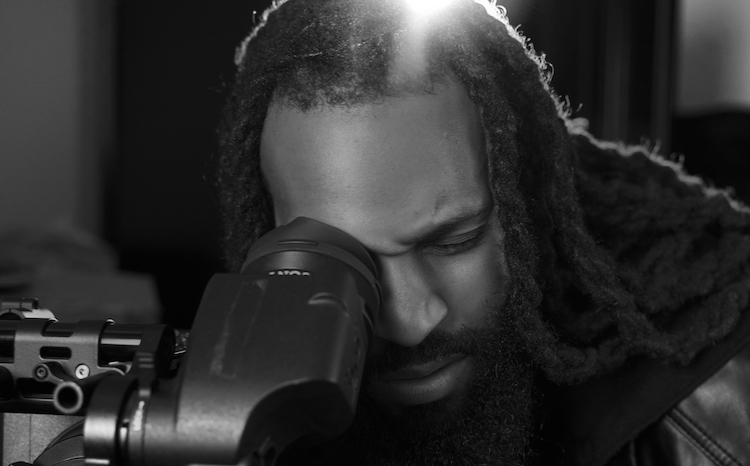 Laya: I was telling Bomani that I can remember being younger, and I went to an elementary school out here in Texas, and there were so many encounters I had with teachers because I went to a diverse school, but there weren't many black people that went to the school; it was more Latino and Asian communities there. There's always a preconceived idea or notion that they have of black people or black children, especially in the education system. And if you don't have protection, especially from a male figure, a black male figure, that's important.
Chad: That's right. It can damage you for life. They're trying to hijack someone's self-esteem.
Laya: And if you get them early enough, like Bomani was saying, that's when it infiltrates the mind.
Bomani: Yeah. It's very tragic. It's very tragic.
The Angry Black Girl and Her Monster is currently screening at the SXSW film festival. It'll show again on Thursday, March 16 at Violet Crown. Come back later for more of the conversation, in which the cast discusses their characters.
Barbarella out!