Hey, friends! Barbarella here after checking out South African action movie, INDEMNITY, which screened at this year's Fantasia Film Festival. While on forced leave for PTSD, firefighter Theo Abrams (Jarrid Geduld) becomes the prime suspect for a heinous crime. He must elude authorities while searching for answers.
If you're thinking this sounds a whole lot like THE FUGITIVE, don't worry. It's a very different movie. Offering some intriguing ideas about PTSD, how it's treated, and its impact on relationships, the story contains more thought-provoking elements than I had anticipated and again reminds me to be grateful to all the first responders around the world who make sacrifices to better our lives.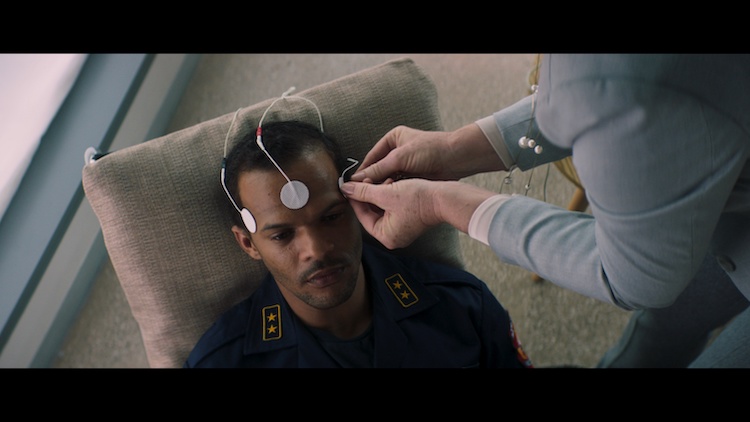 While the film has some English in it, much of the dialogue is spoken in Afrikaans, which sounds remarkably similar to Dutch. I even had to double-check my settings to make sure I was watching in the correct language. Don't let this dissuade you from checking it out, though. So many Americans miss out on great films because they won't watch subtitled movies, but don't be like that. I recommend something like DISTRICT B13 to dip your toes into foreign-language action films. It's a French action movie with some incredible parkour and fight sequences performed by David Belle and Cyril Raffaelli. If you're one of those people who claim you don't need to see it because you've seen the remake, BRICK MANSIONS, shame on you! Watch any number of Cyril Raffaelli's clips on YouTube, then watch any action scene you've ever seen Paul Walker do, then go stand in the corner and contemplate how wrong you are to even think they could be comparable. Afterwards, actually watch DISTRICT B13, and once you realize subtitles aren't as bad as you think, start exploring more foreign films, and then you could thank me for opening you up to a whole world of exciting, fresh cinema you never would have experienced otherwise.
Speaking of fresh cinema, back to INDEMNITY. It has some surprisingly high-end action sequences, one that reminds me of something from MISSION IMPOSSIBLE. I'm not sure how director Travis Taute pulls that off on his directorial debut, but great for him, his cast, his stunt people, and his crew. I don't think I've ever seen anything quite like it out of Cape Town. To be fair, I haven't actually seen much out of Cape Town, so maybe I should explore more cinema from that region.
I have a minor issue with some of the fight scenes. I think I've been ruined by Iko Uwais (THE RAID franchise) and Tony Jaa (ONG BAK). They fight so fluidly that when I see people fight in a way that seems like they are hitting marks and being safe, it just feels too staged. Even though I know it's all choreographed meticulously, I want to experience the illusion that the fight is wild and fluid and not planned out. I do feel a little like a jerk for saying this, because actors shouldn't risk their safety to entertain me, but at the same time, it's hard to engage an audience in a fight scene when it's so obvious that the people fighting are trying to avoid hurting each other.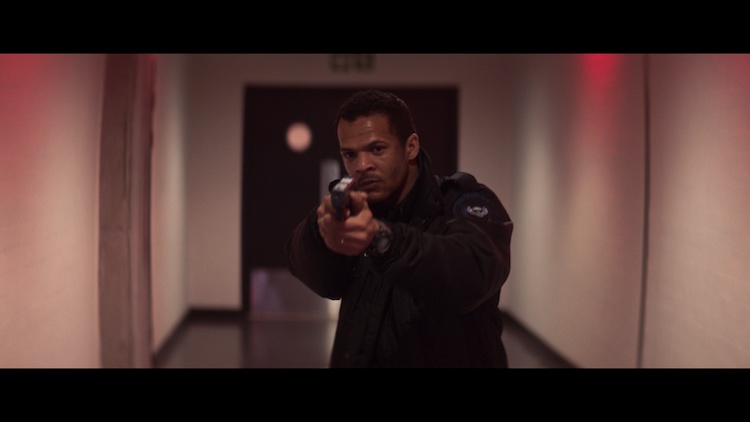 My other issue with the film may not resonate with many filmgoers, but I'm going to share it anyway. I have a particular pet peeve, of which INDEMNITY is actually not guilty of doing. I get slightly irritated when watching a movie, and one person loses consciousness (or is found unconscious), and the other shakes them a few times then suddenly screams, "No!" and maybe holds them, rocking back and forth. I always wonder why nobody ever even tries CPR. I mean, come on! Unconscious does not necessarily mean dead. This really bugs me, and I'm pleased to say that in INDEMNITY, someone actually attempts CPR in this scenario. However, I take issue with the way it is done. The CPR is performed on a bed, and the body sinks down into the mattress with every compression. Now, anyone with any kind of CPR training, like a firefighter, should know that you cannot effectively perform CPR on a soft surface and must move the person to a hard surface, usually the ground. All in all, it's not really a big deal, but I feel incredulous about this one thing. A few other moments leave me with a similar feeling, but despite these moments, I will say INDEMNITY contains far more to love than hate.
Aside from the ambitious action scenes and interesting points about PTSD, I also love the family dynamic, because it feels more genuine than a lot I've seen. I love the relationship between Theo (Jarrid Geduld) and Angela (Nicole Fortuin). It never feels too perfect or too broken, like in so many action films where the couple is either perfectly happy, as if they've been in a honeymoon period the entire marriage, or they are completely unhappy to the point you think they shouldn't be together at all. Neither of these feel particularly authentic. Most couples that have been together for years have a deep love but also have had some struggles, and it's rare for movie couples to accurately depict a loving couple that has its scars. INDEMNITY manages it. I feel the weight of the struggles this family has experienced, and I feel their love. I appreciate the balance.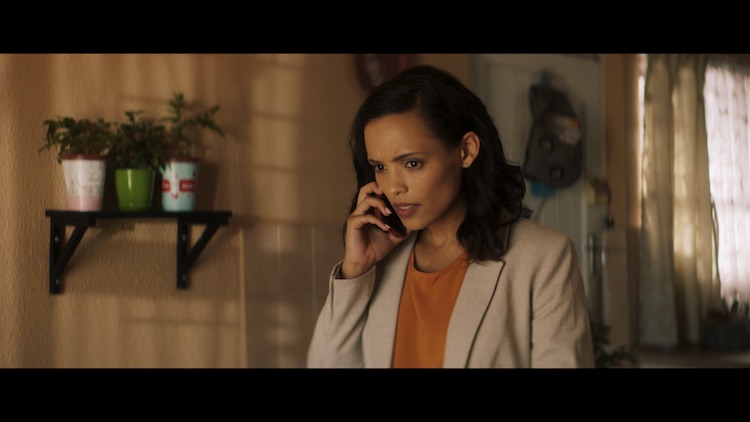 Overall, INDEMNITY offers an action-packed story with a solid idea behind it. While the fights could have been more fluid, the film provides several successful action scenes of varying scope. It's worth checking out.
Here's the trailer, which includes almost all English language scenes and more than a few spoilers.