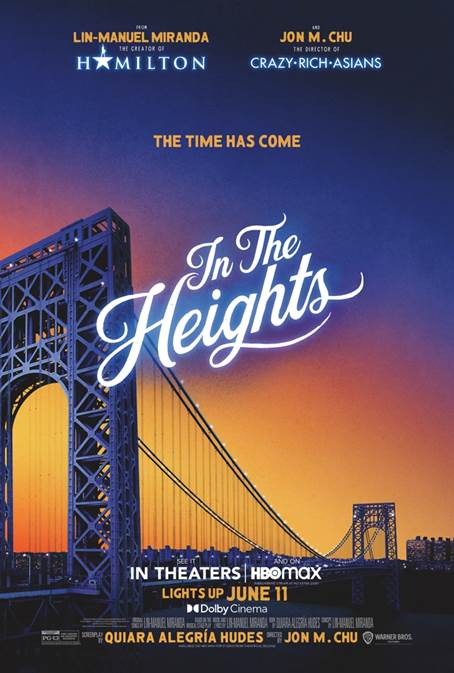 While most cinephiles have returned to the movie theater in this weird pandemic aftermath, many average movie-goers have yet to dip their toes in after a year of staying away. What better film to greet the return of the masses than an exuberant, tantalizing, joyful, full-on musical? Enter Jon M. Chu's IN THE HEIGHTS- the perfect antidote to the past years' drama and doldrums.
For those not familiar with the Tony-winning Broadway sensation from a pre-Hamilton Lin-Manuel Miranda, the titular "Heights" refers to the storied NYC neighborhood of Washington Heights. The bustling community is the backdrop for two main narratives. One follows Usnavy (Anthony Ramos), a 20-something who dreams of escaping his day-to-day routine running the corner bodega by returning to his native Dominican Republic. The other central storyline tells of Nina (Leslie Grace), the prodigal child of a local prominent businessman who is coming home from her first year at Stanford. While the two main characters are close but not blood relatives, a major theme of IN THE HEIGHTS is how the intertwined lives of a community mean that everyone is considered family.
As Usavy makes moves to solidify his plans to return to his childhood home, an untimely romance starts to bloom when his longtime crush, Vanessa (Melissa Barrera), finally begins to take notice of the charmingly awkward vendor.
Meanwhile, Nina's heralded reunion with her proud father (Jimmy Smits) comes to a screeching halt when she informs him that she's not returning to the Ivy League world where she is seen as less than. A rekindled romance with her father's right-hand man, Benny (Corey Hawkins), further complicates things for the strong-willed Nina.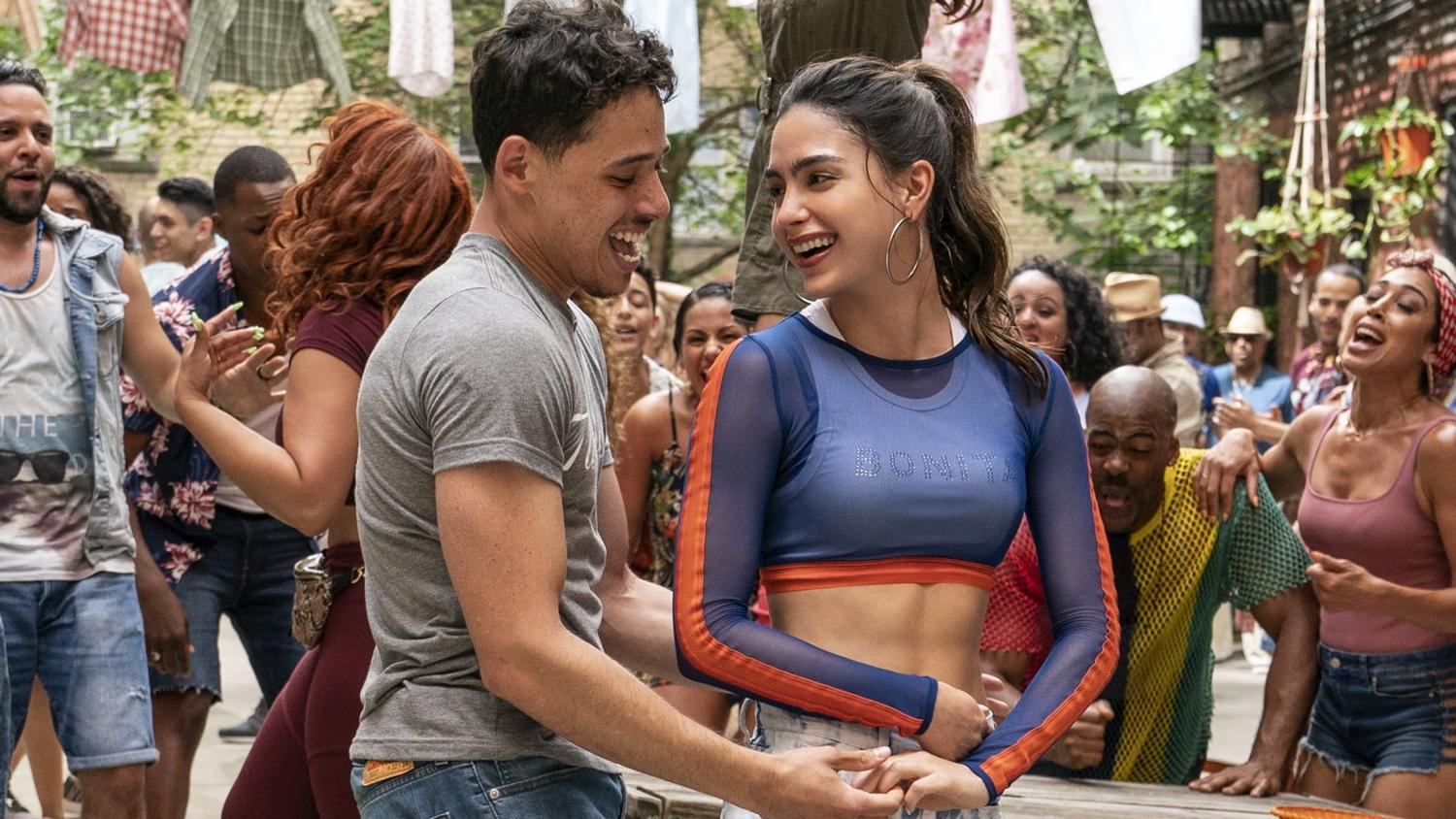 Fortunately for us, Usnavy and Nina's plights play out in an onslaught of incredible musical numbers ranging from YouTube/TikTok-ish sequences full of quick cuts and a broken fourth wall to streets full of people singing and dancing their hearts out. Director Jon M. Chu (CRAZY RICH ASIANS) even pays homage to musicals of the golden age with a Busby Berkeley-inspired swim sequence. Swapping the traditional sound stage tank for the local public pool, a kaleidoscope of vibrantly clad swimmers in synchronized formation harken back to the days of Esther Williams with a modern twist. Another scene where Nina and Benny defy gravity while dancing across the side of an apartment building nods at fantasy dance interludes from Gene Kelly and Fred Astaire classics. While scenes like these joyously cover the traditional bases, other more modern, pulsing, lyric-heavy entries serve as a rallying cry with an Eminem "Lose Yourself" kind of vibe.
Weaving in and out of the main themes, various noteworthy subplots emerge. From topics like cousin Sonny's (Gregory Diaz IV) questionable Dreamer status to longtime local salon owner Daniela (Daphne Rubin-Vega) getting priced out of her lease and forced to move to a more affordable location. While the sub narratives highlight a grim reality facing so many, it does so with the help of inspired musical sequences (including a show-stopping beauty shop number) that nicely balance the heaviness of the subject matter. Special props to Stephanie Beatriz ("Brooklyn 99") and Dascha Polanco ("Orange Is the New Black") who steal every scene they're in as Daniela's hairstyling sidekicks.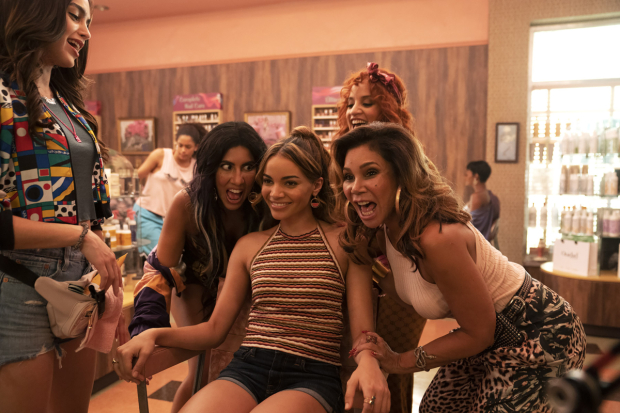 While not every subplot feels necessary and some moments seem somewhat redundant, the overall energy and poignant power of the film radiate throughout the duration. Director Jon M. Chu has been dabbling in the musical genre for years now helming rock docs about Justin Beiber, dance movies like STEP UP 2: THE STREETS, girlband throwback JEM AND THE HOLOGRAMS, along with visually spectacular entries like G.I. JOE: RETALIATION, NOW YOU SEE ME 2, and CRAZY RICH ASIANS. A full-blown movie musical seems like the next logical step, and Chu has found the perfect fit adapting Miranda's initial groundbreaking Broadway outing for the big screen.
Amid all the themes of gentrification, politics, immigration, racism, and cultural dignity intermixed with endless song and dance, IN THE HEIGHTS is a simple love story. While the actual love story in the film is somewhat flimsy, the real romance of IN THE HEIGHTS can be found in the unconditional love for a community and all the intricacies and emotion that entails.
Get back to the theater with the rapturous IN THE HEIGHTS when it opens in theater nationwide on 6/11!
Cheers!
Rebecca Elliott
aka Annette Kellerman