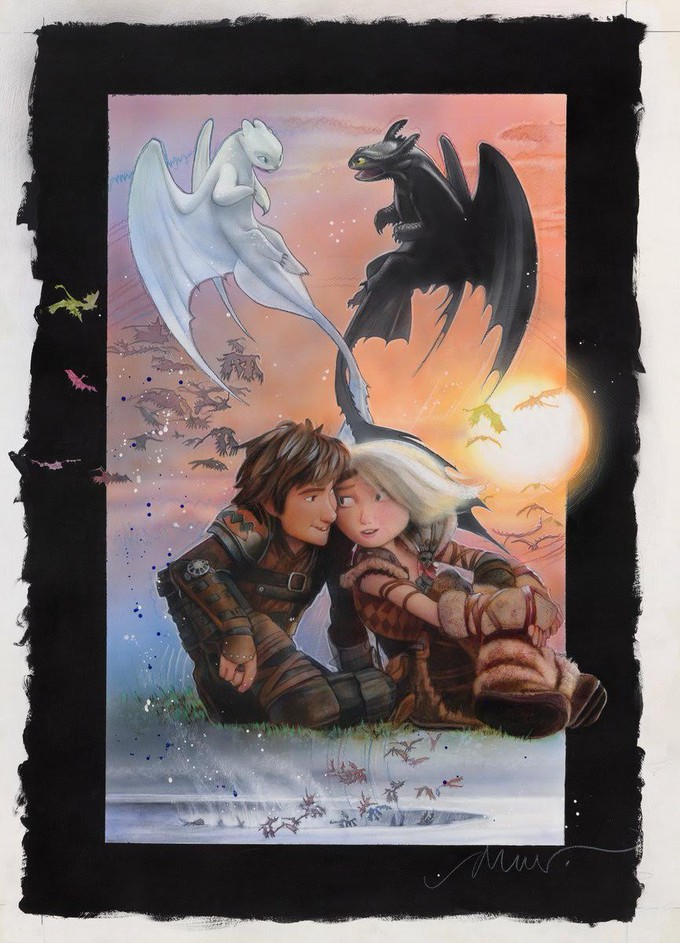 What a delightful movie! With How to Train Your Dragon: The Hidden World mastermind Dean DeBlois brings to a glorious- and definitive- end one of the most heartfelt animated franchises ever produced and from strictly a technical/artistic standpoint I fervently believe the very best. By far.
Following the original's (2010) undeniable success, DeBlois talked then Dreamworks Animation head Jeffrey Katzenberg, its Development Director, and Chief Creative Officer into allowing him to structure the original sequel (2014). As a building block to spread Hiccup's story over an eventual trilogy that would depict his journey from childhood to his teenage years and into early manhood as he grew up alongside his friends (human and dragon alike) and learned to accept his oncoming role as Viking leader in their home isle of Berk. Now, an entire decade after beginning, expectations- high as they may be- are finally met.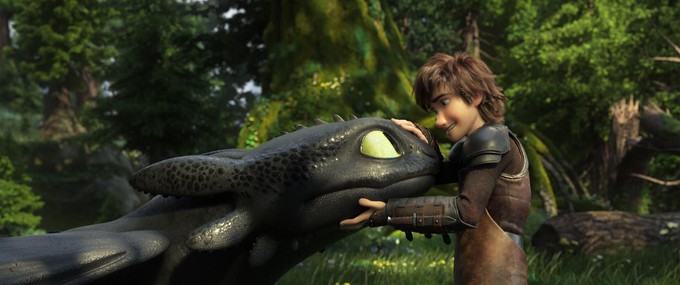 Hidden World finds Hiccup, his bride-to-be Astrid, loudmouth Snotlout, glutton Fishlegs and twins Ruffnut and Tuffnut (respectively voiced, for the third time, by Jay Baruchel, America Ferrera, Jonah Hill, Christopher Mintz-Plasse, and Kristen Wiig. Justin Rupple replaces T.J. Miller as Tuffnut, however) engaging in increasingly more dangerous battles to protect their dragons. This time regularly accompanied and mentored by Hiccup's mom, Valka (Cate Blanchett). After realizing that their entire community is threatened by ruthless dragon slayer Grimmel (F. Murray Abraham), they migrate to the one place they feel sure will be safe. While Hiccup goes further yet in the hopes of finding The Hidden World, a haven for all dragons supposed to be somewhere by the edge of the ocean, a quasi-mythical place about which his father Stoick (Gerard Butler, returning for a brief flashback cameo) told him back during his early childhood. Of course, as the poster itself informs us, along the way Toothless, the last Night Fury, meets and falls in love with a lovely Light Fury.
The story is that simple but is elevated at all times by storytelling so lovingly crafted it keeps you in grateful awe throughout. Visually, the movie – as the complete trilogy- is astonishing. The level of detail suffusing every frame and angle stands leaps and bounds beyond anything either Pixar, Blue Sky, Dreamworks itself or any other studio has even attempted to this day (I can only remember Rango, with ILM's truly unbelievable photorealism, as even managing to come barely close). As Toothless carries Hiccup full speed just barely above the ocean´s surface the camera slowly pulls back and reveals them crossing the looming shadows of the clouds gathering up high in the sky; when the Furies start getting to know each other they fly through a moonlit sky that covers them with the softest, most beautifully gentle veil. These might seem no more than meaningless features but they are endlessly cumulative, and the resulting effect is breathtaking. Once they actually enter the now Discovered World- an endless, cavernous sanctuary accessed through an immense waterfall situated smack dab in the middle of the ocean- the light dims but a flock (almost a swarm, actually) of dragons smeared with neon-like patterns lend this ethereal underworld a dreamlike radiance.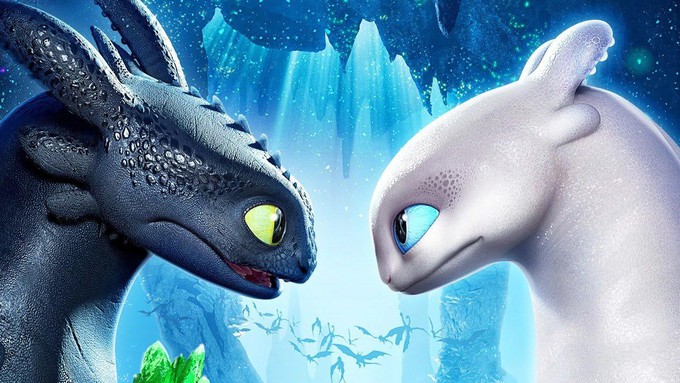 Perfect.
The Hidden World like How to Train Your Dragon 2 (the original was directed by De Blois and Chris Sanders) is very much an auteur's film, written and directed by one single man in a field- animation- where such occurrences (Brad Bird's The Incredibles duology being another extremely rare exception) are very much anathema. Consequently, the film is not filled to the brim with gags tacked on by an eight-member team of script doctors; in fact, the focus of this film- as that of its predecessors- is not even centered on comedy, animated film or not. This is an adventure film and should be considered in the same conversations as any other live-action classics are. John Powell returns as well to complete his trio of sensational scores, inspired and complemented by tender, loving relationships and rousing action. Which, again, is clearly thought-out and flawlessly staged, with fire swords highlighting the proceedings every single time they pop out of their hilts (if you missed How to Train Your Dragon 2 and don't know what I am talking about you owe it to yourself to find out. The design of these "Dragon Blades" put to shame the admittedly cool yet thoroughly magic-like functionality of Star Wars' lightsabers). Most importantly, they are exciting and emotional since they are firmly grounded by the genuine bond between Toothless and Hiccup (as well as those between Astrid and Stormfly, Snotlout and Hookfang, Fishlegs and his gronckle Meatlug- and even the baby gronckles- and the twins and Barf and Belch). Which we are allowed to share entirely, highs and lows alike; without this complete empathy they would be mere pixels but the way it is they do exist, and we are part of their gang.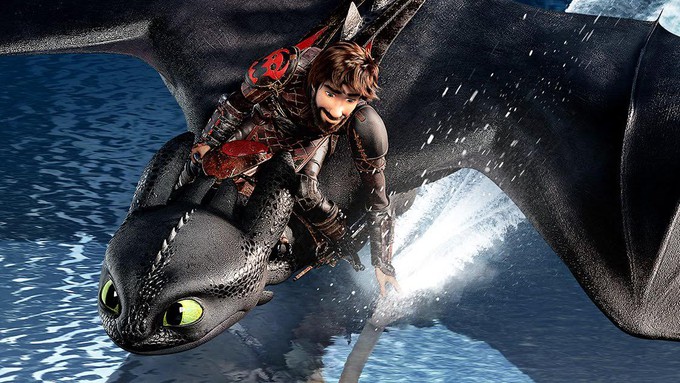 I can´t wait to see what Dean DeBlois tackles next but if due to some unfortunate reason he never wrote or directed any other movie ever again, this is legacy enough and way more than necessary to grant him a permanent spot among the great ones. What he created with his army of designers, animators and every kind of extremely creative artist with whom he collaborated and who helped him to bring his unique vision to life is outstanding and can enjoy a life of its own right beside Cressida Cowell's original book series.
The very ending of The Hidden World is both heart-wrenching and hopeful as it closes the circle opened ten years ago and finally comes to explain how Dragons disappeared and became what they remain to this day- a legend. Closer to our hearts, however, lies the conclusion of the friendship between a kind-hearted kid who grew up to become a fair man and the wounded animal that grew up alongside him to become his very best friend, the kind many of us never come even close to finding.
Every time I watch the How to Train Your Dragon trilogy from now on, I will know that I found that friend.
Eloy Ricardo Balderas Salazar