Hey, folks. Barbarella here after attending my first, official in-person press screening. Boy, I've missed sharing a film on the big screen with a small crowd of my peers. You can check it out theatrically, as well, because THE HITMAN'S WIFE'S BODYGUARD arrives in theaters today. It's a fun one that would play better with a crowd as it provides plenty of laughs and action, and comedies always seem funnier when watching with a lot of other people who are also laughing. While the original film THE HITMAN'S BODYGUARD was essentially Ryan Reynolds being Ryan Reynolds and Samuel L. Jackson being annoyed about that, I enjoyed it because I appreciate both Ryan Reynolds and Samuel L. Jackson doing what they do. While THE HITMAN'S WIFE'S BODYGUARD dials Reynolds down a notch, his snark still remains on full display, as does Samuel L. Jackson's irritation. Add more Salma Hayek into the mix, and viola - you have a fun time in the theater.
Salma Hayek as Sonia remains one of my favorite female characters in recent years. She's witty, badass, and just hilariously unapologetic. The film finds her enlisting Michael Bryce to help her rescue her hitman-husband Darius Kincaid. Things get complicated when Interpol agents compel the trio's assistance in thwarting a criminal plot against Europe.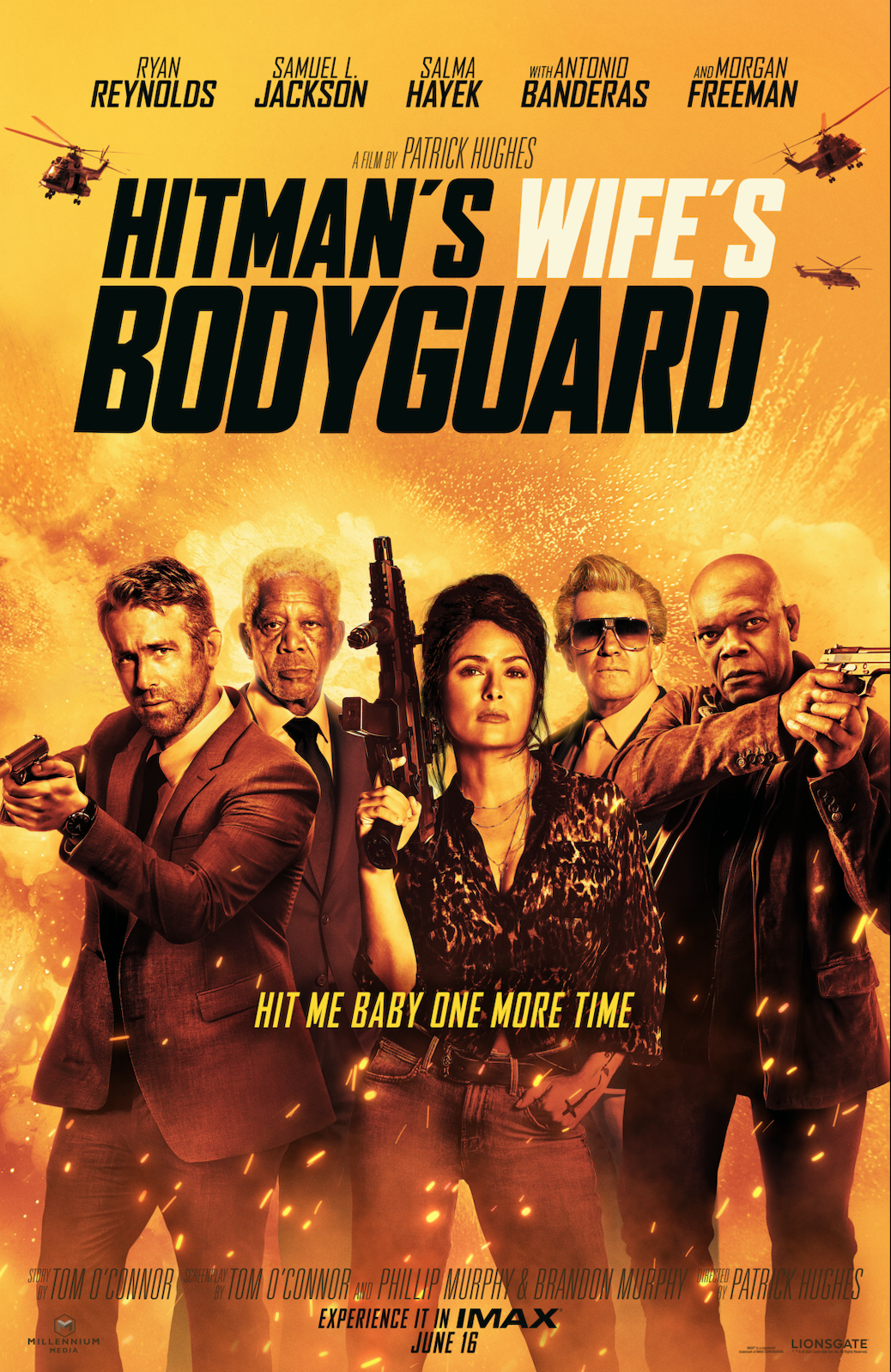 Despite being a farce, THE HITMAN'S WIFE'S BODYGUARD includes some rather impressive action segments, with two moments, both during car chase sequences, eliciting audible gasps from me. My only other gasp happens when Tom Hopper first appears on screen. I initially developed a crush on the actor when seeing him as Billy, a pirate on "Black Sails." I lost some of that infatuation when he became Dickon Tarly on "Game of Thrones." I'm a girl who values personality above appearance, and Billy was hot, Dickon Tarly, not so much. The film also stars Frank Grillo, Antonio Banderas, and Morgan Freeman. Seeing Antonio Banderas and Salma Hayek reunited on screen brings me a certain level of joy. They really should do more films together. I thoroughly enjoy all the casting decisions here. It's almost as though the casting director booked actors based on whom I would like to see in the roles.
In addition to casting, the song selections just feel spot on. They complement, frequently in amusing ways, what's happening on screen. Everything from classics to metal make their contributions.
Expect a fair amount of cheesiness, and if you appreciate cheeseball humor, you may find yourself laughing as much as I did. In fact, I laughed out loud during this film more than I have during any other film I've seen so far this year. However, if I threw television into the mix, "The Good Place" series would probably still win for most laughs elicited. That show's forking hilarious. (Hey, "Good Place" fans, see what I did there?)
While THE HITMAN'S WIFE'S BODYGUARD offers more of the kinds of gags you would expect if you've seen its predecessor, it also throws in some unexpected comical moments. I won't divulge anything here, but a particular reveal proves hilarious, although the gag may go on a little longer than necessary. This film also provides my favorite line of dialogue from a fictional therapist.
If you're someone who likes to stay and see if there are extra scenes after the credits roll, there's not, but there is an image displayed on screen after the credits that generated a chuckle. Probably not worth sticking around if you're needing to use the restroom, but if you're not in a rush, it's kind of amusing.
All in all, THE HITMAN'S WIFE'S BODYGUARD had fun music, great casting, everything I expected, and a few things I didn't expect. It opens in theaters today.