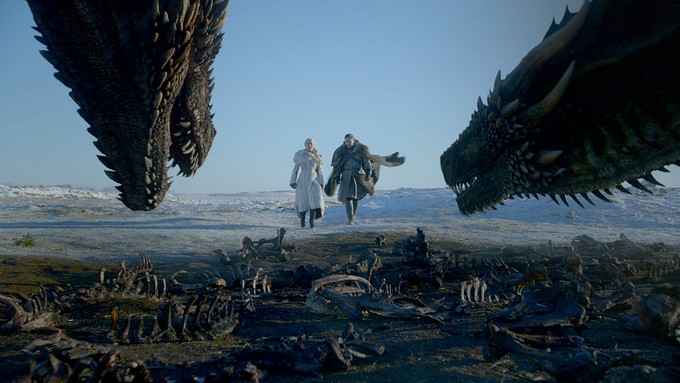 Hola Dannie aqui,
Sharing with you today two videos put out by the great folks at HBO for the upcoming and final season of their hit show "GAME OF THRONES."
The first video features Sean Savage a camera operator that has worked on "GAME OF THRONES" for all eight spectacular seasons. I have to say the video captures Savage's love for the show as well as what its been like working as the "A" camera operator what they call the "dragon unit" since 2010 and the trials, tribulations, and triumphs that occurred over the years. (I would like to add that Mr. Savage has an incredibly beautifully smooth voice, his voice could make reading Ikea instructions enjoyable.) The video is an enlightening 3 minutes, and 27-seconds look behind the man behind the camera on one of the worlds most popular television series.
Watch the video HBO is calling "Inside the Game of Thrones: A Story in Camera Work."
Next up is another behind the scenes gander at Game of Thrones this time its an intimate look at stunt coordinator Rowley Irlam. Irlam describes the challenges that go into choreographing "dynamic frames of action" aka really kick-ass and believable action/fight scenes as well as talking about some of the tools to his dangerous trade. At one point Rowley Irlam lovingly and kind of maniacally says "We've burned more people than anyone else basically" we also learn the importance of having what they call a choreographed "fire dance" which is hilarious and very practical. Again this is an amazing glimpse into the craft behind "Game of Thrones."
Here is HBO's "Inside Game of Thrones: A Story in Stunts"
Well, what did all of you George R. R. Martin fans think of these two behind the scenes videos? I found it a unique honor to get to know a few of the guys who helped weave some of the magic that went into manifesting the wild realms of Westeros and Essos. "Game of Thrones" season 8 is set to hit HBO on April 14th. How many of you are having Game of Thrones viewing parties? I know about five friends of mine that are, and they are currently rewatching the prior seven seasons so how many of y'all out there are that hardcore?
Stay Strong, Live Good, Love Movies!
Dannie H.L. Knowles aka Pekosa Peligrosa