GAME OF THRONES S8 E4! - IS IT TIME TO START WORRYING?
Episode 4 of GAME OF THRONES final season – "The Last of the Starks" aired last night on HBO!
We waited all week. Some of us waited patiently while others took to the internet to passionately discuss fan theories and possible hidden clues to what's coming next! Did Jon Snow really try yelling at that dragon? Or was he yelling "Go, go, go" to Arya? Maybe we'll never know for sure. That still won't stop us from speculating in the weeks leading up to the next episodes. We're fans and that's what fans do.
So, wait we did. Every one of us. In that aspect, for the period of one week, we're all equals. When the opening sequence rolled millions of us from all over the world were doing the same thing. Wondering what the aftermath of the biggest and most important battle (according to the last 7 seasons) would be.
It was apparently... a party?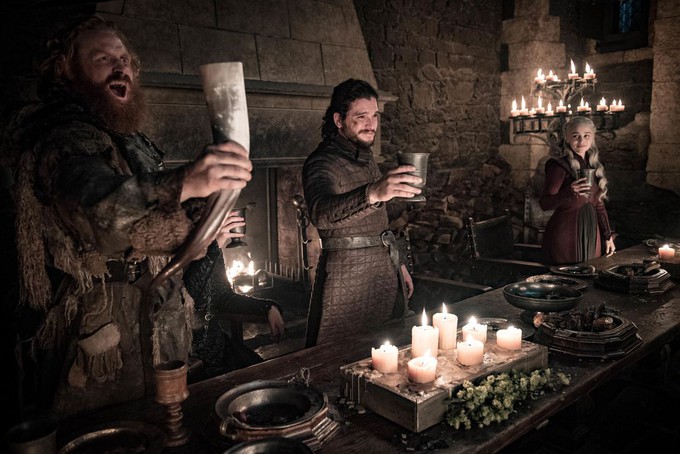 Now I understand the surviving characters have a damn good reason to want to get drunk and celebrate their victory over the dead. After all that, a drink or 17 is certainly in order. Sure. I also think the opening scene was well done. By that I mean it did a stellar job of starting off somber and slowly progressing, as the characters ingested more alcohol, into a full-blown fiesta. That's what alcohol does.
Here's one thing I simply do not understand. With 3 episodes left, including the one we are discussing, did we really need to spend so much time at this party? Yes, we got a few important conversations like Sansa and the Hound during the shindig and everybody's favorite blacksmith Gendry was made Lord of Riverrun. Jamie and Brienne finally did the deed, much to Tormund's dismay and Danny seemed to get super jealous over everybody's affection for Jon Snow and she even ends up asking him to keep his true identity a secret so that they don't get torn apart by his followers. (Foreshadowing?) Yet I can't help feeling like a large amount of time spent at this party could have been better utilized. We don't really see any of our remaining heroes grieving or trying to come to terms with, you know, fighting a bunch of undead monsters. Daenerys is shown briefly crying over Jorah and Sansa crying over Theon for some reason and that's about it. Aside from burning the humongous piles of dead bodies at the beginning of the episode, everyone just... moves on. I was at least expecting some talk of the dead down in the crypts coming to life. If they were buried down there then they were Starks. Nobody even addresses this.
Daenerys decides to split what's left of her army into two groups. John Snow and Ser Davos are to head down the Kings Road with the northern troops and the remaining Dothraki and the Unsullied, while a smaller group will sail to Dragonstone with Daenerys and her dragons. Sansa knows the men are too weak and have been through too much and probably need to recoup a little before fighting such an important battle. Daenerys does not like this one bit and states that when the north needed her, she came and asks Sansa if she now refuses to help. Jon Snow agrees to move forward anyway and pledges the troops to her cause. You can see the Dragon Queen's temper shine through as well as her stubbornness in this scene. You can also see a Starbuck's cup on the table but hey, even Queens need their coffee, am I right?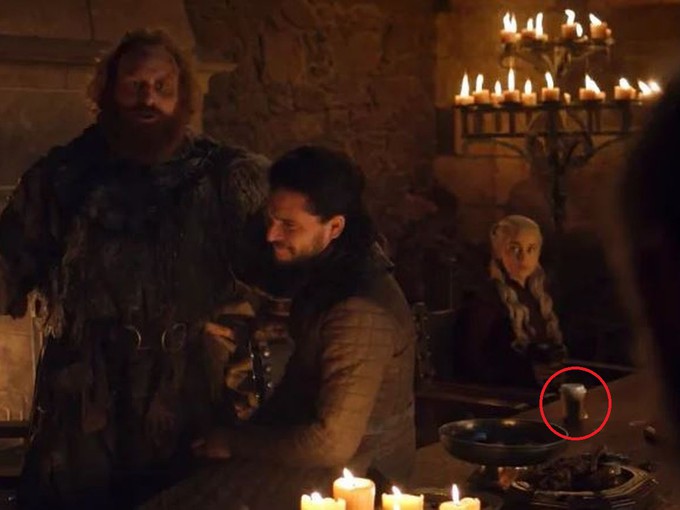 Jon Snow is pulled aside by all 3 of his siblings, Arya, Sansa, and Bran. They make their distrust of Daenerys very clear to him and proclaim that they are the "last of the Starks." That's when Jon, after swearing them to secrecy, spills the beans and tells what's left of his family about his true heritage. Bran already knew of course because well, Bran knows everything.
Bronn shows up with the crossbow Tyrion killed his father with and catches Jamie and Tyrion off guard while discussing Brienne. The crossbow, you will remember, was given to him by Cersei to kill Jamie and Tyrion. I thought this storyline would play out much more dramatically. Possibly with Jamie killing Bron to protect Tyrion or maybe Tyrion killing Bronn to protect Jamie or maybe Bronn even killing one of them. What actually happens was much less interesting, unfortunately. The two brothers offer Bron Highgarden to let them live after Tyrion reminds him of their old deal. Then he heads back south. How did he even get into Winterfell?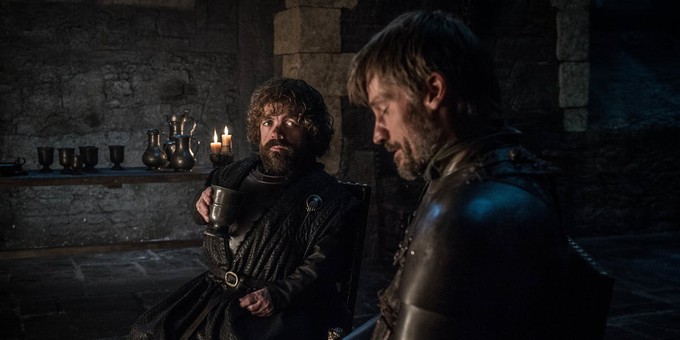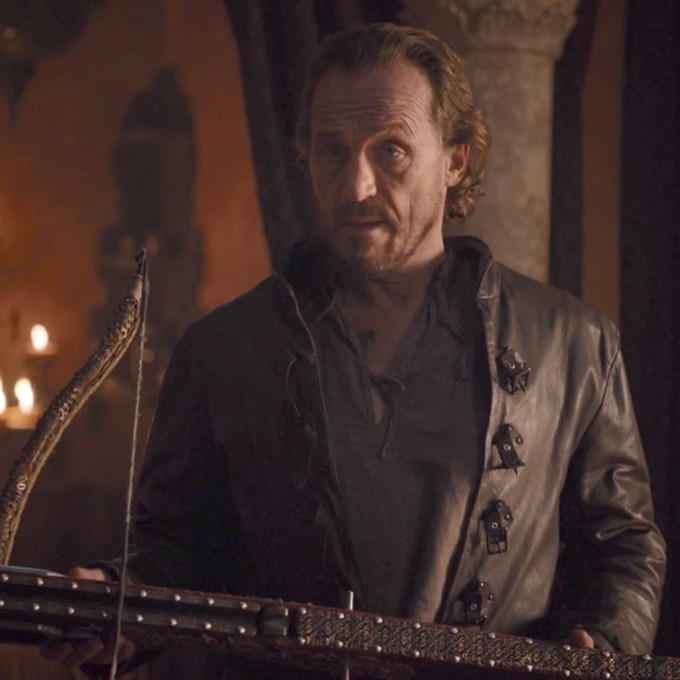 While the troops are preparing to leave Sansa and Tyrion have a conversation that ends with her telling Tyrion about Jon Snow's parentage. Quite the Littlefinger move, I must say. As time goes on it becomes more and more obvious that Daenerys might not be the "right" choice after all and is more infatuated with being the Queen then she is in actually acting like the Queen. Varys sees this and in a private conversation with Tyrion, while they are sailing to Dragonstone, Tyrion fills Varys in on the Jon Snow dilemma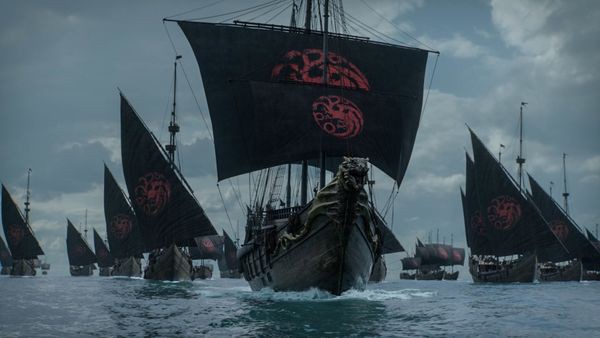 While en route to Dragonstone, Daenerys and her troops are attacked at sea by Euron Grey Joy and his fleet who happen to now have giant dragon killing crossbows attached to their ships. The dragon Rhaegal gets hit with a few bolts and a final one through the throat brings him down for the count. Daenerys fly's right towards them on Drogon but manages to do absolutely nothing. The crossbows are then aimed at her fleet of ships and many of them are completely devastated by the barrage. Tyrion almost becomes Imp-kabobs but manages to escape into the water. The troops regroup on the shore and Greyworm notices Missandei is missing, taken back to Kings Landing.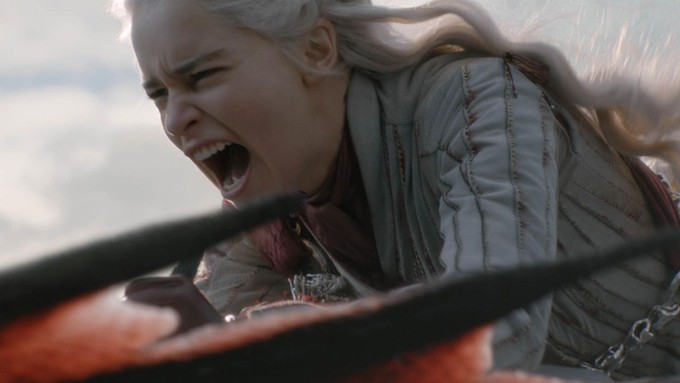 Varys thinks Jon Snow is the one who should be King and while speaking with Tyrion it becomes clear he has his own reservations about Daenerys but being a loyal man, refuses to fully acknowledge them. He thinks maybe they can get married and rule together happily but Varys knows Daenerys better than this and questions if and when Tyrion has ever known their Queen to want to share power. Tyrion knows where this is headed and asks "what happens to her?" Varys' vague yet ominous answer leaves Tyrion pleading with him not to do it. This will be a very important conversation moving forward. Of that, I am sure. This is exactly what Sansa wanted when she told Tyrion the truth about Jon.
Daenerys finally comes to the gates of Kings Landing with her small group of forces. Jon Snow and Ser Davos still yet to arrive with the larger group. This a moment many of us have been waiting for. The moment the Dragon Queen comes to the city with her army and her dragons. (Well, dragon now.) Tyrion tries some of his fancy word jazz on Cersei who is above the gates watching with the Mountain and some other troops. And Missandei. Of course, reasoning doesn't work with Cersei. Why would it? It never has so why would Tyrion (one of the smartest men in Westeros until last season) think for one second it would work now? Cersei tells the Mountain to execute Missandei and in front of everyone, he draws his sword and beheads her. Greyworm's heart visually breaks as he turns away unable to watch what he knows is about to happen and the look on Daenerys' face is one of pure unadulterated rage. Emilia Clarke killed this scene. I almost thought she was going to march into Kings Landing right then and there and punch Cersei in her smug face.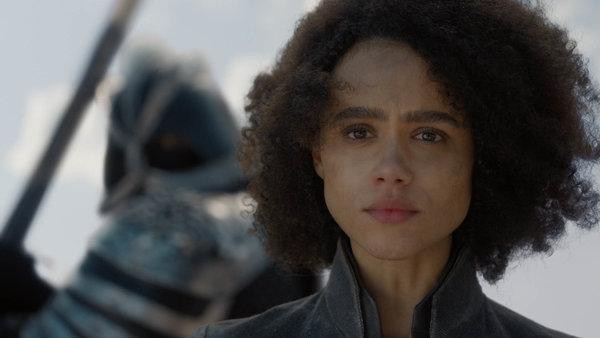 This is where the episode leaves us and I have to say, I was underwhelmed. It's not that I don't think the episode was good. It was decent and some important things happened to drive the story forward, absolutely. It's just that with 2 episodes left in the series, I'm nervous they may have rushed to wrap things up with a nice bow, leaving several loose ends in the process. I have my issues with the way the battle with the dead was won so easily. Isn't the entire point that the squabbles between houses were irrelevant because the real fight was with the dead? The lesson was that they somehow had to put their differences aside and prepare for the true enemy. Their common enemy. Well, that enemy came and went and now it seems as if we're back to irrelevant squabbles again. As if our beloved characters have learned absolutely nothing. What was the point of the whole White Walker storyline (arguably the show's most intriguing storyline) if it changed nothing? I was hoping we would get some hint that this was not the case in episode 4.
Of course, there is still time and maybe the show will pull something utterly amazing out of its hat and surprise us all. Stranger things have certainly happened and this show has definitely pulled off some shocking twists in the past. At this point, I have no idea how this all going to end or if the White Walker storyline is really over but I do know one thing! I'll be tuning in the next two Sundays, hoping to see the most amazing thing I've ever seen on television. I still believe in you GAME OF THRONES! You have 2 episodes left. Blow my mind.
What do you guy's think? Did they drop the ball on the White Walker storyline? Will the Night King be back in some fashion? What happens when Jon Snow shows up? Team Jon or Team Dany? Comment below and until next time, keep on geekin' on my friends!
Joshua "Prometheus" Scafidi
Follow me: @Joshua Scafidi