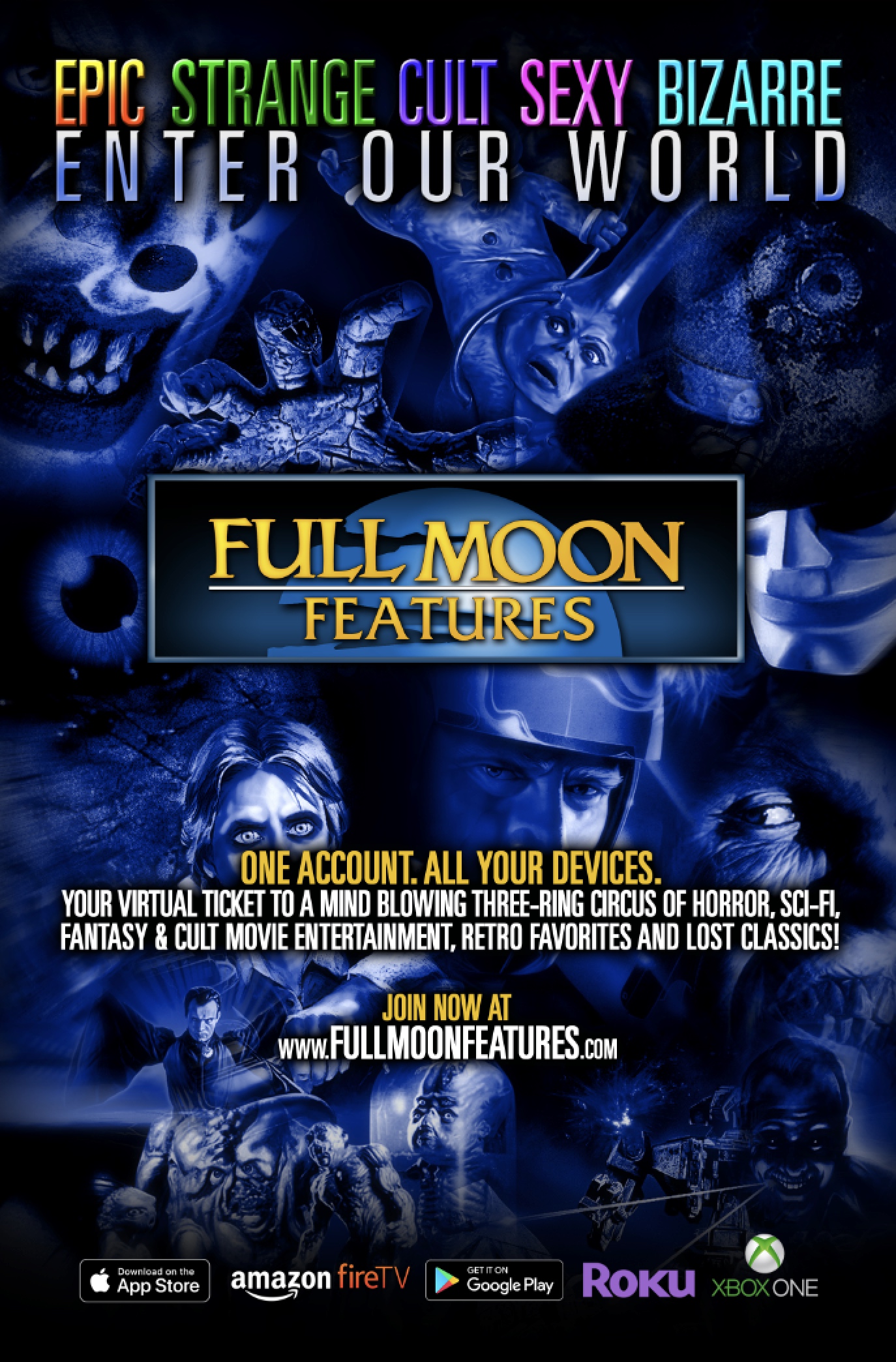 Full Moon Features has announced that they have launched the Full Moon Features channel and app currently available on all streaming devices. The revamped version of their previous streaming service (Full Moon Streaming) will have over 500 titles available from their impressive collection. That's right- you now have 24/7 access to favorites like TRANCERS, CASTLE FREAK, the PUPPET MASTER franchise as well as Underground label Eurocult classics like ZOMBIE and DEEP RED from Italian horror maestros Lucio Fulci and Dario Argento. For those who like to keep it weird, the channel is also offering deep cuts from the Surrender Cinema library like FEMALIEN and CALENDAR GIRLS in addition to vintage exploitation oddities from the iconic SOMETHING WEIRD VIDEO catalog.
Aside from new weekly content and VIP access to live-streams of upcoming projects, Full Moon Features will also be premiering exclusive new feature films like THE DEADLY TEN anthology and WEEDJIE: HALLOWEED NIGHT (debuting on 10/18).
Get to an app store asap to download the Full Moon Features app today!
Full Moon's iOS and tvOS apps on the App Store
https://apps.apple.com/us/app/id1473981746

Full Moon's Fire TV app on the Amazon app store
https://www.amazon.com/gp/product/B07VWSNPL2/

Full Moon's Android and Android TV apps on the Google Play Store
https://play.google.com/store/apps/details?id=com.fullmoonfeatures

Full Moon's Xbox One app on Microsoft Store
https://www.microsoft.com/en-us/p/full-moon-features/9mxgr1gn8gtw?activetab=pivot:overviewtab


Rebecca Elliott
aka Annette Kellerman