FRIGHT FIGHT FRIDAY – ICON BRACKET ROUND #1
JASON VORHEES VS MICHAEL MYERS
Welcome to FRIGHT FIGHT FRIDAY where every Friday 2 of our favorite horror movie "monsters" will face off against each other in a hypothetical fight and we will discuss which one would win and why! This is strictly a matter of opinion and all comments will be welcome. We have four categories, each with 8 contestants in the bracket. ICON, CLASSIC, ALIEN and HUMAN! The winner of each bracket will move on to the semi-finals. The winner of the semi-finals will proceed to the final round where they will face off for the right to fight the winner of our HERO bracket. For some added fun, I will post both contestant's names in the comments! Upvote the one you think would win! Remember, this is all for fun and meant to be humorous, there is no right or wrong!
Let's start off easy with two of the most well-known and beloved mask toting psychopaths out there!
JASON VOORHEES VS MICHAEL MYERS
You know and love him from such films as "Friday the 13th" (he was in the end, calm down) and the umpteen sequels it spawned. Oh, and also that stupid "Jason X" movie. He was brought back to life by his mother via the Necronomicon (oh, yes it was) to get revenge on the camp counselors who left him unsupervised, allowing him to drown. Now he kills basically anybody dumb enough to hang out at Camp Crystal Lake. Except for little kids. (Refer to "Friday the 13th Part 6: Jason Lives".) He's also been to space!
Jason possesses superhuman strength and a strong love of his mother. He can travel long distances very quickly without running and for an almost 7-foot dead guy, is incredibly quiet. A master of edged weapons (well, master of killing you with them) but has also been known to use things such as weed whackers, street signs and sleeping bags to take out his victims.
Hobbies include stalking Camp Crystal Lake, interrupting teenagers having sex and oh yeah, killing. Definitely killing. Weaknesses... His mother's head and a magical dagger. Seriously, that's about it. Sorry Freddy VS Jason fans but that whole thing about Jason being afraid of water, that's false. Does this dude look like he's afraid of water?
MICHAEL MYERS
Our next challenger is the star of every "Halloween" movie (except "Halloween 3 Season Of The Witch"). Another strong and silent type, Michael Myers is a man of few words. Well, no words really. Depending on which version of Halloween you watch. There's that version where we see him as a kid and he does speak. Until he doesn't anymore. Institutionalized at a young age for murdering his family, minus his baby sister and mother, he has spent years trying to reconnect with the former. Or kill her. Whatever.
Possesses above average strength but not quite superhuman. Loves to sneak up on people. A master of stealth, you won't hear him coming but you might see him standing across the street staring at you.
Prefers smaller edged weapons such as butcher knives but has been known to improvise on occasion. Hobbies include trick or treating, hiding in closets and observing from afar. And of course, murder. He loves murder. He also seems to enjoy a nice drive now and then. Weaknesses... The fact that he's human and his little sister Laurie Strode aka Cynthia Myers. Michael Myers is evil personified. Just look at him.
OK, so let's say a certain little sister of Michael's went camping at Crystal Lake. Of course, Michael follows but Jason doesn't like anybody else stalking his killing grounds and confronts him outside of Laurie's (Cynthia's?) cabin. First, the epic stare down as they lay eyes on each other. Jason cock's his head to the side, curious of who this other masked man could be. Michael just stands there, staring. Jason charges with his machete and Michael blocks it, plunging his butcher knife into Jason's gut. He pulls it out expecting Jason to go down. Jason just looks at his stomach and back at Michael. Michael stabs Jason again, then, again and again, enraged that Jason will not go down. He picks up a nice sized rock from the ground and hits Jason as hard as he can, cracking his hockey mask. He hits him with another blow and Jason finally goes down. Michael then gets into a car parked at the cabin that conveniently has the keys in the ignition (because that's how horror movies work) and backs the midsize sedan over Jason, then drives it over him once more. Thinking the fight is over, Michael heads back towards the door of the cabin. Jason sits up, a little roughed up but barely slowed by the attack. Machete in hand he catches up to Michael unnaturally fast (because he's Jason) spins Michael around and puts his machete right through him. Michael falls to his knees. Jason looks down emotionless. Michael staggers to his feet (because he's Michael Myers) and tries raising his knife when Jason punches him with everything he's got, decapitating Michael and sending his head flying through the window of the cabin in true Friday the 13th fashion. Taking no chances Jason picks up the body and throws it in the lake. He keeps Michael's head and places it next to his mother's for safe keeping.
JASON VOORHEES!!!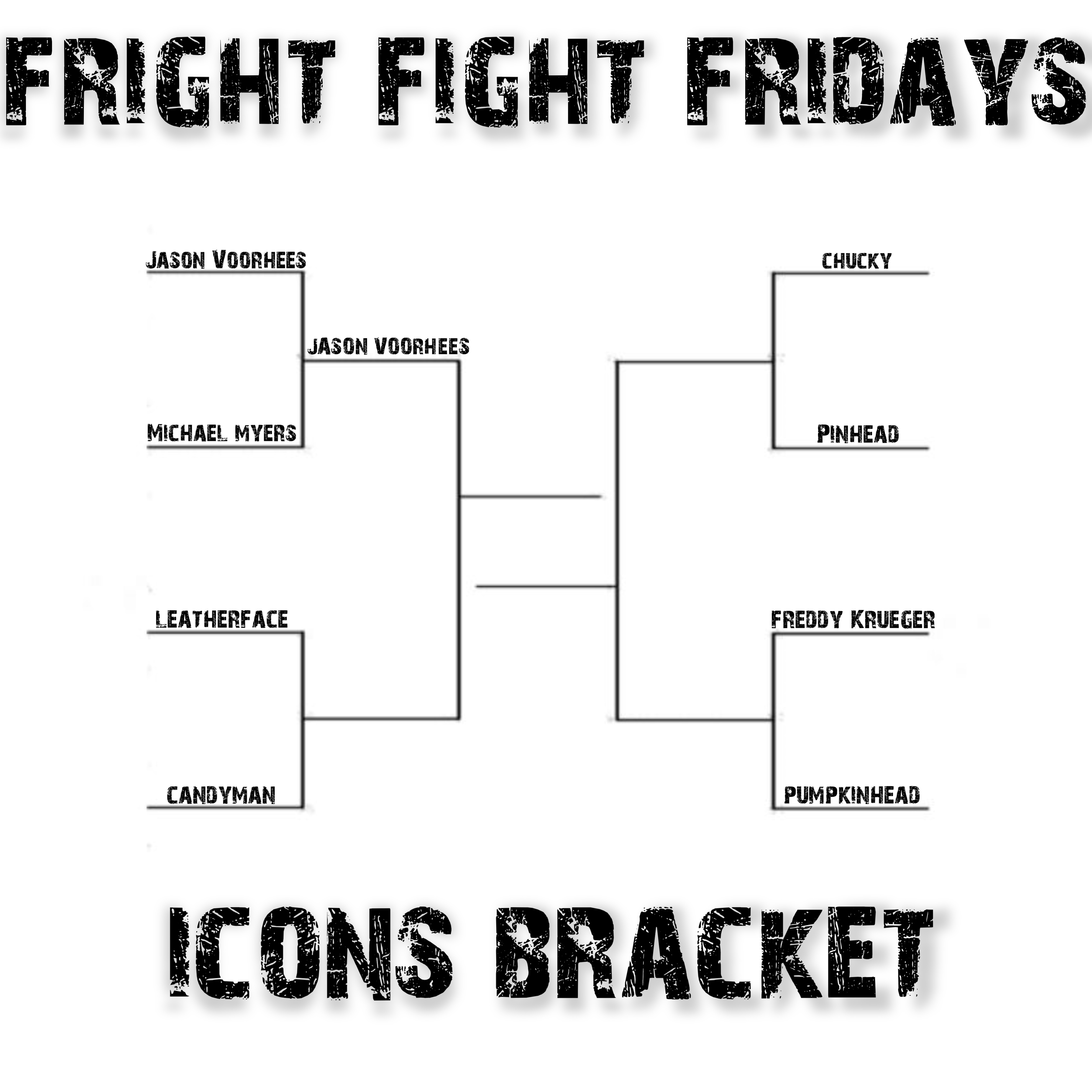 For me, this is a no brainer. Michael Myers is human. He's alive. Meaning he can be killed. Now Michael is no slouch and while I'm sure he would put up a fight, he wouldn't be able to stop Jason. Jason Voorhees has been drowned, stabbed, strangled and chained to the bottom of a lake, shot point blank by a shotgun, set on fire, impaled by steel beams, etc. It would come to close quarter combat and that's a bad place to be for Michael. when it comes to brute strength, Jason wins every time. Jason would make short work out of our favorite " boogeyman". I have no doubt about it. In my opinion, Michael Myers is outclassed in just about every aspect by Jason Voorhees.
What do you guys think? Would Jason Voorhees destroy Michael Myers or do I have it all wrong? Be sure to let me know in the comments below! Don't forget to upvote Jason or Michael for the win and check back every Friday for our next fight! FREDDY KRUEGER VS PUMPKINHEAD...
That's all for now folks! Until next time, keep on geekin' on my friend's!
Joshua "Prometheus" Scafidi.
Follow me: @JoshuaScafidi