Hey everybody! Freddy here, with a review of SHADOW OF VIOLENCE, which drops in theaters only, July 31st.
SHADOW OF VIOLENCE starts as a common tale of an enforcer trying to go right and ends with a lot more in mind.
The blurred image we first view is a fist. As this fist comes into clarity so does the scene. This arm belongs to Douglas "Arm" Armstrong (Cosmo Jarvis) and it is here to dispense justice on a man accused of assaulting a young woman. They two talk for a minute, there's a clear acceptance of what's going to happen and then violence. There's no shadow of it here. This is a mean and bloody beating.
It almost goes too far.
Unfortunately for Douglas and his tie in to this rough Irish mob tied family Dympna (Barry Keoghan), it doesn't go far enough for the family.
Hector (David Wilmot) the the seemingly reasonable uncle is all fun and hidden menace. He tells the lads what must be done and they commit to doing what they're told.
Paudi (Ned Dennehy) is another matter and trusts no one with his long stares and clear mean streak. Everyone is afraid of Paudi and it's clear, they should be.
Douglas Arm is the enforcer who wants an easier life. He pines by day for his ex, Ursula (Niamh Algar) during his daily visits to see their special needs son, Jack (Kiljan Moroney). These are great scenes and really showcase the love he has for his son. They also show Arm's incapable of emotionally handling his son. The power of this tale is in that relationship. There's no denying his love as a dad. There's also no denying he's clearly not made for the job.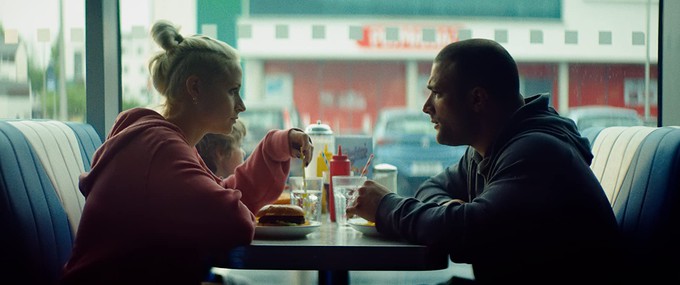 Set in unknown rural Ireland SHADOW OF VIOLENCE is just that. It's a menacing movie. One that feels a lot worse than it shows. The audience is stuck in their seats unsure of what's coming next and things fall apart as you expect. Here we are dealt a nice slow burn that satisfies on deeper levels than expected.
Written off an Irish tale titled Calm With Horses, Joseph Murtagh creates a believable atmosphere. One of toxic masculinity and its hold on those that indulge. The box that they lock themselves in, intentionally or not.
Nick Rowland directs the film with a certain calm. There's violence but it's spatting. This is a character drama that beats our big brute into submission. Paired with a dulled-beautiful lens of Piers McGrail, the tale sticks in your gut.
SHADOW OF VIOLENCE isn't a story you haven't seen before. It's a common theme, yet this one stands apart in some manner. It immediately shocks you. Then lulls you into caring for this Arm of the mob and all his shenanigans. He's really a good guy after all. Or is he?
If you like your movies full of nonstop action you should probably pass on this one.
If you like a character driven action story about a big lug who wants more in life than solving things with his fists and just can't figure it all out in time, then you won't want to miss SHADOW OF VIOLENCE.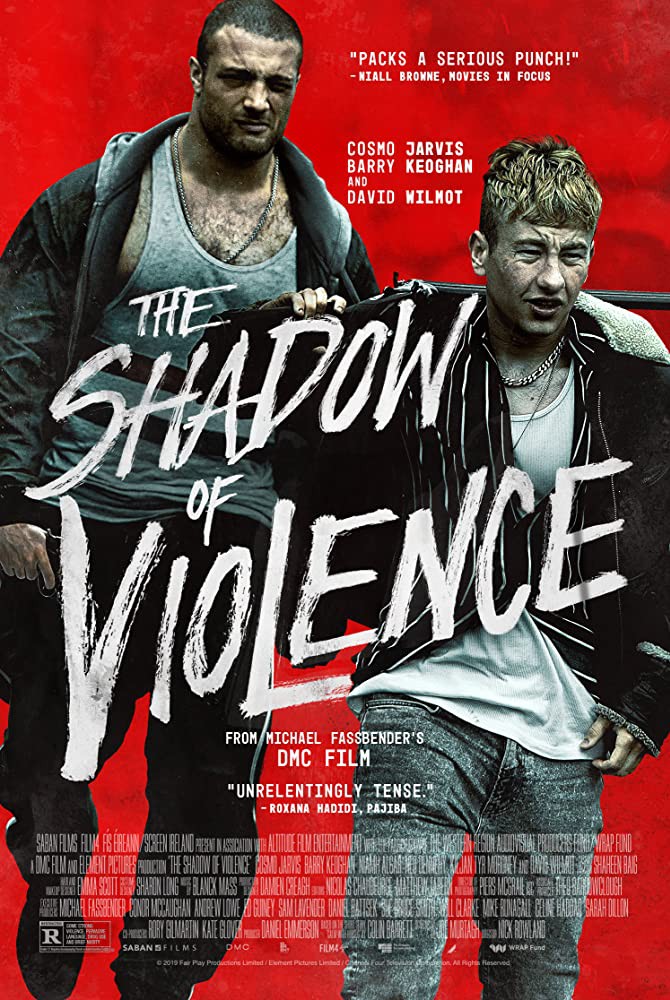 Til the next one
Cheers
Freddy Beans