Staying at home? FISHERMAN'S FRIENDS is just the kind of feel-good movie that soothes the soul. In a world that has plunged into chaos and division, rarely do films spend time showcasing friendship and community, and even when they do, few do it in the way that this film does. While not without its flaws, FISHERMAN'S FRIENDS still proves to be a charming look into life in a small fishing village.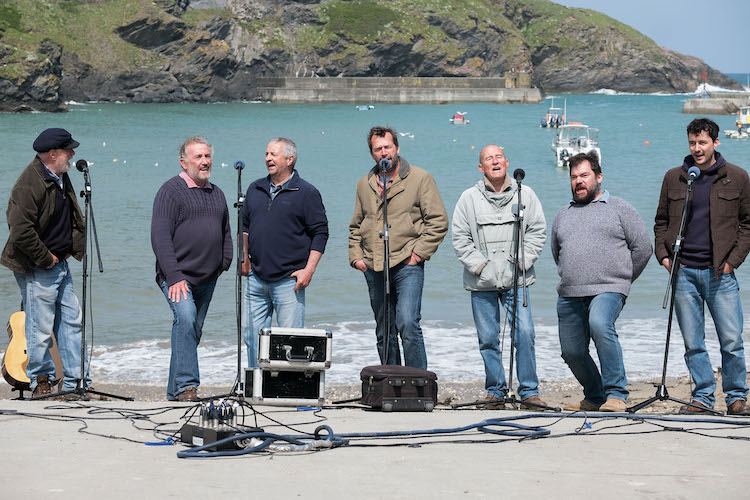 While on a stag weekend in a remote Cornish village with his boss and coworkers, a materialistic music executive (Daniel Mays) gets pranked into trying to sign a group of shanty-singing fishermen. My initial issue with the film arises from how completely awful the music executives are. They are the stereotypical soulless types who seemingly don't feel the music as much as they calculate its profitability. I dislike them, not because they're written in such a way that I'm supposed to, but because they are completely stereotypical. All the best villains have some nuance, and the utter lack of any here just leaves me feeling a bit uninterested. The only thing of value offered from their time on screen is an interesting theory as to why penguins are monogamous.
In contrast with the executives are the villagers of Port Isaac, a place steeped in history with a tight-knit community. The villagers here are more likable by a landslide, but again they fit into the clichés one might expect. Still, their charm, humor, and the bonds they share with each other win me over. From the pub owners to the singing fishermen, everyone here is someone with whom I would love to share a pint and swap some stories.
I enjoy that much of the film is shot on location, including at the Golden Lion, a pub that serves as a hub for the community. Despite that, it doesn't seem that the locations were used to their fullest. Although I did appreciate the scenery, I feel as though the cinematographer could have done more to accentuate the flavor of the village.
Despite the shortcomings with visuals and characters, the movie still has heart, and as I said earlier, charm. I attribute much of that charm to the music. Sea shanties were often sung on sailing vessels because sailors discovered years ago that music makes manual labor seem less grueling. The film is full of such songs performed by the band of fishermen in Port Isaac. Seeing and hearing the band perform songs they would sing at sea brings me the most joy, as the songs transport me to another place and time, and the humor and zest with which they are performed leave me feeling joyful. Music lovers may enjoy this film more than non-music fans, but FISHERMAN'S FRIENDS gives a lot of sweet moments.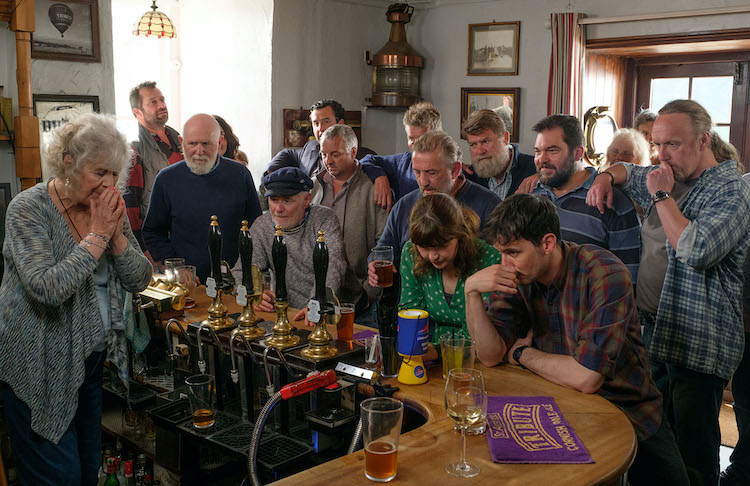 A lot of the story proves quite predictable, which may adversely impact some people's viewing experience, but for me the music ensures my enjoyment of the film, that and some of the lead characters. I delight in James Purefoy's occasional mumbling performance as band and village leader Jim. The shanty-singing fishermen also include Jago (David Hayman), Leadville (Dave Johns), and the youngest of the group, Rowan (Sam Swainsbury). While the group consists of more men, these are the key characters whom we get to know in the film.
Part of me wishes the story had stuck a little more closely to the true story behind the screenplay because the film strays into romantic-comedy territory a bit too often for my tastes, and I think it could have been more appealing if it hadn't.
Although it's not a perfect film, it gifted me a sense of community for the first time in a while, and drew both laughter and tears out of me, leaving me feeling thoroughly satisfied after watching it. FISHERMAN'S FRIENDS is currently available on digital.