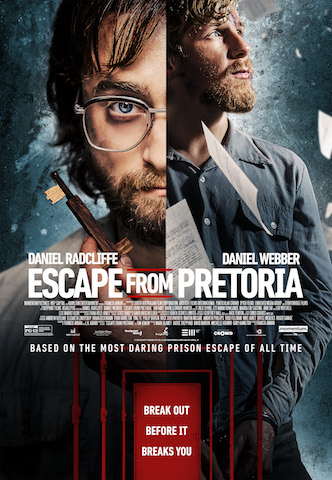 Last month AICN debuted the official poster art for Danielle Radcliffe's latest film, ESCAPE FROM PRETORIA, and now we have an exclusive clip from the film!
Momentum Pictures is releasing the thriller in theaters, on Digital, and On Demand today, March 6! The film is based on Tim Jenkin's autobiography Inside Out: Escape from Pretoria Prison, and details the real-life prison break of two political captives set in the tumultuous apartheid days of South Africa. Daniel Radcliffe (HARRY POTTER franchise, SWISS ARMY MAN) stars as Jenkin, while Daniel Webber (THE DIRT, "The Punisher") portrays his fellow prisoner Stephen Lee.
Check out an AICN exclusive clip from ESCAPE FROM PRETORIA right here!
What a fascinating and intense story! I continue to be pleasantly surprised by Radcliffe's post-Potter career choices, and this latest role definitely follows suit. Check out ESCAPE FROM PRETORIA today on a screen near you in theaters, On a Demand and digital.
Rebecca Elliott
aka Annette Kellerman