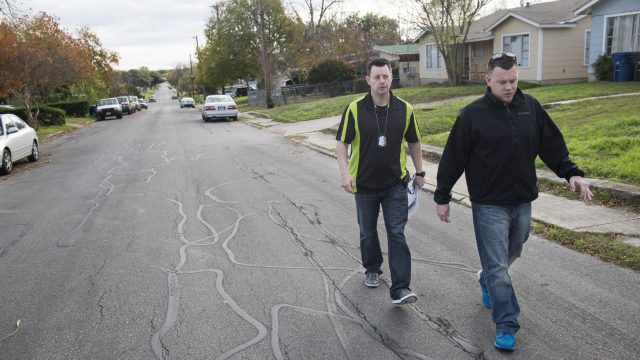 This week I had to great luck to be able to sit down with director Jenifer McShane to talk about her new documentary ERNIE & JOE. The quiet yet powerful documentary follows two San Antonio police officers who are changing the way their city's law enforcement responds to the myriad of calls they receive that involve mental health issues. Together the two officers have championed a program that gets people the assistance they need instead of losing their lives to the criminal justice system. I hope you enjoy our conversation about McShane's journey with ERNIE & JOE.

Hi Jenifer! Thank you so much for sitting down with me to talk about ERNIE AND JOE.
Jenifer McShane:
Have you seen the film? Happy to have you here.
Kellerman:
I have, absolutely yes. I've really loved it
McShane:
Oh good, oh good.
Kellerman:
It's so inspiring and so much-
w
hat a great accomplishment. How did you find out about this story?
McShane:
My last film was about women in prison and the whole point of the film was about parenting and connection and women trying to mother from prison. While I was researching and making that film, it was very apparent; not in my story particularly because it was really about parenting but how many mentally ill people are sitting behind jail, behind bars. I took that away from the experience. I couldn't really address it that last film, so it rattling around in the back of my head and a friend was doing a story about innovative work happening happening at San Antonio. When I read that I said "Huh wow, that's really" you know it really spoke to me, it felt like it dovetailed my other film in a really interesting way. I came out and drove around with cops for about a week and half without a camera just to absorb, which I would highly recommend to every film maker to really sit with them for a while before hitting them with a camera. It went ... I left that first visit thinking okay. I could tell ... I kind of joke that my films are like a compulsion, like once it's in there I'm like "Okay, I gotta do it, gotta do it."
I just felt so ... I felt that it had national implications because every community can ... they don't have to do exactly this but can learn from this or start a conversation about how do we really just start reframing things. You know? Stop making assumptions about who is talking to who.
Kellerman:
Absolutely. Are there other programs like that in the country that you looked at?
McShane:
Well yeah, there are other places doing it. San Antonio seems to be very unusually good in the sense that ... and I think it's because they have this really good ability, and I'm still trying to get a handle on exactly why, they really are good at collaboration. There are other cities and towns that are training cops in similar crisis situations. But without the collaborative piece, it ends up being frustrating to the officers.
Kellerman:
Right, there's no follow through.
McShane:
There's no follow through. The other thing that San Antonio does is that not only do they train the cops but they have a mental health unit. So there's that ten person unit, and that's all they do. So they become an internal resource for the other patrols; so if a regular young beat cop calls ... they've been trained but they're not comfortable enough, they know who to call. They show up and help with the triage in a sense. I think the other places doing it, San Antonio's doing it better than most, but I think there's different ... I don't think this is ... I don't want to give the wrong impression that it's a boiler plate that only this way is the way to do it anymore. Which is why I tried to make the film as personal as I could, so then it's really more about how are we really talking to people and helping connection and humanity basically; how we're viewing each other.
Kellerman:
Were there any moments where you felt unsafe?
McShane:
Well there was one you see in the montage, there's a montage of calls because they do so many calls. I was like "How do I convey the variety and the breadth of the different types of things I've seen?" Really, trust me, there was so much footage I didn't use. It was kind of heartbreaking actually. I can't make a 5 hour film, so I had to shorten it. So I did that montage of calls like about a third of the way in, quarter of the way in. One of the those calls where he says that he's suicidal and homicidal, yeah that was a little scary because they had to transport him. So we moved to the back of the car and he never saw us and we didn't invade any of that, but there was a moment where my son goes like "huhhuhh."(nervous noise) You know-
Kellerman:
You could be in some real jeopardy right now.
McShane:
But otherwise, we really kept a safe distance; mainly for privacy. We wanted to maintain a respectful distance because I was very worried, very concerned, that I-not by my presence, or the crews presence- disrupt ... the whole point of their work is the rapport and the connection and dialogue, and before showing up there bright as day like "could you move to the left?" So I really was aware of that, so the cinematographer and I were always at a very safe distance and the sound was always really good. So that we captured the intimacy, but had a respectful distance.
Kellerman:
Absolutely. I noticed, I think ... was the Kendra episode entirely dash cam stuff?
McShane:
It was. It was all dash cam and when I actually got a copy of it, I went and talked to her about ... and I have to say I was very impressed actually that San Antonio insisted that she get the footage, not me. Which I was really actually delighted by.
Kellerman:
That is fascinating.
McShane:
I always that was really good because-
Kellerman:
It's her story, yeah.
McShane:
It's her story.
Kellerman:
Like the worst day of her life.
McShane:
Exactly! The worst day of her life, her story and I could be TMZ. You know what I mean?
Kellerman:
Right.
McShane:
I'm not and that was not my intent, I was going for-
Kellerman:
Not being exploitative, but at the same time...
McShane:
The last thing I wanted was to be exploitative. When they sent it, I was like "huh" and it was really good "hmm, okay good." I used it, I knew I was going to use it. I went back and spoke to her about it and said "I want you to know, I'm using it and this is why I'm using it" and she ... I was really, really moved and surprised because she said yes. She not only said yes, she said "You know, I think it's important. People need to understand how people like me think and how we get there." I was like ... I was actually very moved that she would have that kind of insight to be able to say that this needs to be seen. Then she agreed to participate, she signed a release. So we do the follow-ups with her on camera- which was so important to me because that was the biggest challenge. Like how do I represent that side of the story to you, because I see this as a mental health film. It happens to have subjects that are law enforcement, but it's really mental health based in a lot of ways. By her being so willing and generous to share her story, we get that insight. It's really awesome.
Kellerman:
Were there any calls that they did not want you to go on with them?
McShane:
No.
Kellerman:
They gave you full access?
That's amazing.
McShane:
I have to say, I was very blessed that way. Especially having my last film in a prison, which they were surprisingly good too. I think a lot of it is how you start the-
Kellerman:
Right, make sure you're coming from a place of understanding.
McShane:
Yeah, yeah and that you're really trying to tell their story as much as possible. They were pretty good, but still I was very lucky and fortunate ... and because I kept coming back and back, then they were kind of like "Oh, alright. There she is again."
Kellerman:
Right, they know you, it's fine. I noticed that in the film, you keep it pretty simple. There's not a bunch of heavy score or bells and whistles. Can you talk a little bit about that creative choice?
McShane:
Yeah. That was actually a very intentional ... I think the music is fantastic myself, personally.
Kellerman:
It is, but it's not in your face or driving the emotion.
McShane:
It was really only used to almost kind of cradle the story and just enhance some of those moments. We actually removed a bunch of music towards the end of the process because it had been in there at one point because it was attached to the montage. Then we took it out and we realized, like it just gave it more oxygen. That was very intentional and I didn't want to do any kind of bells and whistles to be honest with you, because I felt like the story is so sensitive and powerful on its own. Also, the time we live in right now in terms of dialogue between law enforcement and citizens is so frayed that I really just wanted to try and observe.
I was really happy how the music turned out as well.
Kellerman:
Has there been any more progress since you wrapped. Have you been keeping up? Is there more progress within the San Antonio Mental Health Unit?
McShane:
They brought on ... actually almost all of the officers have seen it during the screening so that's really great. They're planning to expand from 10 to 20 and they're continuing to train like crazy. They've added more training actually.
Kellerman:
Already in the film they went from 8 hours of mental health training to 40.
McShane:
Well there's legislation in Texas around the Sandra Bland case that has even added another layer. They're striving to do better, I have to give them credit for that. I'm just hoping that other communities will look at this and say "You know, we may not be the seventh largest city." I mean San Antonio is huge but "We can figure out a way to enhance what we're doing, depending on where we are."
Kellerman:
Yeah, put some sort of program in place. That was going to be my next question. If that was sort of a goal for you to inspire others to at least to adopt some other-
McShane:
Yeah, I definitely want this to be an outreach but not a boiler plate.
Kellerman:
Right, not an instruction manual.
McShane:
Right, exactly, not an instruction manual but definitely a conversation starter. Stop me if I said this already but at one of the screenings, a woman stood up and she was from rural Minnesota and she said her sheriff just recently made a public announcement the number one crisis concern is mental health. You know it's really not about one person, we're all dealing with this. I think societally we're feeling disconnected, suicide rates are sky high, this is a huge huge cri ... I would say epidemic. There are pieces of this story I think that will ... I just want it to resonate enough with people to say "Okay, let's just slow down and think about how do we make our own backyard better?" You know, more commutative and less scary.
Kellerman:
Start at home and take it from there.
McShane:
Yeah, yeah exactly.
Kellerman:
They're both such dynamic characters but Joe, in particular, with his background with having mental health issues... is he doing more TED talks like in the film and that sort of thing?
McShane:
Yeah he's so-
Kellerman:
He seems so good even though he was so nervous.
McShane:
Exactly. I think he would like to, I think he really feels this is a vocation for him now. So yeah, I would not be surprised if ... except he's working so hard all the time.
Kellerman:
Right, of course. Yeah. Doing all the overtime shown in the film and working through his own issues.
McShane:
Exactly, and I really appreciate it so much; his willingness to be honest about his own journey. Because that, I think, was a huge piece of the film; which it's like yes, they're out there helping people out on the streets, strangers they don't know.
Kellerman:
It's pervasive, yeah. Everyone has their issues.
McShane:
Everybody knows somebody. So this idea that he's kind of exploring his own journey to get well and helping others-
Kellerman:
Which is just golden for you as a film maker too, you're like "wow" you get to really dig in to all that.
McShane:
You get to meet them honest and different but they're budding, it had a lot of different components that I feel fortunate in terms of ... because you want people to relate, I just didn't want anything to feel ... I wanted you to feel like you were on the journey with them in the back of the car.
Kellerman:
Yeah, that definitely came across. Well thank you so much for talking with me today about your movie. I think it is really important and I can't wait to spread the word.
Talking to Jenifer about her film ERNIE & JOE, an eye-opening look at the San Antonio PD's new approach to dealing with mental health issues, was a great addendum to the film itself. I appreciate her efforts in bringing this sensitive yet vital subject to audiences in a way that is completely empathetic and transparent. Keep an eye out for ERNIE & JOE on a screen near you.

aka Annette Kellerman