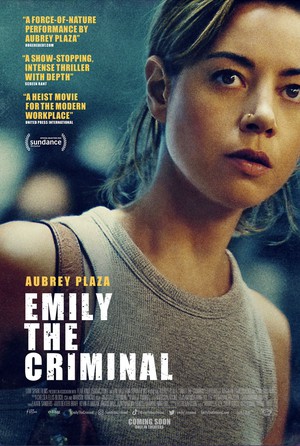 Hello film fans and welcome to the House of Macleod's movie review corner. Today we take a look at John Patton Ford's Emily the Criminal.
Starring Aubrey Plaza, Theo Rossi, Megalyn Echikunwoke and Gina Gershon from a script that was also written by Ford, Emily the Criminal is one of those little gems that you are happy you sat down to. Although this movie came out a month ago (August 12th) and I am a little late in delivering this review, I just caught this today, so how about we call this 'The late Review with the House of Macleod?'
Moving swiftly on, the film tells the dark little tale of a woman named Emily played expertly by Plaza. Strangled by a $70,000 student debt and a felony conviction, she is having a massive problem getting onto the work market and is making ends meet doing food delivery to high-end corporations. Finding that the interest she is paying back alone is eating her payments, she thinks that she'll never find a way out of the circle of desperation or debt and get to live out her dreams of being an artist and travelling South America. I loved the social commentary that surrounds Emily's problems. It not only made the character more believable but it gave the film, in general, a slight edge that was not only relatable but realistic. Why do we turn to crime? What are the reasons for doing the things we do? Some of us live week to week, paycheck to paycheck, with our dreams being simply that, dreams. It's an awful way to live your life, to start out with good intentions only to be crushed by a money fuelled system and government that sees you as nothing more than a dollar sign. A debt, when you wanted to be a doctor. Emily sees this and the weight is crushing her. When a co-worker offers her a way to make a quick two hundred bucks, at first she is hesitant, but in today's economy, a buck is a buck so she texts the number he gives her and goes to the location they tell her the next morning. When she gets there she quickly finds out that she is there to do some credit card fraud for an Armenian fraud ring. The highlight of this movie for me was Aubrey Plaza. Although I like her generally as an actor this is really the first thing I've watched her in that had a more serious tone and she plays the part of Emily with a very I don't give a fuck attitude. In fact, she does something that I absolutely love with the character. I forgot for a second I was watching Aubrey Plaza. To make me forget the famous face and invest in the character is the sign of a top-class actress and that's exactly what Plaza brings to this role. She's no hero, She's no villain either. She plays the part with the idea that her character is a regular human being, with regular human being problems and she is shown a possible way out. There is no massive dilemma, there is no conscience or inner struggle. She is a woman that knows what she wants and realises quickly she has the balls to get it as soon as the means are presented to her. This is what I loved about this film. It's the reality of it. The underlying feeling of dread that runs through it. Not just the social commentary or the character depiction but also the cinematography and the locations used. Emily could be your friend, your cousin, your neighbour downstairs and the sets and scenes reflect this. As I said at the start, this is a little gem of a movie and if you get the chance to catch it, please do. Your cinema bucks will not be wasted. Currently, you can watch the film in select cinemas and at home in the US via Video on Demand at Direct TV but a streaming date has yet to be announced.
Official House of Macleod Score 9/10 - Earned but not defrauded.