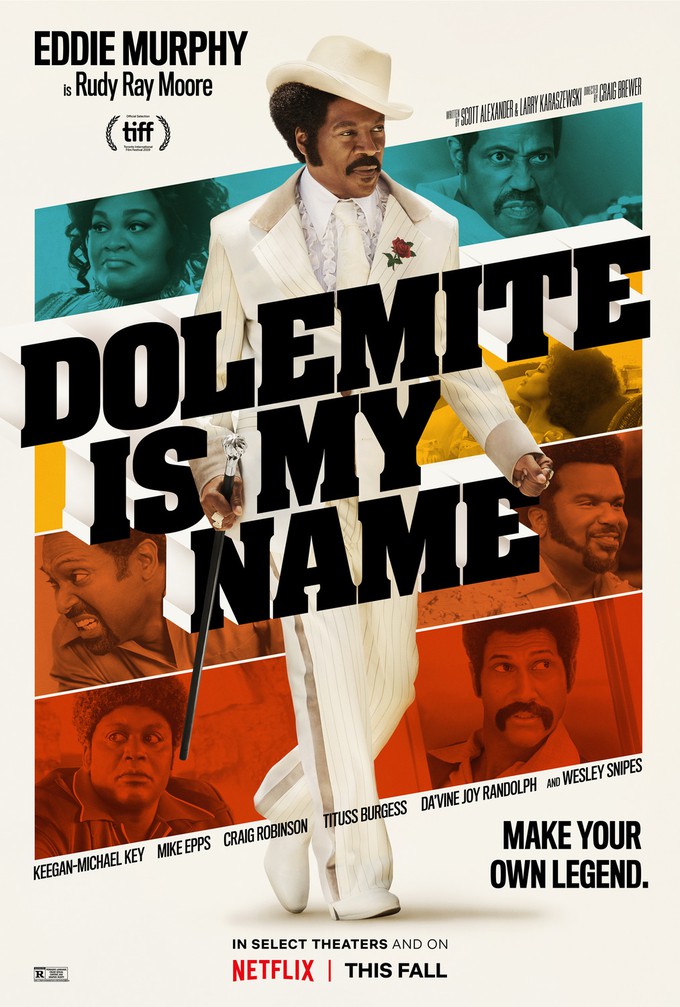 Hola Dannie aqui,
At Fantastic Fest, I had the pleasure of seeing "DOLEMITE IS MY NAME" a film by director Craig Brewer, the man behind "Hustle and Flow" and "Black Snake Moan" which are two films I adore. Walking into the film, my expectations were high, considering my love of Brewer's work as well as the spectacular cast, era, and subject matter. I have been dying to see this film since its filming and the cast were announced, this grand anticipation can be daunting to live up to.
I am delighted to share with you that "DOLEMITE IS MY NAME" is pure cinematic perfection.
The film opens with the sounds of the 70s immediately transporting you in time to a Los Angeles record store where we are introduced to a struggling musician and a master of ceremonies (MC) named Rudy Ray Moore (Eddie Murphy). Those who are unfamiliar with Rudy Ray Moore will instantly be hunting down his films and albums after leaving the theater. This film follows Rudy through the inspiration and creation of the character Dolemite and the creative and fiduciary struggles of the ups and downs of a creative genius as well as those he surrounds himself with.
Very much like the film "Hustle and Flow" "Dolemite Is My Name" is a movie about an unflinching will to "make it" no matter the obstacles or naysayers. The film is a harrowing and at many times hilarious look into the life and times of a blaxploitation legend and the man universally known as the Godfather of Rap. "Dolemite Is My Name" is a film woven together with love and forethought, the performances are stellar and many Oscar-worthy.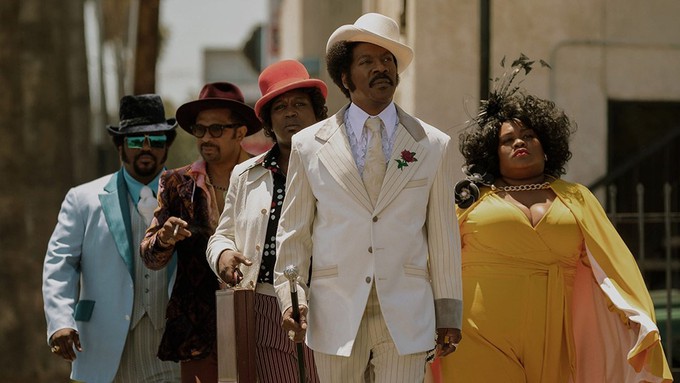 Eddie Murphy (Rudy Ray Moore) and Wesley Snipes (portrays actor/director D'Urville Martin) deliver (in my opinion) their best performances to date. Keegan Michael Key's performance is unlike any character he has yet to tackle cinematically. At one point the entire theater burst into laughter as Key's character (writer Jerry Jones) gives Rudy (Murphy) the stank eye while delivering quite seriously the line "Oh, I can be funny" that moment was an especially painfully rib-tickling one. Da'Vine Joy Randolph's portrayal of the timeless goddess and performer Lady Reed tugged at my heartstrings, and her catchy and adult musical number in the film (her and Murphy perform) is an unforgettable and uproarious cinematic moment. Snipes, as the pompous and flamboyant D'Urville, reminds us all that his star still shines immensely bright. Tituss Burgess jumps into the role of Theodore Toney in a way that makes him (Tituss) almost unidentifiable in the best way, like when an actor loses himself in character and you are left speechless. The cast of this film is beyond star-studded, and the nods it gives to its subjects are respectable and almost a tangible trip through time.
This film also plays with the hypocrisy of censorship and political correctness that artists still to this day struggle with. The taboos of being too rude, crude, and socially unacceptable for the masses, and how that in itself drives the masses to acquire said forbidden fruits are beautifully addressed. I love this film. The levels of this film are complex like the humans it is based on. The importance of the messages in this film I find very poignant and timely to today's current social climate. People need this film, and it will provoke a myriad of thoughts, comments, and debates undoubtedly. Personally, I would kill to hear Dave Chappelle's reaction to the film as I am sure it will be a favorite of his as well as the vast majority of stand up comedians and boundary-pushers in entertainment and music.
I can not rave enough about this film, the cinematography, editing, writing, and direction are exquisite. Then there is the soundtrack, for all you movie soundtrack buffs this is a definite must fucking have. The music from "Dolemite Is My Name" enhance and guide you through the soul of Rudy Ray Moore. At an especially emotional point in the film, they utilize a beautiful Blues song I recognize from Ken Burn's Jazz documentary (the name currently eludes me), in the scene Rudy Ray channels anger gifted from a poor and traumatic upbringing in the South.
This is a must-see film people. Thank you, Craig Brewer and everyone involved in making this film a reality. "Dolemite Is My Name" is one of my favorite films of the year and I hope it gets the Acadamy's attention as it is more than worthy on several levels. The flick will take you through an emotional and philosophical spectrum, leaving you in an inspired state of cinematic bliss.
Thanks for reading and I hope all of you go out and experience the badassery that is "Dolemite Is My Name" motherfuckers!
Stay Strong, Live Good, Love Movies!
Dannie Helen L. Knowles aka Pekosa Peligrosa